Like the first buds of spring, English rugby at the highest level is bursting with the promise of what might be this summer.
With Stuart Lancaster now confirmed, there's a newfound confidence and solidity around the Red Rose, born of impressive results and improved performance in the Six Nations.
This showing appears the result of a more positive and aligned team culture, which in itself is more important at this stage than the on-field delivery. But also like the weather in a few months' time, the fortunes of England in June are far from certain.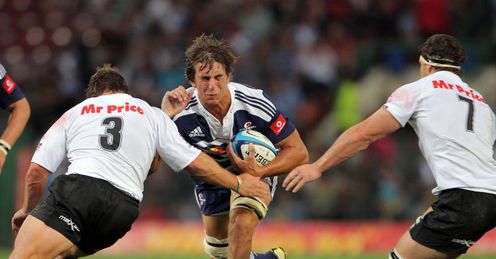 As we follow the progress of their South African opposition in Super Rugby, there's growing proof that the Bok fightback is underway.
An ageing team disappointed at the Rugby World Cup, the shortcomings of their coach no longer concealed by the class of his players. De Villiers is gone, so too many of those players who carried South African rugby to the top of the world.
It is hardly an ideal scenario for Heyneke Mayer as he looks to select his first squad of the year, but signs in recent weeks are promising/daunting, depending on your allegiance.
James Gemmell
Quotes of the week
But the concern surrounds those left behind. With such a settled top team for so long, the younger talent that the Boks will now look to either comes from those who have played their Tests under the total control of those departed, or have barely played any Tests at all.
It is hardly an ideal scenario for Heyneke Meyer as he looks to select his first squad of the year, but signs in recent weeks are promising/daunting, depending on your allegiance.
Unbeaten Stormers
The Stormers have emerged from week five as the only remaining unbeaten side in Super Rugby, and if it weren't for the conference system that dictates the make-up of the table, the Bulls would sit in second place.
Neither would claim they've hit their best yet, and little can be read into the Bulls' mauling of the depleted defending champions on the weekend, but the first step to recovery at the national level is confidence at the club level. That is returning as we speak.
And if we cast our eyes across the individuals in form, we see perhaps a couple of examples of the next frontline of Springboks.
Pierre Spies was an imposing force against the Reds. In a loose game that suited his style, the giant number 8 was the dominant figure whenever contact was made. He has, of course, collected plenty of international caps down the years, but this is a player that has not yet reached his potential at the highest level.
In both Super Rugby and in Tests, Spies has played behind some of the best packs in the game, made up of some of the strongest leaders South Africa has produced.
Those dominant figures are no longer there, and the Bulls' enforcer has an opportunity to be seen and heard now. The time is perfect for Spies to take a bigger role in Springboks.
Future Bok
For the Stormers, the standout man so far is one of those without any international experience at all.
Eben Etzebeth is fresh out of age-grade rugby, and towers above for the Stormers, both literally and figuratively. This is the sort of player Meyer can look to as the future of his team.
With South Africa looking to rebuild their international standing long term, young talent must be given the chance to experience the demands and intensity of test match rugby; Etzebeth looks well up for it.
If Meyer can empower those with international experience, and give them the chance to lead - players such as Spies - and also take a chance on talent like Etzebeth, then South African rugby will be heading in the right direction again.
The form of the Bulls and the Stormers may help make the decisions for him, and the national coach will be a very interested spectator when these two meet in Cape Town this weekend, without doubt the fixture of week six.
I imagine Staurt Lancaster will be taking a pretty keen interest now as well.
Comments (4)
Peter Hardman says...
The rugby talent is SA grows and matures - players are leaving because they see that bottlenecks are there.. There is absolutely no sentiment that as the great players of 2011 World Cup move on that players will not be putting their hands high up to become even bigger sportsmen than their peers. Meyer is no going to look at players but combinations,tactics,fitness and strategy and this is where his counsel will be most important. South Africans are not worried about the Boks as they know the players are there. It is always the interference in the sport from higher up that addles the mix. Both sides will be feeling themselves out for the next year at best.
Posted 14:34 3rd April 2012
Brian Tompkins says...
I think we really need to be building for the future. keep some of the old gaurd around for their experience but if they are not performing then they need to be dropped. Although you mention Spies, i have never been a fan of his, he needs too much open space to get up to speed and at international level, he does not get this, and then doesnt do anything all game. Duane Vermeulen is the man for me! Much stronger and better at what he does then Spies! There is no point in trying to change the way the Boks play as being physical upfront has always been our biggest strength, but we do need to bring in some really quick talented quys in the backline, Francois Hougaard has to start at scrum half with Aplon and Basson on the wings, if these guys play well and get ball then the Boks will be unstoppable
Posted 11:46 3rd April 2012
Darren Timm says...
Etzebeth is an absolute monster. He has made the Super Rugby Team of the Week every week that he has played thus far,and is only 20 years old. SA has been looking for a replacement for Bakkies Botha for a long time and it seems we've finally found him. At 2.03m and 117kg's, he is immensely powerful. Nick Koster, the Stormers 8th man, had this to say about young Eben in his column on Supersport website... "Our forward pack on Saturday included five 20-year-olds and a 21-year-old. What a wonderful prospect for the Stormers future. One of our talented 20-year-olds, Eben Etzebeth, is a belligerent force on the field who would wreak all sorts of havoc if it weren't for the wise counsel of Andries Bekker. So naturally strong is Eben, our conditioning coach had to purchase extra-heavy dumbbells during the off-season to push him to his limit. While a bully on the field, he's the perfect gentleman off it. He was the only one of us to take flowers to Schalk Burger's wife Michelle, on the announcement of her pregnancy."
Posted 14:41 30th March 2012
Matthew Hall says...
Appropriate to bring up this topic with Lancaster's first major task on the horizon. I think what the old guard of players that you mentioned like Matfield, Smit, de Villiers have shown with their exit is a massive selection headache for the Boks. Take back-row for example - ok Spies is a shoe in, but what of the other two loose forward spots? You have Keegan Daniel, Wilhelm Alberts, Heinrick Brussouw and of course Schalk Burger to name but few who are doing the business in the Republic. Does Mayer go for experience or mirror the model of a fellow fresh appointee and adopt a fresh start - out with the old and in with the new. In any case, there has rarely been a better opportunity for England to get their Rosey thorns stuck in to a Boks side that might still be discovering who it is and how it wants to play
Posted 00:00 30th March 2012