Jets were washed over with the consistency and the flare of Team Bath on Thursday night who delivered what may be classed as their best performance of the season securing a victory against Yorkshire Jets 59-49.
In a season of very mixed performances and squad changes, it was coach Jess Thirlby's aim to maintain the work rate, accuracy and achieve consistency in the team's performance over the full sixty minutes. Last night certainly delivered an improved performance from the Team Bath squad, who now secure a place in the semi-finals of the ZEO NSL competition.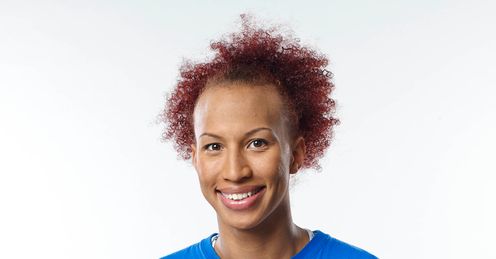 The peaks and troughs of this competition have been mighty and to witness so amazing games go to the wire has certainly made this season unique. For Team Bath as a squad to integrate Sarah Penny so late into the season demonstrates their ability to work cohesively and bring out the best in their squad members. Losing Stacey Francis for a short part of the season also had an impact and at times there were moments where the critics were removing Team Bath from the top four. So what has made the difference?
When it all comes together we are able to witness a centre court dynamo who our ANZ counterparts may start to notice a little more in 2014.
Anita Navin
Quotes of the week
On Thursday night Serena Guthrie stepped up to world class level and for her performance she was named as ZEO Player of the Match. Guthrie strives for consistency and sets herself the highest possible targets for turnovers in defence and accuracy of the ball placement delivering the pass in attack. Her ability to go back and up for the high ball when defending around the circle edge is second to none and when it all comes together we are able to witness a centre court dynamo who our ANZ counterparts may start to notice a little more in 2014.
X factor
I remember Serena at the age of 13 arriving at Sheffield for her screening process for entry into the U17 England talent pathway programme. The regional scouts and selectors were engaged in observations and I remember vividly the discussion with a coach form the south-west about the player with the x factor and it was Serena Guthrie. We could not take our eyes of this player, who could, in seconds turn a game around and that for me was the start of a very exciting time for England Netball - Serena was here to stay and a place in the open squad was inevitable if she had the desire and commitment to be the best she could be.
Serena is united in her approach and is incredibly loyal to her team mates. The early part of this season may just have tested her a little with so many changes and readjustments to make and after a slower than normal start in terms of her consistent performances and impact, she has now, with her squad, turned the corner. It is not too late in terms of securing a place in the final and indeed posing the biggest threat to Surrey Storm who are on fire this season.
The famous five
So that brings me to the final five chosen for the player of the season and what a difficult choice it was!
There are always personal preferences and decisions over consistency versus game changing moments in any process like this. Serena Guthrie just misses out on that final five along with Sarah Bayman and they are, as you probably know from previous reports and comments, two athletes I want to see representing England at the Commonwealth Games this summer.
So, the five chosen have for me repeatedly executed match winning performances accompanied with some game changing moments under the most intensive pressure. Making an impact so early in a game or season is critical and the top five for me did this, whereas some other top performing players were a little late in reaching those impact points in matches. Having chatted to coaching colleagues in and around ANZ, I have used the statistics and the golden bib approach in choosing the top five and great to see Sky Sports Netball looking to add new ideas like this moving forwards.
As we conclude this season, an unexpected leap in performance and positions does throw some doubt over a Thunder v Storm final - what are your thoughts? Who is your best player in your franchise and why?