This is an absolutely fascinating final. Expectations are high and I just hope that the players from both teams live up to their reputations.
Sometimes these games fall flat and I hope that won't be the case on Wednesday night because both Barcelona and Manchester United are blessed with attacking footballers of the highest quality.
I can't wait to see Cristiano Ronaldo and Wayne Rooney lining up against Lionel Messi, Samuel Eto'o and Thierry Henry and I just hope they can play to the level that we all know they can.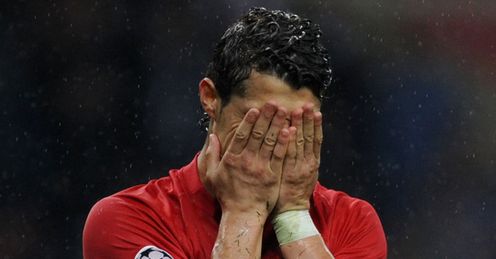 We didn't see it from Barcelona in the two games against Chelsea. Maybe we have better defenders in the Premier League, but the Barca stars certainly didn't enhance their reputations in the semi-final.
I would think Sir Alex Ferguson will have had a good look at the videos of those games. Although Barcelona didn't create a great deal, Chelsea were on the back foot for long periods and you worry that Pep Guardiola's side can't always be kept so quiet. They are always capable of a little piece of magic.
Central perks
People talk about the wonderful forwards in the Barcelona team, but I think the ability of Andres Iniesta and Xavi to keep the ball in tight situations is fundamental to the way they play.
People talk about the wonderful forwards in the Barcelona team, but I think the ability of Andres Iniesta and Xavi to keep the ball in tight situations is fundamental to the way they play.
Phil Thompson
Quotes of the week
LIVE ON SKY SPORTS
Champions League Final
Barcelona v Man Utd
6pm, Wed, Sky Sports 1 & HD1
Those two central midfielders rotate their positions and nobody knows where they're going to pop up. Even in an intense game they never give the ball away and they're always looking for a killer pass. I really think that Manchester United have got to look out for those two players, rather than Eto'o, Messi or Henry.
That is one of the reasons why Darren Fletcher's suspension will hurt United. He would have been one of the first names on Sir Alex's team sheet to try and combat that threat.
If you look at the team Ferguson picked away at Arsenal in the semi-final, he went for a mixture of power and culture in midfield. Anderson and Fletcher played in there, but Michael Carrick was also included to make sure there was somebody to keep the ball and provide continuity between defence and attack.
Sir Alex got his tactics spot on. He needed people to go and hunt the ball down in that game and he needs it even more so against Xavi and Iniesta. In the absence of Fletcher, perhaps the energy of Ji-Sung Park will come into the equation.
He is an offensive midfielder who can also play a defensive role, closing down people and working hard. They need a blend of players with those sorts of abilities.
Full-back weakness
Ferguson will also be targeting Barcelona's weakness in the full-back positions in the absence of Dani Alves and Eric Abidal and I expect United to enjoy some good fortune in that area.
It will be interesting if Carles Puyol plays there because he certainly doesn't have the pace to deal with either Rooney or Ronaldo - although I do think Ferguson might try to utilise the pace of Ronaldo centrally.
Ferguson knows Barcelona aren't too quick at the back and he might want Ronaldo in the middle to turn people, as he did against Arsenal. If you play Rooney, Berbatov or Tevez in the middle, they won't come towards the ball and look to link up play, but Ronaldo can stretch the opposition and look for balls over the top.
I wouldn't be surprised if Ferguson threw a spanner in the works and played Ronaldo centrally with Park on the right with Rooney on the left to exploit the lack of speed in the Barca back-line.
But no matter where you look on the pitch you see strength in the Man United team.
It will be difficult to cope with Messi, Henry and Eto'o but United have high-quality defenders with enough experience to cope. However, it may only take one piece of magic to win this game.
Guardiola will be interested to see who plays at right-back for Manchester United. Henry might fancy playing one on one up against Rafael Da Silva, so I think Ferguson will go with the experience of John O'Shea - even though he doesn't have the pace of the young Brazilian. That will be a big call.
The verdict
The more I go through the strengths and weaknesses of both teams, the more I think this is going to go through extra time to penalties.
Both sides have so many pluses in their favour and I can see it going all the way, like it did in Moscow last year.
However, I am expecting goals. With the attacking strengths of both teams I think the forward players will reap rewards and it would not surprise me if we saw a 2-2 draw.
At the start of this article I said I was hoping this would live up to expectations and I would dearly love to see an exhibition of attacking football from these two sides - and you might as well toss a coin to try and predict who will win it.
I've gone for Barcelona to win the Champions League for some time now and I'm not going to jump ship now. My tip is that it will go to penalties - and this year Manchester United will suffer the heartache of defeat.
Comments (25)
Cal Lockyer (Liverpool fan) says...
I think united yes they will have fun against less experienced full back but first they have to stop messi from ripping there defence apart with the help off henry an eto'o. My prediction is for united to lose 1-3.
Posted 14:59 27th May 2009
Innocent Kolila (Liverpool fan) says...
myself Am going to see 2-2 and go the penalties, where we can see the weekness of Van De Sar...and Barca win it!! because of absence of Alves (The second best defender (right) in the World, after Maicon) and Eric Abidal, Barca they will be under threat! otherwise the match will ended 2-0 for Barca, if this two defender they will play
Posted 14:52 27th May 2009
Marvin Springfield (Manchester United fan) says...
Wow!!! The day has finally arrived, and if you love football, then you'll love tonights game!!! Lets hope footballs the winner and not a dodgy decision? In life their arent many second chances, however man united have that chance tonight and wont just let Barcalona win. The same can be said about Barca!!! It's going to be tough, theres no doubt about that, but I think the team that plays until the final whistle will win! Man U 3- Barca 2. I guess only time will tell? Come on you reds!!!! Remember football is the real winner here people!
Posted 13:59 27th May 2009
Mikey B (Liverpool fan) says...
Both teams play exceptonal football with slightly differant approaches. Barcelona mix of craft an purist technique agianst Uniteds pace and power. I just think that Uniteds strength at the back gives them the edge, howver if the game is tight it could be an isolated piece of magic from on of Barca's tricksters that wins it, as a Liverpool fan I'll be hoping for the latter.
Posted 09:38 27th May 2009
Amit Jassal (Liverpool fan) says...
If someone said to me 2 weeks ago it will go to penalties, I would have placed a bet...and Barcelona to win. But I dont think it will, I think Barcelona will win this, Messi will shine and shock United. Barca players have been preparing for this for some time, for example against Real Madrid when they, well, slaughtered them at Bernabeau. This final was destined to be this yer and maybe show who is the best team in World and maybe who is the best player, Ronaldo or Messi...Come on Barca do it for the KOP!!!
Posted 08:30 27th May 2009
Tan J (Barcelona fan) says...
Manchester United stand for determination and ruthlessness. These are good qualities in any team, but the last thing ManUtd epitomise is beautiful football. Its not the number of goals that decide whether a team plays beautiful football- its how the team scores those goals. A team should be pleasing and easy on the eye. ManUtd are far from it. The only other team in the world that is similar to Bracelona in that regard is Arsenal (although they currently lack the experience). I hope this year, for once, beautiful football triumphs.
Posted 05:47 27th May 2009
Gavan Thornton (Torino fan) says...
If it goes to penalties I hope Barca do better than they did in 86.
Posted 02:55 27th May 2009
Phil Bamber (Barcelona fan) says...
It's such a difficult one to predict. Man Utd have the greater balance, that's for sure. They have tenacious, strength players like Rooney, complimented by the flair of Ronaldo. Midfield workers like Ji Sung Park won't stop running, while their back line is strong and experienced - backed up by veteran van der saar. In other words there are no weak links. Barca, on the other hand, are a double edged sword. Valdes is probably the most athletic keeper I've seen anywhere, but his decisions and handling can be very iffy. Pique is inexperienced, Puyol, whilst a battler and motivator, can tackle badly (leading to free kicks). Makeshift full-backs in the absence of Alves and Abidal will be out of position. The other side of the coin, though, is what Barca are all about. Messi is capable of absolutely anything, and when he's on form he could take the ball past the whole team, and Eto'o is the quintessential goal-hungry centre-forward. If he plays, and he's fit, we all know what Henry can do to defenses (make them cry), but he won't be sharp as he's only just back. For me though, what make Barca who they are is their midfielders. Xavi and Iniesta, for me, are simply the best midfielders in the world (along with Gerrard). They are calm, supremely intelligent, never give the ball away, quick, incisive players who are responsible for Barca's staggering possession statistics. If Utd relax at the back they will play killer balls through the eye of the needle to Eto'o. The only thing is that Iniesta is only just returning from injury, and Busquets lacks experience. In order for Utd to win this game they need to nullify Barca's greatest talent. Not Messi, but Iniesta. Without him and Xavi, they could potentially fall apart. Final score: Man Utd 2 3 FC Barcelona
Posted 23:46 26th May 2009
Jason Harrison (Manchester United fan) says...
Ive had a dream of the outcome of the final but i don't want to tell anyone because i will jinx it but just to let you all know we are in for 1 hell of a final if my prediction is correct.
Posted 22:06 26th May 2009
Jimmy Bakaly (Barcelona fan) says...
I don't have a clue what some ppl talk about, how can they say that Barcelona got a weak defence, because what happend against Chelsea? Every team have a bad day and loose but Barcelona had a bad day and didn't loose, yes the referee against Chelsea he was wrong but thank god it was us who it's gone in favour of for the first time. We were still the better team, i know it's going to be hard against Man u but we are by a mile the best attacking team in the world so to all the ppl that are negative about Barca and to all Man u fans, you are all wrong and prepare yourselves to get destroyed by the mighty Barca! Forca Barca
Posted 21:15 26th May 2009
Paul Samuel (Manchester United fan) says...
With the focus being on the usual suspects, I'm putting my money on Anderson being the outstanding player. Anderson can spoil the excellent midfield of Barca whilst also delivering pinpoint crosses to those upfront. My guess is that Ronaldo plays upfront whilst the midfield battle remains largely in the middle 3rd of the pitch. Mark my words, Anderson the put through a number of killer passes. Legendary status awaits Ronaldo, dependent on how he capitalises.
Posted 20:33 26th May 2009
Alex Ayres (Manchester United fan) says...
I think this is United's trophy. A full strength Barca would be a very scary prospect. However, the fact of the matter is they have 3 of their first choice back 4 out against the likes of Rooney, Ronaldo and Berbatov or Tevez. There is no way I can logically see them matching our attacking flair when you look at how well they were contained in the semi-final by Chelsea.
Posted 20:05 26th May 2009
Kirk Lightbody (Manchester United fan) says...
Ronnie Madrid doesnt seem to have much football sence.... he seems to only see the flair in Iniesta though i do admit hes the best thing on Barca but what youll find out tomorrow is that what the English teams lack in skill, they make up in fitness and their ability to fight..... watch what happens to barca tomorrow at the 75 minute mark,
Posted 19:17 26th May 2009
John Bonk (Liverpool fan) says...
It is a good analysis, however I feel that overall Utd are just a bit stronger than Barca. In defence they have sorted out the few problems they had during the spell that Liverpool beat them. Up front they have the firepower and skill to really trouble the Barca defence. I would say that Barca have a far superior central midfield , but will they have the ball enough? I cant see many goals but If I had to put my mortgage on the result then I would just about go with Utd maybe 1-0 or 2-1.
Posted 16:55 26th May 2009
Moshie Macb (Aston Villa fan) says...
Ronnie Madrid, thats a bit harsh saying Fletcher has no technical ability, he does well enough to make it into the Man U team week in week out. that being said he does not have the ability of the centre midfield of Barca, but I would happily have Fletcher in my team... does the simple stuff well as does Carrick. Great analysis for the final, but it never pans out that way... things look to be slightly in Man U's favour though, two first choice full backs missing and if they can keep Messi quiet then it's looking good... although i fear a lot of hype for very little.
Posted 15:43 26th May 2009
Abdulqadir Shabbir (Arsenal fan) says...
I think barca can win this because they have a complete midfield and forward as manu fletcher has been suspended and also there would be fighting for places between tevez and berbatov or eigther both of them don't play. defence is always unpredictable like in semifinal in first leg at manchester gibbs and Almunia were hero but at the second leg you watched what happened. similarly the semifinal between chel and barca in first leg chelsea defence was great also in second leg but it took just one short for iniesta to rule out chelsea from getting a place in final.
Posted 14:33 26th May 2009
Ronnie Madrid (Real Madrid fan) says...
i am a real madrid fan and i hate barcelona but they are by FAR the best team in the world and people keep going on about how barca wernt the best against chealsea but thats because chelsea knew the wer no wer near as good as barca so they jus sat back like man utd las year look at uniteds midfiled carrick and anderson and an old scholes and fletcher who has no technical ability wat so ever compare them to xavi and iniesta who are in a different class to them .if united attack barca theyll get ripped to pieces 3-0 barca
Posted 14:25 26th May 2009
Pradeep K (Barcelona fan) says...
I absolutely agree with Thommo's overall assessment.One important thing for me is that even if henry and Iniesta manage to return from injury , it would be difficult for them to sustain the level for the entire duration of the game.Barca do not have the same quality on the bench in terms of current form as compared to man united who will have the likes of tevez, Giggs, Berbatov. I think this factor will hold the key in this encounter and I believe this gives a slight edge to Man united even though i desperately hope barca win for all the entertainment they have given to us. There is a lot of debate among the experts as to the physical power of the premier league v/s the finesse and technique of spanish football. As a neutral i want to see goals and entrtainment and not defensive football, the way chelsea played in the semifinal. So i hope Barca win with the same philosophy they have played their football this season . I expect Man united to play a waiting game and hit Barca on the counter which can be an effective stratergy with the pace and raw power of ronaldo upfront. May the best team win.
Posted 14:24 26th May 2009
Jimmy Bello (Chelsea fan) says...
It is great with the analysis. But it is not spot on with me when Phil says Barca will win. Barcas Achilles lies in their strenght and this was revealled when my Beautyful Team CHELSEA played them. Head or Tail, I will give it to The Red Devils. The pendulum swings in their favour. They have the Knight, the Ron, Roon, Giggsy, Parksy, Carlos, Evry, Van, Berby, Rio, Vidy, Shea, Micky, & even the Silva to nick this Historic Back to Back. Barcelona! Maybe another Year. Says a truely Chelsea fan.
Posted 13:36 26th May 2009
Zane Anderson (Arsenal fan) says...
I think Barca will win and I hope they do because I want all the former Arsenal players like Henry, Hleb and Sylvinho to get a winners medal. In all the big games against the big teams this season Man Utd haven't done great for example Spurs in the Carling Cup final, Liverpool in the Premier League and Arsenal in the Premier League. So I think Man Utd will be too nervous and fall apart. 3-2 to Barca.
Posted 13:36 26th May 2009