We all love watching Barcelona play but as Arsenal showed in the first leg, they are not invincible.
And while it may be a spectacular place to go and play a football match, the Camp Nou is not what you would call an intimidating stadium.
I have played and coached teams there and while it does take your breath away at first and there will be 90,000 fans there, most of them cheering on Barca, it is not one of the bear-pits of European football.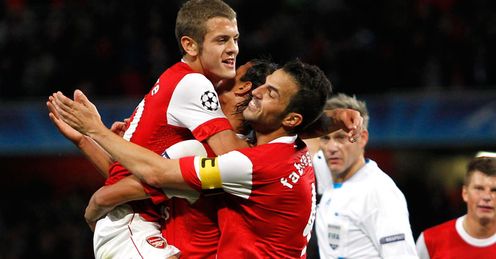 Those are the positives Arsenal can take into the second leg, but you don't need me to tell you what a tough job Arsene Wenger and his side have got on their hands.
In some ways - and this sounds strange to say - they might have been better off had the first leg ended 1-1, rather than 2-1. Now Barcelona know they have to go and win the game and that little change in mindset will make them an even tougher prospect.
Let's be honest, the one thing you need if you are going to get the better of Xavi, Andres Iniesta, Messi, Villa and the rest, you need to be lucky. You probably need them to have one of their off-nights as well.
Phil Thompson
Quotes of the week
LIVE ON SKY SPORTS
UEFA Champions League
Barcelona v Arsenal
7.00pm, Tue, Sky Sports HD2&2
EVENTS CENTRE
Watch the game how you want!
Click here for more
I know they play to win every match but when you have that luxury of knowing a draw might be good enough, it can take that edge away; well, they don't have that any more.
To make matters worse for Arsene, he has a couple of major selection dilemmas, which is not what you want. Going to the Camp Nou with your strongest side is hard enough, but to go there without big, big players is another thing altogether.
Yes, getting Cesc Fabregas back is a huge lift to Arsenal, but losing Alex Song has left Wenger with a massive headache. I watched the Sunderland game and did think that neither Abou Diaby nor Denilson were that great, but I would be tempted to go with the former.
For me on Saturday he needed too many touches of the ball for an Arsenal player - they usually take two at most and shift the ball around - but maybe that was because it was his first game back after a while out. But, I still think Diaby should be the one that gets that holding role - and that will be so important because that back four is going to need some protection.
I would love to see Samir Nasri come in-field because I do think he has been their best player this season despite being on the fringes out on the left a lot of the time. But if you drop him into a three with Fabregas and Jack Wilshere, it is a little lightweight in the middle.
The absence of Robin van Persie would be a bigger blow though, because I do think Arsenal are going to have to score and as we saw in the first leg and in the Carling Cup final, he does give them that extra edge in front of goal, the ability to produce a special finish. He may be in the squad but I would be very surprised if they start with him and take the risk - as vital as he is.
I would bring Nicklas Bendtner in, just for that physical presence alone. Losing both Gerard Pique and Carles Puyol is a big, big blow for Barcelona, make no mistake about that.
We've seen how Manchester United fell apart without Rio Ferdinand and Nemanja Vidic and although Eric Abidal and Sergio Busquets are decent players and have played there before, let's be honest they are not the answer and Arsenal simply have to try and put those two under pressure.
Arsenal are never going to change the way they play though; they are not going to stop moving the ball round and go direct, so it will be up to Wenger to get the set-up right.
They have to try and squeeze Barcelona high up the field, move everybody up so the game is on top of that back four. Maxwell is the weak link and although he can be hit and miss, Andriy Arshavin can get in behind him down that right-hand side. That said, Theo Walcott's pace on the break, would have been a major asset away from home.
Squeezing up is a bit of a risk but if you look at Barcelona they do not have lightning pace, even in attack. Yes, their players are all fleet-footed, nimble and quick on the ball, but one-on-one that Arsenal back four would fancy themselves in a foot-race with David Villa, Pedro and even Lionel Messi.
Lucky
That is never the problem with playing Barcelona though. The problem is their movement; it's making sure that when he makes the run off the ball, you are tracking their third man.
Dani Alves is a right-back, yet when the ball is on the opposite side of the pitch, in his own half, he will make that run forward which means he's either free, or someone has been pulled across to cover. The one thing that Arsenal midfield - and I include Arshavin and Nasri in that - is make sure they do not let people run off them.
They rode their luck at times in the first leg but I remember when they played Barcelona last season, they could've been 2-0 up in the second leg, so it works both ways.
Let's be honest, the one thing you need if you are going to get the better of Xavi, Andres Iniesta, Messi, Villa and the rest, you need to be lucky. You probably need them to have one of their off-nights as well.
And you need to believe. That, as much as team selection, is where Arsene Wenger will prove his worth in the second leg. He has to convince his players they are good enough to match them, playing the way they always play. You know they are always going to create chances and more times than not, you know Barcelona are going to score, so Arsenal just have to keep their minds focussed on the job. And they have to be lucky.
THOMMO'S VERDICT: If anyone is capable of going to the Camp Nou and taking Barca on at their own game, it's Arsenal, but I just think there are too many things working against them. They have a glimmer of hope with Puyol and Pique being out, but their own absentees might just prove too much to cope with. I think they will need to score and without van Persie, I'm afraid I can't see that happening here - and I can't see them keeping a clean sheet either. It is going to be a great game to watch I am sure, but I just can't see Arsene or Arsenal pulling this off, I'm afraid. I'll go 2-0 Barca.
Comments (31)
Warren Cox (Arsenal fan) says...
Song really struggled in the first leg as he likes to tackle and foreign teams like to fall over. If I was Wenger I'd play Gibbs and Eboue as the wide players as they are more defensive, start with Diaby, Wilshere and Cesc in the middle and RVP up front and sub Wilshere, Cesc and RVP for Nasri, Arshavin and Bendtner later on, particularly if we need a goal at that point. I reckon 3-2 to Barca with Arsenal going through on away goals.
Posted 12:58 8th March 2011
Sam Gilli (Liverpool fan) says...
I reckon Arsenal will have loads of success if they attack Barcelona high up the pitch. Their defence is looking weak so they need to make the most of it.
Posted 12:49 8th March 2011
Kickers Long (Tottenham Hotspur fan) says...
1-0 barca
Posted 12:10 8th March 2011
Brendan Cosgrave (Aston Villa fan) says...
Think positive, Arsenal are campable of any result and the pressure its on the them to score twice . I know who i'd rather be on thats why my money with good odds is 1-1 silencing Camp Nou!
Posted 11:56 8th March 2011
Ryan O' neill (Arsenal fan) says...
Thommo, great article but you forgot one key aspect, the width and length of the nou camp pitch is much bigger than the emirates, that in my opinion is why Xavi and Iniesta struggled as they were very close together and jack liked being that close to both of them. However they will be more spread out and bigger holes will appear in that defence and midfield, this was a big factor for Arsenal last year, but maybe the players will expect that this time. i think maybe a 2-2 draw or a 2-1 barca win to take it to ET, then the english fitness levels and determination will shine through and give Arsenal the win.
Posted 11:46 8th March 2011
James Rickett (Leeds United fan) says...
Arsenal will miss Walcott down the right, no question. But Wilshire is not out of his depths again the best quadrangle of players in the world in Messi, Villa, Iniesta and Xavi but he can cut is own and is cert to be England Captain one day. I really do fancy arsenals chances tonight. Yes they did lose the league cup final but it was just a human mistake, they know this is too big occasion to turn of for one second. I do fancy Chamakh to cause a few problems for abidal and i think busquets will push too far up leaving a space for Fab and Wilshire to play into. Good luck Arsenal, i dont think you will need it though!!
Posted 11:32 8th March 2011
Egemuka George (Chelsea fan) says...
i think arsenal will emerge victorious at the end of the day, although all odds have been slashed on them but the rest of other English teams support them. but barca plays football made from another planet their style is captivating. this game is just between the master and his apprentice.lol
Posted 11:17 8th March 2011
Michael Akinware (Arsenal fan) says...
This will no doubt be an exciting, nerve recking game for Arsenal fans - I think we can get a result at Barca, its only one game that barca is expected to win just as we were meant to against Birmingham, nobody predicted their win same here- go gunners
Posted 09:43 8th March 2011
Naphtali Munyaka (Chelsea fan) says...
I guess this is a mouth watering game to be frank Arsenal without the likes of RVP as the key striker and he is nt 100% fit.I guess Arsenal will struggle and having nt Song in the middle.For Barca they will cause trouble to Arsenal and i guess it will b 3 to barca Arsenal 1
Posted 08:01 8th March 2011
Peter Hayes (Newcastle United fan) says...
score will be 3-0 to barca. messi hatrick
Posted 07:59 8th March 2011
Matt Stevenson (Manchester United fan) says...
Good luck to Arsenal. Hope all the English teams do well, even utd's title rivals. If Pique and Puyol were fit, I wouldn't be able to see Arsenal winning, but with them out, Arsenal definately have a chance. Come on all English final!
Posted 07:05 8th March 2011
Dan White (Tottenham Hotspur fan) says...
Great post Thomo. I do think arsenal will score one but I see Barca putting in at least three. Barca let arsenal off the hook in the first leg and pep will not let them make the same mistake twice! Maxwell is without a doubt the weaklink, and although they are without their centre backs, Abidal and Busquets are quality replacements. They're both good in the air and they'll work in the same way pique and Puyol do. Abidal will be the ball winner and Busquets will play the ball. I think the Barca team are so good that Arsenal will rarely be able to threaten them enough to convince themselves they can win. Villa to score a brace and pedro to get the other...that is the minimum...
Posted 03:57 8th March 2011
Zoe Poh (Arsenal fan) says...
As we've seen in the first leg, Song couldn't make an impression for most of the game and Wenger decided to sub him off with Arshavin. Song is too slow to be able to defend against the fleet-footed midfield of Barca. It was Wilshere who was able to get the edge of them and of course Koscielny forked in many crucial blocks to shut Messi and co out. I believe that even without Song, Arsenal can get the better of Barca. Just gotta pray that every gunner is at their top, especially Koscielny and Djourou. And of course the attacking play has to be sharp and take the most out of Barca's weakened defence, that's where we'll really need RVP.
Posted 01:30 8th March 2011
Gary Clarke (Arsenal fan) says...
it's looking like a real smashing for us unfortunately, this time Barca will hammer our weak defence and how can anyone see us holding on, I've supported arsenal my entire life but I fear the worst. Without a real strong performance from the centre backs and stealing a goal within the first twenty minutes we will not stand a chance.
Posted 22:43 7th March 2011
Josh Khan (Arsenal fan) says...
Song was terrible in the first leg, all he did was prove that he couldnt keep up with the pace of the catalonian attack, this is probably for the good that he is not available for selection, also with VanP back thats a good sign but i still wouldnt agree with starting him as i dont see how you can go from a month out to fully fit in 24hrs, with the rest of the team, i would go same back 4 as the first leg, wilshire, fab and nasri, with diaby and chamak, forget arshavin leave him in London, he doesnt have the energy to cope with a game like this and lets face it we will be doing alot of chasing in this game and need the players to work hard, which arshavin doesnt know how to do,
Posted 22:39 7th March 2011
Bert Turner (Arsenal fan) says...
We have to show our grit tomorrow night and again no fear in our play, barca are a great side but too many teams get intimidated by them, we need to be patient and clinical with the chances we get as we can upset the odds. All those squad members stop talking and start doing!! Come on you gunners
Posted 21:08 7th March 2011
Bob Bold (Arsenal fan) says...
I believe it will be 2-2. Last time we lost 4-1 but that was because we had many key players missing such as Fabregas and Van Persie however this time they look very strong and they got the all important advantage of being 2-1 up they know it will be a tough game. Messi is as good as he was last year aswell and so I believe that Arsenal will go through 4-3 on agregate.
Posted 21:03 7th March 2011
Hallam Carslake (West Ham United fan) says...
now that van persie is in the squad , arsenal have more of a chance of winning. it will be an exciting game but i think it will end 2-2.
Posted 20:07 7th March 2011
Tony B (Liverpool fan) says...
I think it will be difficult for Arsenal but having Van Persie in the squad is a huge lift for them. Even though I am a Liverpool supporter I hope both Arsenal and Spurs can both do the job this week
Posted 19:27 7th March 2011
Tumi Wallace (Arsenal fan) says...
Last year, Arsenal went to Camp Nou with a 2-2 draw. It makes no difference to Barca whether they are carrying a lead or a draw or whatever - they always play the same way. They are stellar at it. Arsenal have to be disciplined defensively and clinical in their counter-attack. That's the only way they can win this. I think it will be 1-1 or 2-2. Also I'd prefer to have Chamakh come in up front for his aerial prowess though his form has been worrying.
Posted 19:13 7th March 2011