It was sad to see Vyacheslav Senchenko stop Ricky Hatton on Saturday night, but in a way it was perhaps the best result for the Hitman.
Ricky proved two things with this fight.
The first was that he's still the biggest draw in British boxing. Even ahead of this fight, when nobody knew who the opponent was going to be, he still sold 19,000 tickets in 48 hours. That's a great feat for anybody.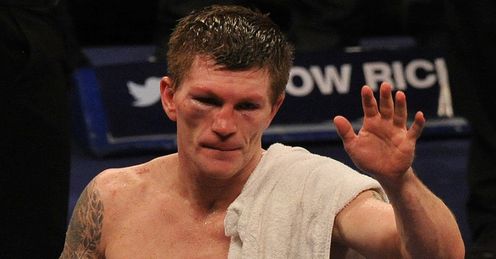 The atmosphere at the Manchester Arena was second to none; it was amazing. That must have been a lot of pressure for Ricky, but it would also have given him a great lift that so many people were there to support him.
However, the second thing the fight proved was that he can't fight at that level anymore. It was sad to see after two or three rounds the timing wasn't there; the instinct, the movement, the fluency and that snap he used to have wasn't there anymore.
Father Time came up on Hatton and he can't be what he was. It doesn't mean everything he did in the past was nothing.
Johnny Nelson
Quotes of the week
If Ricky had scraped through and got to the end of that fight he might have put it down to ring rust, blamed it on his time out of the ring and boxed on.
But imagine him boxing Paulie Malignaggi, who he's already beaten. Paulie would probably have beaten him. Imagine him fighting Amir Khan or Kell Brook. These guys would have beaten him.
That's where the problem is. If he was heartbroken after the Manny Pacquiao fight he would definitely have been heartbroken losing to any of those three.
But, with that defeat, he's still got his pride. This fight wasn't about the money, everyone knows that, it was about redemption for Ricky himself.
He lost so much weight and fought a guy who'd only lost one fight to a guy who became world champion. He could have stepped in for a soft touch, an easy fight, but he didn't. He put the work in and believed he could return to that level.
I have to give it to Ricky but it brought a few tears to a lot of grown men's eyes seeing that happen. It's such a shame because we're not going to see anyone who can pack them out like he can for quite a while.
Positives
He now needs to sit back and somehow get his mind round what's happened and take some positives out of it. He can still pack them out after being out three and a half years and he knows that he's still loved and still respected.
I don't think the defeat has tarnished his record, either. Yes, before Senchenko he'd only lost to the best, Floyd Mayweather and Pacquiao, but this fight came at the back end of his career after a three and a half year absence.
Yes, he got stopped by a guy who isn't a big puncher with a body shot but that doesn't detract from what Ricky Hatton's done because he's given a lot of people some great memories in this country.
It just means he can't turn back time. Father Time came up on him and he can't be what he was. It doesn't mean everything he did in the past was nothing.
He was open, vulnerable and the timing wasn't there. But, no disrespect to Ricky, he's just not the fighter he was, that's all it means.
Hopefully it will give him closure to move on. When he lost to Pacquiao he thought he had a lot more left to offer. Now we know he hasn't anymore.
He thought he had a winning lottery ticket to cash but on Saturday night he realised the numbers were wrong.
Comments (3)
Fraser Irving says...
Fair points, Johnny. However, I do think Ricky could have found most of his former abilities with a slightly easier choice of opponent for his comeback. My initial thoughts were that Lee Purdy would have been a fantastic choice, given his recent exposure on Sky, and with all the potential to be a tear-up. Having said that, I guess that however far this comeback might have lasted, I suspect the ending would have been just the same, at some point still prior to winning world honours, and also just as devastating and tragic. Hats off to Ricky. His style of fighting has reinvigorated boxing in the UK and also abroad. To his many adoring fans, he has nothing else to prove in the ring. I sincerely hope that he doesn't disappear inside a bottle, but instead looks back on his boxing career with great pride, and has a successful career in finding, training and promoting the next Ricky Hatton - I forgot, There's Only One Ricky Hatton. Best wishes.
Posted 18:08 28th November 2012
John Smith says...
I hope Ricky got all the answers he wanted on Saturday and he can move on with his life. He has brought hapiness into thousands of peoples lives and he brought people on an amazing journey. I hope he bears this in mind when ever he feels down on his luck in future. All the best Hitman!!
Posted 22:14 27th November 2012
Danny Davis says...
Great write up Johnny. Can't disagree with a single thing that you have said. So many are already talking nonsense about the fight, the outcome and ricky's legacy. Refreshing to read this!
Posted 17:05 26th November 2012