If you're a purist you look out for Floyd Mayweather. He does the basics of not getting hit. He's a boxing wizard.
If it's 'crash, bang, wallop' you want then you won't get that from him. There's no blueprint with him. There were all those doubts on whether he'd pull it off and win after being out for a year. But he still comes back and sniffs out Robert Guerrero.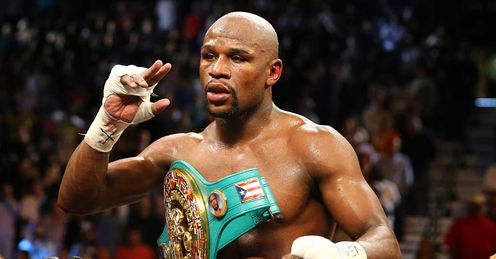 People seem to forget that when you've been out for so long you shouldn't be ring rusty if you stay in good condition. He doesn't have that problem. You never see him out of shape, looking as though he's had one too many big meals and this is what is giving him longevity in his career.
People talk about his father being back with him but he's 34, been there and done that. He doesn't need someone to tell him what to do in a fight. He may need someone to motivate him but he has all the knowledge to sort out an opponent.
Saul Alvarez is a possibility to fight next but if I was Floyd Mayweather I'd steer clear
Johnny Nelson
Quotes of the week
If he doesn't have a gameplan then he has the ability to figure it out midway through a fight. So anybody in the corner of Mayweather cannot take too much credit for his tactics in the ring.
It will be interesting to see who Mayweather will fight next. If it's in the UK, realistically there are only two available to him in his weight division - Kell Brook and Amir Khan.
Khan has proven himself at world level and would be the obvious opponent. He's been beaten and shown vulnerability but he's also shown he's dangerous because he's amazingly fast and could be too sharp.
As a business move for Mayweather, would this be smart boxing? Fighting a younger, more ambitious fighter might be a better move in the long run. In Kell Brook you have a potential world champion, he's unbeaten and hungry.
For excitement levels you'd understand him choosing Khan but, for me, if he decides to fight in the UK then the best move would be to box Kell.
Meanwhile, the interest and excitement over a Manny Pacquiao and Mayweather fight has gone. Saul Alvarez is a possibility but if I was Mayweather I'd steer clear. I would not go anywhere near him.
He's a young, hungry, aggressive lion and can hustle and bustle. He's dangerous and even if he hit you by accident it would be a dangerous shot.
I wouldn't do it. Having said that, if Mayweather beat a boxer like Alvarez there would be nothing else to prove to anybody.
The world is his oyster though. Perhaps he could step up a weight, but if he came to England there would be a massive turn-out.
Big boys
Meanwhile, Wladimir Klitschko improved on his dominance to retain his WBA, IBF and WBO heavyweight titles. He showed who's boss again and you just can't knock him. The problem is he's now struggling for opponents that would get TV and the media interested.
He's just doing his job though and doing great at it as well. But who is there? He could fight David Haye again. That might be his best bet, but a lot of people would say 'why do that again?' There's nobody to really test him at the moment.
There's no need for him to head to the States or venture out of Germany or anything like that. He's such a big star in Germany so why would he? At the moment, I see nobody but in 12 months? Possibly David Price or Tyson Fury could cause him problems...
Price needs to come back from the mistake he made against Tony Thompson but that pair could give him a run for his money - but not at the moment.
If I was Klitschko, I'd fight them now before they really know what they are doing!
Comments (4)
James Jevon says...
The Alvarez fight is now a done deal. A very dangerous fight, more so than Manny, but hats off to Floyd for taking it. He has answered some critics who accuse him of cherry picking fighters no longer in their prime or on top form. It is a difficult one to call as Floyd has weathered - excuse the pun - every storm thus far. The only thing that is certain is that Alvarez is in his prime and a very dangerous opponent. As for Wladimir; why does nobody ever consider Povetkin a credible opponent? Instead fighters with questionable credentials seem to forever jump the queue. There are others too. Haye is still credible. They fought once, but so what. In a similar predicament Leonard fought La Motta several times.
Posted 12:06 1st June 2013
Pete Deer says...
I agree floyd should stay clear of Canelo but for different reasons. Not because he offers anything in style or skill problems, just because he's a come forward fighter who would be approx 20lbs heavier than Floyd on fight night. Floyd is 147, he couldnt even get to the max weight limit when he faught cotto. Canelo is just too big, simple as that.
Posted 11:07 13th May 2013
Michael Young says...
Cant believe you think mayweather should stay away from canelo, he'd/will destroy him
Posted 22:31 7th May 2013
Michael Fllanagan says...
floyd way brilliants against guerrero on satuday night, no ring rust or signs of age just pure domanance, however having said that i agree with johnny, mayweather should go nowhere near canelo alavrez, think of the trouble floyd had with a damaged goods cotto... canelo can do everything cotto can do and so much more, ive always believed no matter how good you are there is always one fighter out there who will have your number and i truly believe canelo would be that one fighter floyd can't beat.
Posted 18:32 7th May 2013