You've got to give all the credit in the world to Joe Gallagher.
He lives, breath and eats this sport and with three of his key fighters all on that bill in Bolton, he put his neck on the line - and came through it.
And yes, everyone - and rightly so - were impressed with Scott Quigg, Paul Smith and perhaps top of the pile, Anthony Crolla, but all of their wins were down to the gameplan, to the tactics they stuck to which made all three look good in the ring.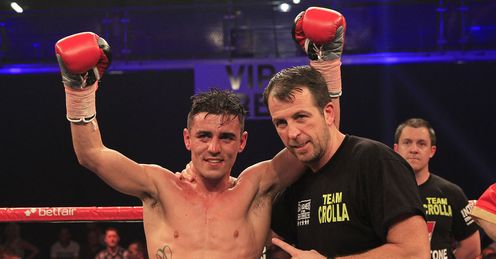 Joe has had a stable of decent, hard-working fighters for a few years now and every now and then they hit the headlines and this is his time now. To have three fighters on the same bill is one thing - after two more won the night before - but to see them all win in style, is outstanding.
The trainer often gets overlooked and of course, the fighters need to take all the plaudits but I think we all know just how crucial the man in the corner is. Gallagher is one of the quieter ones out there and you get the feeling he is already looking ahead when his guys have fought, but it was nice to see him leaping into the air three times because of the performances he and those men had come up with.
Properly
Perhaps the classic example of that was Crolla. What you have to remember is that no-one had beaten Gavin Rees at domestic level, never mind a guy who had failed to win his most important fights not so long ago.
The trainer often gets overlooked and of course, the fighters need to take all the plaudits but I think we all know just how crucial the man in the corner is.
Johnny Nelson
Quotes of the week
If they'd had just gone at it, Rees's experience and his know-how would probably have taken it comfortably, but throw a gameplan in and then it's completely different.
I think a lot of us were expecting Crolla to really go for it from the off but then for Rees to come into it in the later rounds. But in the end, Crolla took his time and his beatings when he had to but as it went on, he had more in the tank while Rees thought he had it in the bag because of his fast start.
I know there has been a few complaints about the scoring but I had Crolla by a couple and when you get older sometimes you can't go up an extra gear any more. I bet Rees knew he had to and I bet he wanted to but it wouldn't happen because youth was not on his side on Saturday night. Crolla on the other hand left nothing in the gym, took everything into the ring and he and Joe Gallagher did everything properly.
Then we saw Scott Quigg and a reminder of just how good this guy is. I know people are looking at William Prado - the guy he faced - and are suggesting he only looked that good because of the guy he was in with.
I get that, I understand why people would be saying that, but Saturday night was not about that. It was about how Quigg has developed and how he does his job - and he did that in such a way no-one could tell if Prado was good or bad. Quigg just cut him right out of the game.
Perfect
It was punch-perfect and he was good, very good. This kid is getting better and he has got better in his last few fights, especially the second one against Rendall Munroe and he did that again on Saturday night. Of course, all talk is about Carl Frampton now and yes, that has to happen.

But Scott should go his own path and look for a world title and forget about Frampton for now because it's business; win a world title first and his stock will rise - and that is what he has to do. He said it will happen down the line, but I like the fact that he has his own destiny to follow first and foremost.

Then to complete the Gallagher hat-trick, what a performance from Paul Smith. I haven't seen him box that well for a few years! I think Smith would admit that if he had lost that, he would've been at the end of his career - and now I think that might be what Tony Dodson is now going through.

Smith was always going to be the better technically out of the two but you have to give Dodson credit. He did well to put pressure on and even when he was put on the floor, he came back and looked like he was giving it a real go.

But the bottom line was Smith out-boxed him, out-foxed him, out-punched him and in the end, beat him well. Where does the loser go now? Is Dodson now out of the British-title level because he was badly beaten up?

He said before the fight he had never trained so hard, there was nothing left to chance and he was giving it all to keep his career going. Well if you do that and you still get beaten, then all you can do next is walk away.

As for Smith, where does he go next? Well, he was asked about avenging losses to James DeGale and George Groves and he wants the former. You can understand why a fighter doesn't really want to go in again with a guy that caught you with a big shot, but I was surprised he wanted to get back in with DeGale, after he beat him in some style nearly three years ago.

He has improved since then - and so has Groves for that matter - but watching Paul produce that sort of performance, then so too has he. I do think Smith is British title level but he could well become the domestic super-middleweight gatekeeper, because he will be hard to beat whoever you are.

The one thing we know about Paul Smith is he is back in love with boxing and he was the first person to pay tribute to the man behind him... Joe Gallagher.
Comments (8)
Joe Bentley says...
Gallagher came across very well on Ringside. Spoke a lot of sense and you could tell he was a down to earth character. Obviously knows his stuff.

Posted 15:34 4th July 2013
Conor Mcenoy says...
Nice read Johnny. Joe Gallagher is a great trainer and its nice to see the trainers getting the rocognition they derserve.

Posted 13:10 4th July 2013
Jay Chouhan says...
Scott Cardle has great head movement! Quigg has been out of action since Nov 2012 so he needs to have some 'easy' fights to stay busy....

Posted 23:04 3rd July 2013
Phil Manwaring says...
Rees should be very disappointed as he had the beating of Crolla but let him back into the fight in the latter rounds and nick it. Crolla did that to salvage the draw against Matthews in Liverpool and maybe should have took that one. A very lucky Crolla is not as good as was first thought and Ricky Burns would take him out in 3 rounds.

Posted 20:55 3rd July 2013
Anthony Kennedy says...
I think for me this is praise a bit too far. Gallagher's fighters apart from Quigg are all very limited and are suspect defensively showing next to no head movement.. Add to that, how many world champions has he trained? 2 of the 3 fighters on dispaly were also in with poor opponents, whereas Anthony Crolla's victory over Rees was questionable. If Crolla does get a shot at Burns world title then it could be a short night in Glasgow because I can't see Crolla lasting 5 rounds.

Posted 12:35 3rd July 2013
Kerry Gallagher says...
fantastic performances by all boxers on both nights,huge respect to joe gallagher hard work and deadication payed off onwards and upwards for gallaghers gym.

Posted 20:10 2nd July 2013
Daniel Roach says...
was happy to see crolla win on saturday night as enjoy watching his style of boxing and enjoy his pundit work as well! a certain derry matthews said joe gallagher fighters only fight one way, well i think derry may have to eat his words after saturday night

Posted 15:50 2nd July 2013
Danny Davis says...
The key difference between Crolla and Rees on the night was discipline. Crolla did everything that Gallagher told him to, stuck to the gameplan exactly and came away with the win. Rees on the other hand did the total opposite and his trainer said as much after the fight. I though the card on the night was awesome and all of the fights lived up to the billing. Gallagher deserves a lot of credit for all three fights though and it is clear that his fighters respect him and trust his judgement. all three thanked him in their post fight interviews and that is good to see.

Posted 14:23 2nd July 2013