Adrien Broner is nicknamed the Problem, but he had serious problems with Marcos Maidana's power on Saturday night, as the Argentine took a shock win in San Antonio.
I really didn't see the previously undefeated Broner losing to a fighter people were saying was past his best, but you have to give it to Maidana.
The 30-year-old made a really quick start and shocked everyone when he put Broner down in the second round - the first time the American had been floored in 28 fights.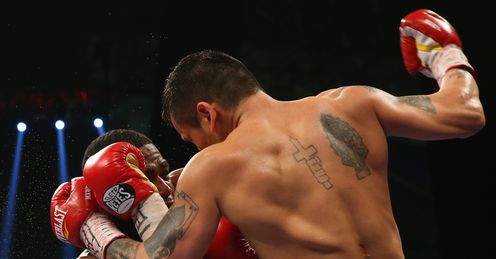 Maidana's power really was the telling factor throughout the contest, too.
Once he got the measure of his opponent, Broner wasn't doing too badly, however, he was dropped again in the eighth and every solid hit from the challenger had the WBA welterweight champ in trouble.
I'm not sure many people feel much pity for Broner; he set himself up as the pantomime villain and if you do that you have to accept the boos when they come.
Maidana got Broner on the back-foot and he didn't like it.
Johnny Nelson
Quotes of the week
And Broner certainly won't be able to roll out his 'there's no blueprint for beating me' line, anymore. Maidana has shown the way.
Maidana knew he couldn't out-box Broner but he was physically stronger than him so he roughed him up, shook him out of the smooth pace he likes to operate at and made his opponent uncomfortable. He got Broner on the back-foot and he didn't like it.
Maidana's power won this fight - and that makes me wonder whether the leap to welterweight is too much for Broner.
Weight
The American became a three-weight world champion by beating Paulie Malignaggi in New York in June but we have to remember he began his career at super-featherweight, won a world title there and then took the WBC lightweight title in November 2012.
He's put 17lbs on from when he started as a pro, which is a lot. Physically he looks like he can carry it and has strength in his upper body but it may take time for him to grow into the 147lbs division.
He now needs to decide whether he wants to stick with this division and challenge the other world title contenders and seek a rematch with Maidana or move down to light-welterweight, which is an option.
Either way Broner is still the talk of the town, TV companies like him and he can rebuild his reputation.
Maidana, meanwhile, will be an interesting prospect for a lot of fighters, now he has the world title to his name.
Amir Khan seems set for a fight with Floyd Mayweather, but has defeated Maidana before and could see this as a chance to get a major strap back - but I actually think Maidana is the ideal opponent for Kell Brook.
Kell was the mandatory challenger for Devon Alexander's IBF welterweight title until Alexander lost to Shawn Porter, so it would be great to see him up against the man from Argentina instead.
Kell knows he'll be in for a tear-up, because the man can punch, but Maidana can also be out-boxed, as we saw at the back end of the Broner fight.
He's strong and Kell could not afford to make mistakes but it would be a great fight - and I see no reason why it couldn't happen.
Purdy
There was more welterweight action on Sky Sports on Saturday when Lee Purdy just fell short against Leonard Bundu.
In fairness to Purdy, Bundu was absolutely outstanding! I know he's European champion - but where has Bundu been?
The Italian was brilliant - he can bang, he can fight, he can punch... Purdy showed a lot of bottle and took it to him but you could see him wilting as the fight rolled on.
Bundu smartly changed tactics halfway through the fight; he first tried to fight Purdy but saw the man from Essex was comfortable stood in front of him in that kind of battle, so went on to the back foot, used his jab and that's what beat Purdy.
To have the fitness and brain to do that in the heat of the bout was impressive from Bundu.
Purdy produced an excellent performance but in the championship rounds Bundu proved to be too good for him and now the Englishman has to go back to the domestic ranks.
This loss came on the back of a defeat to Alexander and Purdy needs to get back to winning ways to rebuild his confidence.
Mitchell
One man who isn't short on confidence, though, is Kevin Mitchell, who stopped Karim El Ouazghari on the same bill as Purdy at the ExCel in London.
The Romford fighter was outstanding and impressive in everything he did. He's talking about how he's back in love with boxing and when that passion is there he can produce performances like that.
He now should be looking to take on fighters who have their eyes on world title shots - that's what I'd be doing if I was in his position.
He needs to stay busy and if he can record a couple of big wins against ambitious fighters then his confidence and reckoning will grow and grow.
Comments (3)
Phil Cross says...
I think that Kell would be in for a hell of a night with someone like Maidana, if I was Brook i'd go for someone like Paulie Malgnaggi. Big name in the US and it would sell in both countries. Maybe even Zab Judah. Then you could talk about fighting for a title again. I like Kell and I do believe that he will be a world champion but he needs to show that he's got what it takes to fight out of his comfort zone and dominate an opponent that has been there and done it. For me he needs 3 fights this year, 1 against either of the 2 previously mentioned, 2 against a title holder (hopefully win the belt), and 3 against Amir Khan. That for me would be an extremely successful year for the lad.
Posted 12:40 8th January 2014
Paolo B says...
Maidana has done more than enough to be considered well above the stepping stone status you are giving him here. He deserves some big fights now and Brook is not a big fight at the moment. Brook needs to gain some international credentials first.
Posted 21:30 17th December 2013
Tim Mcsweeney says...
Thanks to Johnny Nelson for yet another excellent review. He is the perfect boxing analyst ..... knowledgable, humourous and he has been a World Champion himself!! Well done, Johnny!! By the way, I think Maidana is an excellent fighter. He can bang and has never been stopped. I believe he would knock out, Kell Brook (he was rocked - albeit slightly - in his last fight against a weaker punching opponent than Maidana); but like you I would like to see the fight.
Posted 19:32 16th December 2013