So Kell Brook is looking for a warm-up before he finally gets a shot at the world title this year.
Well that is a big, big risk and if we look back over the past couple of years, things haven't exactly gone his way for one reason or another.
But, here and now, Brook needs to start his build-up, or his countdown, in the ring.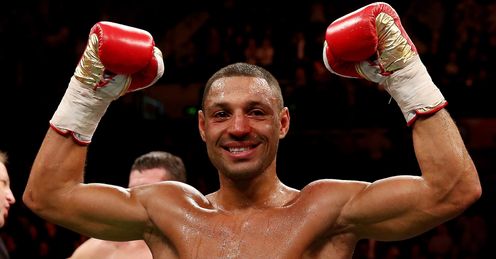 He has lost his momentum, he's been out of the loop and, let's be honest, this is the most crucial stage of the young lad's career.
He is in touching distance of that all-important shot which make it even more of a risk but while he could just work away behind closed doors, spar all he likes, he is not the sort to sit there and count down the days.
Kell should've been a world champion last year so this has to be his year and if it doesn't happen in 2014, you can forget it, I'm afraid.
Johnny Nelson
Quotes of the week
Mind you, I remember a few years ago when Jon Thaxton was in line for a world title challenge, just one fight away and had a warm-up.
He hadn't boxed for nine months but although Brendan Ingle kept urging him not to take it, he went in for a so-called warm-up.
Well, Emanuel Augustus was a no-mark but stopped Thaxton in seven and that was that.
At around that time I was waiting for my big chance against Carl Thompson but doing all my work behind closed doors. Even before Thaxton, I knew one slip-up and it would've been all over - and the same applies to Kell.
Once he becomes champion - and I do think he will - he will need to be one of those busy champions otherwise it is going to be tough for him.
He has been - be it through injury or something else - fighting few and far between and that does not suit him at all.
Yes, this warm-up in March is what he needs but no matter who it is against, Kell has to be smart how he does it and who he goes in with.
Overcome
It is no good going in with a complete push-over, that's for sure, and while it would be great to see him in with a big name in the welterweight division, that is just asking for it.
He needs someone who has been there but whose threat has gone, maybe past his best. If he gets an unbeaten up-and-comer it is pointless because if he wins, so what? It is a no-win situation.
If he boxes an ex-champion way past his best at least he will go in with someone with experience and should learn from that.
Maybe someone like Lee Purdy would be good, a domestic dust-up against a guy who still has a chance of causing an upset but someone who Kell has seen at his best and should be able to overcome.
That would be a good one. It would keep him busy, it will keep him in the forefront of people's minds and it would be great for British boxing.
A fight with Amir Khan would be even better but hold your breath on that one, because that will not happen until towards the end of the year.
If Khan does fight Floyd Mayweather I think he will lose and he will have nowhere else to go and will need Kell Brook, the by-then world champion, to put him back up there. So a world title would make that even better.
I am keeping my fingers crossed for Kell because in all honesty he should've been a world champion last year. This has to be his year and if it doesn't happen in 2014, you can forget it, I'm afraid.
I think even Kell will know that.
Comments (7)
Shiraz Hussain says...
Get him Victor Ortiz, Andre Berto or Soto Karass! Make a statement in the US!!
Posted 16:40 15th January 2014
Paul Grewal says...
Kell needs to step it up and fight a top contender, someone like Robert the Ghost Guerrero. This would be a tough meaningful fight, since Guerrero lost to Mayweather on a decision not too long ago. This fight should be a good win and get Kell well in line for a shot at Shawn Porter. Come on Eddie, make it happen!!
Posted 12:33 15th January 2014
Rich Ward says...
Lee Purdy, Frankie Gavin or bundu if kell is what he,s meant to be he should come through any of these fights
Posted 14:10 14th January 2014
Liam Tabern says...
Interesting thoughts on Kell's potential opponents. Two names spring to mind when thinking of good fighters maybe the wrong side of their best...Zab Judah and Paulie Malinaggi. Both ex-Khan victims too, so would be a great opportunity for Brook to show what he can do, as well as a good name on his CV too. Failing that, what about Josesito Lopez? Maybe more of a potential banana skin though.
Posted 13:36 14th January 2014
Dan Teah says...
Come on Kell you should have been world champ by now, you have all the tools to blow the division apart, make 2014 your year and finish it off by ending Khans career with a big KO if floyd does not beat you to it , MAKE IT HAPPEN !!!!!!
Posted 12:59 14th January 2014
Gareth Barnard says...
I don't see how a "warm up fight" would benefit any more than good sparring opponents. For sparring you're in control of all elements, reduce risk of cuts & - most importantly - if it doesn't go your way, the only one there to judge you is yourself. I love watching Kell fight - but the next fight I want to see is for a world title!
Posted 12:47 14th January 2014
Kamz Khan says...
I cant believe what I hv just read.if khan fights Mayweather he will lose.why can't you just get behind the guy and support him just the way u supported ricky hatton when he fcdfloyd.I never heard u say that Ricky will lose.I know u like kell and ur biased but amir is no different to Kell he is also flying the flag for great britain
Posted 11:02 14th January 2014