If the Amir Khan who boxed on Saturday night got into the ring with the Floyd Mayweather who boxed on Saturday night, Khan would give Mayweather all the trouble in the world.
People may kick off and say that I have no idea what I am talking about but for me that was Khan's best performance since he fought Zab Judah. Where I may have hesitated before to see Khan get into the ring with Mayweather, on Saturday's performances I would really look forward to this fight and would not say it was a foregone conclusion that Mayweather would win it. I am not saying Khan would beat him, but from what I saw on Saturday he would give him one heck of a fight.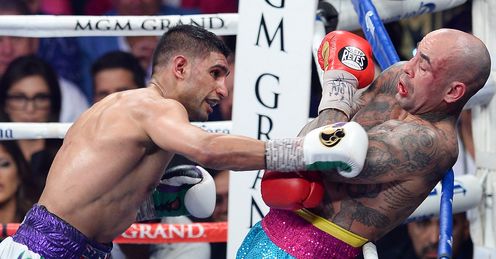 Match making
Khan had the speed, the movement and the discipline in his win over Luis Collazo and if Marcos Maidana can put Mayweather under that kind of pressure well then Khan could certainly make things very uncomfortable for Mayweather.
I am not saying that Mayweather is in trouble, I am just saying that he struggled to control the pace of Maidana in the first six rounds. That is the sign of a man who has reached a certain age and has to control the pace of the ring. Floyd Mayweather is an excellent practitioner and a excellent boxer but the one thing you cannot fight is age.
I am not saying Khan would beat [Mayweather], but from what I saw on Saturday he would give him one heck of a fight.
Johnny Nelson
Quotes of the week
He now has to control the pace of a round against a boxer like Maidana who shouldn't really be able to put him under that sort of pressure. At times Mayweather tried to take the centre of the ring, control it with three or four shots and then have a break. But Maidana kept on coming at him and did not allow him to have those breaks in the first half of the fight and that is why Mayweather struggled with him.
Father Time
I really rate Mayweather - I think he is brilliant and I rate him as one of the best fighters I have seen in my lifetime but time is catching up on him and that is why he cannot control the pace of a fight anymore.
Khan is a real handful - he is really fast and unless you can catch him out and really bang then he is going to cause you trouble. Mayweather has not got that one punch that will knock you out - an attrition of shots would do it but Amir Khan is too fast and too busy to allow Mayweather to drill him with five or six shots to knock him out.
Khan has really learnt from his past mistakes and a lot of that has to be down to Virgil Hunter. Hunter said that Khan's problem was that he trained for a fight and then after the fight was over he just disappeared. He thought that is what everyone did but what you should do is keep on training - yes you step it up for a fight but it's like your job and you have to keep at it.
By doing it all the time you develop your style and your body - Khan didn't do that and that is why he started to get hit, hurt and stopped. Virgil Hunter has taken him back to basics; conditionally he looked in fantastic shape at the weigh-in and he looked very strong. He showed amazing discipline too. He knows that there is a lot at stake - he cannot afford another loss, especially if the goal is a shot at Mayweather.
Khan looked mature - one of his problems in the past has been the red-mist where he wants to get all macho and get involved in a scrap he shouldn't have.
What happens next, well we shall wait and see. Floyd Mayweather will do whatever he wants to do and obviously Amir Khan will lobby for a fight with him. However, inbetween now and that happening, I think Khan needs to have another fight.
Kell Brook is not on Khan's radar yet but he may leapfrog Brook and fight Shawn Porter. So there are plenty of options for Khan but hopefully we will see him getting into the ring with Mayweather soon.
Comments (6)
Aaaaa Ssssssss says...
i think personally you have a point about amir khans power not doing the job when he had so many chances to go for the ko but he wanted to stick to his game plan which was PUNCH, DODGE, HOLD OPPONENT IN HEADLOCK AND REPEAT"!
Posted 12:01 6th May 2014
Kunal Popat says...
I really don't understand all the negative comments on this article. It's the first time Johnny Nelson has actually said something positive about Khan as he's so pro Kell Brook. The boxing world should really celebrate this performance by Khan it's the best "boxing" performance we have all seen in a very long time. Khan won every round and scored 3 knock downs. I don't think Khan will get the Mayweather fight now becuase the performance was so great it will be seen as too greater threat for TMT and Showtime.
Posted 10:53 6th May 2014
Feargal Sharky says...
Yes, but Collazo is a washed up bum who isn't in the same class as Maidanam so it's difficult to compare performances. When Khan fought Maidana he was holding on for dear life in the latter stages of the fight. I won't believe Khan has improved until we see him in with a better opponent.
Posted 09:04 6th May 2014
Anthony Mcc says...
I thought Khan finally showed some real ring generalship in this fight and proved he is finally starting to mature as a fighter. He tied up when he needed to, instead of leaving his chin hanging like he has in the past. He moved really well avoiding most of Collazo's shots. Most impressive of all for me though was his conditioning. In the past he has held on in the final rounds due to being gassed out, hence getting tagged late on in many fights. However Saturday round 12 and he was still moving well and throwing good combo's without forcing the action or looking pressured. A real quality performance from Amir - maybe he has finally come of age?!
Posted 00:14 6th May 2014
Tom Reardon says...
I just don't see it. It was a good technical performance from Khan, but Collazo walked through the last 6-7 rounds with his hands down by his waist and none of Khan's shots looked like they packed knock out power. And lets face it, looking good against Collazo and beating Mayweather are simply worlds apart. Mayweather would make Khan miss and hit him with the counter, which is one of his greatest weapons. I completely disagree with people that say that Khan's speed could be Mayweather's undoing, as the Maidana fight clearly showed that Mayweather is most afraid of power and being knocked out. Mayweather is no slouch and has the best defense. Khan would need to be constantly busy if he wanted to get a points victory and I just see Mayweather taking advantage as soon as Khan started to slow down. Either way it would be a great bonus for Khan if he is given the fight, as he would rake in a fortune.
Posted 22:31 5th May 2014
Mike Banks says...
Am sorry you watched the wrong fight I was sick of seeing khan grabbing his opponent and trust me he is not in the Sam category of Floyd. Get khan to relax and find someone else to fight. He is not ready yet for Floyd. If you really watch the fight did you see his coach yelling at him to stop those silly things that's where Floyd will be khan hands down. Khan is over rated British boxer
Posted 16:03 5th May 2014