With another cracking La Liga season done and dusted it's time to hand out the awards.
Barcelona might have the league trophy but one big question still remains - exactly who has made it into Guillem Balague's coveted team of the season?
The competition has been tough - in some quarters - but Spanish football expert Guillem has delivered his verdict and there are a couple of surprises along the way.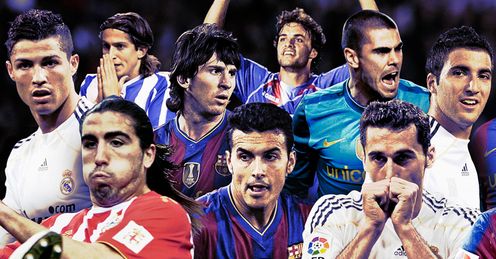 As usual here at skysports.com we'd love to hear your view as well so check out Guillem's team and then tell us if you agree by filling out the feedback form below.
Guillem's team of the season
Victor Valdes, Barcelona:
He's always had his doubters - and not just armchair fans either, but significant figures in the game like the national team coach - but how can there be a question mark over Barcelona's Victor Valdes who secured his third ever Zamora Trophy after conceding just 24 goals in 38 games this season. Barcelona's high defensive line has left him exposed on numerous occasions this term but his outstanding abilities in one on one situations has saved the day a countless number of times. That quality, along with his excellent feet and ability to play as a sweeper-keeper, is key to the entire Barcelona side playing the way that they do. And now he finally has the long overdue national call-up he thoroughly deserves.
Alvaro Arbeloa, Real Madrid:
Arbeloa is an easy choice for me, partially because he too had his doubters upon his return to Real Madrid, the club where he began his career. He has been pivotal to Pellegrini's defensive shape this season, helping Real Madrid become the second best back line in the league, and the kind of full back every manager dreams of having in his squad: capable of playing on either flank, in the centre and accomplished in both defence and attack. When his team urgently needed him to, he made the switch from right to left back look easy - and he's added goals to his game as well.
Gerard Pique, Barcelona:
There can be no argument against including Gerard Pique at the centre of defence: the man at the heart of the team that conceded just 24 times all season. He's added the tough physical lesson learned in England to his intelligence, positioning and passing - making him one of the best in the world game. He's even dazzled as a centre forward! A real character as well and a big personality who is key to Barcelona's success.
Chico, Almeria:
I'm partnering Pique with Chico, who has played a key role in keeping his side's goal difference down, despite their finishing in the bottom half of the table. He is maturing well after spending a season on loan at Barcelona B a couple of years back and is a key player in the successful Spanish youth sides. He has a big future ahead of him at a big club one day.
Filipe Luis, Deportivo:
It might seem strange picking Filipe Luis, a full back who spent half the season injured, but before he suffered that horrific injury in January - just after scoring against Athletic - he was by far and away the best full back in La Liga and arguably the best attacking full back in Europe. At the time, Depor were 4th and with Filipe in the side they picked up 37 points in 20 matches - without him, they slipped down the table earning just 10 points in 17.
Xavi. Barcelona:
It was strange hearing so many pundits eulogising Xavi after his performances against Arsenal in the Champions League and felt as if the rest of the world was finally waking up to something we regular La Liga watchers have known for a very long time: while the spotlight was always on guys like Ronaldinho, Henry and Messi; the heartbeat of this fantastic Barcelona side is Xavi. His ability to retain possession and build a platform for attacks is now revered the world over and he will also be key to Spain's success in South Africa. Is there a more perfect passer of the ball in world football?
Pedro Leon, Getafe:
Getafe finished 17th last season, and weren't expected to finish in the top six - and aside from the excellent work done by Michel in coaching the team back into Europe - Pedro Leon deserves much of the credit. A genuine winger, his 8 league goals and numerous assists were invaluable to his side's excellent season. He is, for my mind, one of the most exciting players outside the top four clubs and it is little wonder that Premier League clubs are keeping a close eye on him.
Pedro, Barcelona:
One of this season's revelations, Pedro's finishing has been second to none. Cool in front of goal, his 12 goals this season - six with the right foot and six with his left - illustrate his wonderful goalscoring technique and his versatility to play anywhere on either flank. He became the first player to score in six different club competitions during a single season in Barcelona's campaign and deserves his call up into Del Bosque's provisional 30 man squad for South Africa.
Cristiano Ronaldo, Real Madrid:
Of course, there's no such thing as a one-man team and I would never suggest that Real Madrid are nothing without Cristiano Ronaldo. But the fact remains that, at times this season, the former United man has single-handedly made the difference for his new club. As we have seen on occasions, that can be as much of a virtue as it can be a hindrance; but with 26 goals in 28 La Liga starts in his first season in Spain, he has silenced those who doubted his ability to adapt, inspired his new club to push Barcelona for the title and deserves his place alongside Lionel Messi as the two best players of their generation.
Lionel Messi, Barcelona:
And what can we say about Lionel Messi that we haven't said a thousand times before on these pages. Sky Sports La Liga watchers have been truly privileged to witness the birth, coming of age and flourishing of one of the best players many of us will ever see. And it's all the more astonishing because there is no ego or attitude and we are really watching one of the greats playing as if he is kicking the ball around he yard with his mates. He picked up his first ever Pichichi trophy after scoring 34 league goals in a single season and also won the European Golden Shoe with 68 points, a massive 10 points ahead of his closest rival, Chelsea's Didier Drogba. And he did it all with a smile on his face.
Gonzalo Higuain, Real Madrid:
At any other club on the planet, our centre forward would be an absolute hero, assured of a lucrative new contract offer and a lynchpin of the side after scoring 27 goals in 31 La Liga games. Yet Gonzalo Higuain has had to prove himself time after time after time, and still he is never more than slight gust of wind away from falling through the Bernabeu trapdoor. The fact that he has matured, fulfilled his early potential and delivered key goals to win crucial games in an atmosphere where it was always made clear that he was a mere understudy to Karim Benzema makes his impressive season stats all the more remarkable. The one blemish on his season were the accusations of an excess of individualism - not exactly something you would have thought of as a crime amongst a star-studded collection of players assembled by Florentino Perez.
So you've heard Guillem's verdict - let us know if you agree by filling out the feedback form below.
Comments (98)
Mike Turner (Chelsea fan) says...
No Iniesta !!!! Shame on you.
Posted 15:47 23rd July 2010
Adrian Barry (Manchester United fan) says...
Guillem, como esta usted?watch la liga every week and can't argue with the team, filipe luis looked to be a great revelation earlier in the year and pedro leon could well feature at a bigger club before long! Villa, Silva, Aguero, Puyol, Casillas, Alves etc could make a solid bench too. With regards Real Madrid, how do you think Mourinho's tactical approach will fare in la liga considering the style we see Barcelona produce every week and do you see Mourinho has the short term answer to winning trophies or Madrid finally seeing that stability is key to success?
Posted 21:42 24th May 2010
Ross Hall (Manchester United fan) says...
Darryl Morris (Barcelona fan) - Took the worlds right out of my 'mouth'. I have Xavi down as the Worlds best player (yes, better than Messi) and would have him in my team any day of the week!! Footballing genious, the little spaniard!
Posted 17:09 24th May 2010
Adam Eliott (Barcelona fan) says...
Far too many people who are posting here don't really know what they are talking about. Too many opinions are derived from football manager and fifa whereas if you actually watched the league you would know for one thing that in practice Ramos very rarely plays at right back and that Alves is a defender yet he never defends. Wing back doesn't do justice to Alves' attacking prowess, most of the time he's playing at right mid, and he can afford to do that because Messi and Pedro, whichever is playing on the right, play so far up that he doesn't get in the way. Arbeloa has been the only member of Real's defence to really do anything. There are countless occasions where real let people run through their defence and expect Casillas to stop the ball, which he often does. Despite this tendency of Casillas' I totally agree that Valdes should be in the team. I have never seen a goalie on such consistent good form in all my life and I genuinely believe that he is the best in the world, along with Casillas, Cesar and Given. However I really don't think Chico should be in the team. Puyol has had a stunning season and if this team is meant to function then the CB dynamo of Pique and Puyol would be both destructive and efffective and would in turn nullify the dispute over the lack of a holding midfielder, who would clearly have to be Banega incidentally. One more thing, Iniesta does deserve a mention. He was injured for a lot of the season but when he was fully fit he demonstrated why, before the Arsenal game, he was more renowned than Xavi. Adios!!
Posted 16:39 24th May 2010
Edward O'dwyer (Newcastle United fan) says...
Chico, Luis Filipe and Leon Pedro, while I'm sure deserving of praise for their season accomplishments, may be there only because Guillem has searched so painstakingly for a few players outside the Real and Barcelona ranks whose inclusions in a team of the season could be somewhat justified. Fair enough, it would be pretty boring and hardly worthwhile compiling at all if the whole eleven came from these two team. But if we're being really honest and willing to risk the selection looking boring and lazy, these three players would not be holding their breath with expectation. maybe Guillem could pick a Barcelona and Real team, and then a team made up of the other eighteen teams. The first would be the honest team of the season, the second would be more interesting, and, not that it could happen, it would make a cracking game in theory just to think about and play out in our heads while we wait for the World Cup to start.
Posted 16:31 24th May 2010
G B (Newcastle United fan) says...
Xavi is by far and away the best midfielder in the world! Agreed! cc.Tyrone Williams - This is 'Team of the Season' because it is judged purely on the merits of this seasons performances. Villa for Higuain is tough but a valid arguement but Diarra instead if Pedro Leon or Pedro (Barca) is a joke! What planet are you on he has had a real average season. This isn't football manager you know.
Posted 15:33 24th May 2010
Tom Fairboy (Tottenham Hotspur fan) says...
and Gavin Johnstone it is 10 million times better then your Scottish Pub League
Posted 13:26 24th May 2010
Clive Mamombe (Liverpool fan) says...
Guillem, brave side you picked there. And l doreally agree with most of them in not all (there will always be close calls, but l think you have been fair) Just the one question, "who would captain that side?
Posted 13:18 24th May 2010
Real madrid Fan (Real Madrid fan) says...
The whole Barcelona squad but at left back ARBELOA And KaKa midfielder and instead of Henry/Ronaldinho put RONALDO. Valdes/// Alves. Pique. Puyol. Arbeloa//// Kaka. Xavi. Iniesta.//// Pedro.Messi.Ronaldo. I am a Madrid fan but i think Barca with exception to Inter are just invincible....
Posted 10:48 24th May 2010
Liam Wallis (Liverpool fan) says...
how can you call xavi and all players like that worlds best players when their league is so easy to play in they get so much time and space on the ball if all of them came to the prem they woulnt hack it and then you can see why they arent the worlds best players
Posted 10:26 24th May 2010
Michael Mcveigh (Real Madrid fan) says...
Once again, a player who holds a team together goes as an unsung hero, What about Xabi Alonso, Madrids Back Bone??
Posted 09:45 24th May 2010
Nicholas Best (Arsenal fan) says...
I would have had ashley cole and gael clichy on the wings and your mid field is too attacking maybe lampard to add sum strength to midfield in attackand defense
Posted 06:57 24th May 2010
Diarm Cunningham (Tottenham Hotspur fan) says...
I usually never leave posts here but I just had to second Darryl Morris' reply to Chidi Okafor post... The thought that a self-proclaimed Barca fan would consider Xavi's entry a "joke" is ridiculous. I cant imagine what sort of Barca "fan" you are? Xavi is the best midfielder in the world ( equalled only by a fully fit Iniesta :) ) There should be moderators on these sites stopping stupid comments like that one being posted. Oh and by the way, Xavi scored 7 goals this season not 3. In relation to Guillem's team... Top notch as always... Only thing is i dunno what formation he'd play with that team. Hes seems to only have one central midfielder and 3 wide men if you count Messi as one. So maybe id take out Pedro Leon and put in Ever Banega. He had a great season, Maradona showing again what a joke he is by not bringing him to world cup along with Cambiasso and Zanetti. Finally although I cant really argue with any of the other members of Guillem's team, it's kind of hard to leave out Javi Martinez and Jesus Navas!
Posted 06:43 24th May 2010
Phil Parker (Manchester United fan) says...
My team would be... Casillias, D. Alves Ramos Puyol Felipe Xavi Alonso Messi Ronaldo Higuain Villa I think with the amount of creativity and a solid defence this team could'nt go wrong. Obviously theres D.Silva. Nevas. Iniesta. Pedro. Forlan, just to name a few who i've not selected, but having alonso and Xavi alows the other four attack minded players to go and do there stuff. Messi and Ronaldo both on another planet. I no Messi's getting more attention now because he's scored more goals, but 26 in 28 games in la liga is not a bad first season for Ronaldo. Easily Best two players in the world.Even with all these great players there would still be a place in there for FRANK LAMPARD, unbelievable player. Roleon the World Cup. COme on ENGLAND!
Posted 00:47 24th May 2010
Sam S (Barcelona fan) says...
Is there a like sign I could put on comments? I like Darryl Morris's comments.. The phenomenon that is XAVI can only truly be appreciated by stars such as Henry, Messi, Eto, Rivaldo, Ronaldinho, Ibrahimovic, Torres, David Villa.. because it becomes so easy for them to reap the glory with the real 'master of puppets pulling' the 'strings' from the midfield.. A person who watches football through someone else's fabricated eyes, lacking intelligence, cannot be told why scholes, fabregas, totti, gourcuff, iniesta and a few more are OH SO SPECIAL!!
Posted 23:52 23rd May 2010
Daniel Walmsley (Manchester United fan) says...
Can't believe the comments wanting Casillas instead of Valdes this season! I'd have Diego Alves, Cesar Sanchez and even De Gea ahead of Casillas, he had a dip in form for a large part of this season. If some of you actually watched La Liga rather than just commenting, you would know this...
Posted 23:02 23rd May 2010
Miata Quattro (Manchester United fan) says...
wow, why NOT a friendly match between the Best / Perfect LA LIGA Team XI against the ALL BEST EPL Team XI ???? sure it will be the Best among the BEST ??? and also the BEST SERIE A Team XI against BEST Bundesliga Team XI ???? it will be the BEST Football Tournament Games ever.... Do u Agreeeeeee ???
Posted 21:52 23rd May 2010
Michalis Konstantinou (Barcelona fan) says...
In terms of effectiveness this season i fully agree with your team, although i would have loved to see iniesta thrown into the mix as he has shown this season he has all the attributes to be the best midfielder since zidane. Despite it being a great season in la liga i am worried that it will always be down to two teams to win the league (real madrid and barca obviously who are only getting better) which will create a greater difference in the teams chasing, for instance sevilla who finished fourth with 63 points is the same points tally as liverpool who just about finished seventh and i think this difference will only get bigger in spain, whereas in england i find the league more competitive in terms of all 20 teams in play.
Posted 21:17 23rd May 2010
J J (Reading fan) says...
Gavin Johnstone, if la liga is 10 times better than the premier league, I assume you mean the Scottish premier league? Or do you mean the english premier league? If la liga is 10 times better than the English premier league then by default it's 1 billion times better than the Scottish premier league which is worse than the blue square conference
Posted 19:27 23rd May 2010
Joshua Murphy (Atletico Madrid fan) says...
People should start watching La Liga rather than basing team selections on the stats for players on FIFA. Valdes has been phenomenal this season so is rightly in team. And the people who are disagreeing with Xavi being in the team, are you serious? He is the best midfielder in the world at the moment. I think Navas and Martinez are both unlucky to miss out on making the team. Can't argue no Atletico players made it, we have been awful this season. Hopefully we can keep Aguero and get top 4.
Posted 17:05 23rd May 2010