Jenna Downing is in a bright, new place.
Eighteen months after sustaining a serious knee injury, the inline skater is ready to prove her World Champion credentials once again.
Jenna has just moved to Liverpool and now Rampworx Skatepark in Netherton, where she trains, is more of a home from home than ever.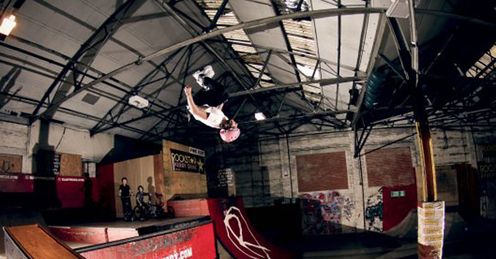 That means that she can invest the hours which she previously spent commuting from Barnsley into developing her career and raising the profile of inline skating.
Nervous
Jenna - a Sky Sports Living for Sport Athlete Mentor - has already made her mark on 2012.
There is such a serious lack of money in the industry that I haven't even had the chance to defend the world title I won in 2008. However, I am very confident that it will come back and be bigger than ever!
Jenna Downing
Quotes of the week
The 24-year-old returned to competitive action in February at Laced - an inline competition at Rampworx - where she beat 25 rivals from around the world to the Girls' title.
It was her first competition since she tore anterior and medial ligaments in her knee while attempting a daring back flip ramp-to-ramp transfer in August 2010 - and she was understandably nervous.
"There was a lot of pressure on me - especially as it was at my local skatepark," she recalls. "A lot of my sponsors were there, as were many of my friends, so I really wanted to do well. A lot of people were really surprised that I'd made so quick a recovery but I'd been training really hard to get back."
Now Jenna plans to turn things up another notch.
Next month she'll take part in X-Fest, a new extreme sports festival in Northampton, before heading to the International Festival of Extreme Sports in Montpellier, where skateboarding, wakeboarding, BMX, rollerblading and wakeboarding hold sway.
Aspiration
Jenna doesn't plan to miss a trick at either event.
"Inline Skating definitely used to be a lot bigger but BMX and skateboarding have overtaken it in terms of popularity," she says. "I'm passionate about making extreme sports more popular in general, but especially mine.
"I'd love to see a National Governing body established so we can have a proper competition structure and perhaps have a chance of going back to the X-Games or maybe even getting to the Olympic Games one day, but right now there is such a serious lack of money in the industry that I haven't even had the chance to defend the world title I won in 2008. However, I am very confident that it will come back and be bigger than ever!"
Jenna dreams of setting up her own Inline Skating academy - an aspiration that is fuelled by the positive reaction she receives on her school visits for Sky Sports Living for Sport.
She's just returned from Scalby School, in Scarborough, where she fielded questions from 26 pupils who then taught her a few skills in a playground kick-about.
"I'm rubbish at football so I took advantage of their expertise," laughs Jenna, who became the youngest female skater to turn pro when she was 12.
"Age should never be a barrier to trying something new. It's all part of realising that you can achieve anything you want to in life; it doesn't matter where you've come from.
"I've had lots of setbacks in my career but I've never let anyone stop me. Growing up in quite a rough area and from a single parent family I didn't have many opportunities as a young girl but sport gave me a focus and drive in life.
"I believe there is something out there for everybody," she adds. "It's about finding something you enjoy and understanding how far hard work and determination can take you.
"When I was young I tried lots of sports before I found mine; I wasn't very good at most and I didn't enjoy them, but then I discovered I had natural talent for skating and it has made me the person I am today."
You can follow Jenna on Twitter @Jenna_Downing or visit her website at www.jennadowning.com Make sure you stay up-to-date with Sky Sports Living for Sport @SkySportsLFS or @SkySportsOli
Jenna would like to thank her sponsors for their continued support over the years: Razors, Loco Skates, Rocket Dog, Nutcase, Wellwoman, BPL, Ground Control, Rapp Watch.