The Los Angeles Dodgers and St Louis Cardinals face off in the first game of the National League Division Series tonight, while on Saturday, the Detroit Tigers - fresh from ending the Oakland A's hopes of a World Series last night - take on the Boston Red Sox in the American League Division Series.
US sports writer Alex Ferguson previews the big match-ups which will decide who we see in the 2013 World Series.
NATIONAL LEAGUE CHAMPIONSHIP SERIES
Los Angeles Dodgers at St Louis Cardinals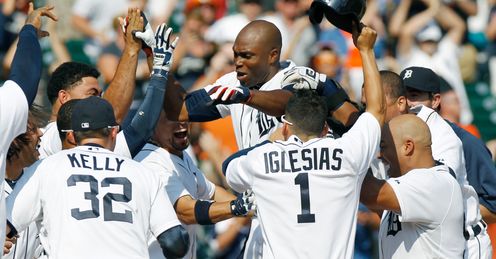 After coming within a game of being ousted from the play-offs by the pesky Pittsburgh Pirates, St Louis got their pitching together and reeled off two straight victories to continue their postseason run.
But this year, they'll face quite an opponent in the LA Dodgers, who disposed of Atlanta 3-1 without a lot of fuss.
The Dodgers have three great pitchers that would fit into ANY MLB line-up.
Alex Ferguson
Quotes of the week
The Dodgers were mostly brilliant in beating the Braves, with Hanley Ramirez (batting .500 for the series), new sensation Yaisel Puig (.471) and Juan Uribe (.375) all coming up trumps against what wasn't a terrible Atlanta Braves pitching team.
The Dodgers - part-owned by Magic Johnson - themselves have three great pitchers that would fit into ANY MLB line-up in Clayton Kershaw (who won two games in four matches and was practically perfect), Friday night's starter Zack Greinke, and Hyun-Jin Ryu. Oh, and they've got closer Brian Wilson to finish off games, too, who's pretty effective.
On the Cardinals side, it's not all tears for the Cards. The Cardinals have shown that they're able to triumph through adversity.
Carlos Beltran has been a sensational home run hitter so far, hitting two homers and six RBIs for the Cards, while David Freese has chipped in with four. Matt Holiday, Matt Adams and Yadier Molina may be required to step up a little more against this Dodger pitching.
On the other side, they'll be depending a lot on Adam Wainwright and Michael Wacha (look for some GREAT headlines if he does something spectacular/spectacularly bad this series), with Lance Lynn and Joe Kelly more a hope of a great performance than a great performance.
The Dodgers won the regular season series 4-3 against the Cards, and have won the last two in a row.
ALEX'S TIP: Dodgers win in six - thanks to their superior pitching.
AMERICAN LEAGUE CHAMPIONSHIP SERIES
Detroit Tigers at Boston Red Sox
Detroit were in a hole, 2-1 down and looking as though they'd fall away to the Oakland Athletics. It was everyone's romantic dream - particularly those in love with the concept and movie 'Moneyball'. Well, the Tigers found their mojo in Game 4, and in Game 5, Justin Verlander, one of the best pitchers in baseball, was incredible, as they polished off the A's 3-0 on the road, quietening the critics and a buoyant crowd in the process.
They'll now face a Boston Red Sox who easily dealt with the Tampa Bay Rays 3-1.
The Red Sox are on form. There's no denying it. They've got a Boston play-offs hero in David Ortiz, they've got great hitters Dustin Pedroia, Shane Victorino, and seemingly EVERYONE's contributing. Jacoby Ellsbury's getting on base (nine hits, averaged .500 against a good Tampa Bay pitching line-up), their pitching trio of Clay Bucholtz, Jon Lester, Jake Peavy are good if unspectacular, and their bullpen's headlined by Koji Uehara, who's had two saves in three appearances.
And how about the Tigers? Well, the Tigers have found form at just the right time. While many expected Miguel Cabrera, the country's best hitter in the regular season, to own the Oakland A's, but he's only batting .250, with a home run. Granted the one homer was in the seminal Game 5, but still. Victor Martinez has been 'the guy' for the Tigers so far, hitting .450 in the series. First baseman Prince Fielder is a brisk hitter, too.
Pitching-wise, Boston will be tested against Verlander (who hasn't given up a run all season), Max Scherzer and Saturday's starter Anibal Sanchez.
This should be one of the tighter series. In the seven times the two teams met in the play-offs, Detroit has a 4-3 edge.
No-one would be complaining if it came down to a Game Seven at Fenway.
ALEX'S TIP: Detroit wins this one in seven in a series for the ages.