It's probably fair to say that Nathan Cleverly is not yet a boxing superstar.
Frank Warren has always taken his fighters along gradually and you can't argue with the results as he did wonders for the careers of Joe Calzaghe and Prince Naseem Hamed, but Nathan needs to face someone with a huge reputation to get all the people excited.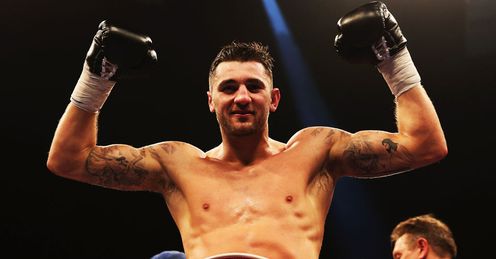 And all the people SHOULD be getting excited about Cleverly because he has a very entertaining style, is still young and more than capable of staying at the top of the light-heavyweight division for a long time.
Talk of a clash with Bernard Hopkins has died down and Nathan will face an as-yet unnamed fighter in August, so he just has to focus on gaining more experience and making sure he keeps his WBO title around his waist.
People should be getting excited about Cleverly because he has a very entertaining style.
Glenn McCrory
Quotes of the week
There would be plenty of publicity if Cleverly dropped down to super-middleweight to fight Carl Froch and even being mentioned in the same breath as the Cobra would boost Nathan's profile.
The Welshman is fairly big for a light-heavyweight so I don't know how easy he would find it making the weight and, even if he did, I would have to back Carl to win because he is at the peak of his powers.
However, that should not stop Cleverly from, eventually, becoming one of the biggest names in boxing.
Determined
Scott Quigg has joined Matchroom and I think that is good business from Eddie Hearn as Quigg, like Carl Frampton, who has just left the promotion, has many qualities and is a really pleasant guy.
I said in this column before that I thought Scott reached a point where he had plateaued a little bit but his win over Rendall Munroe took him to another level; he dominated Rendall and that's something people don't tend to do.
I don't think Scott is too nice to get to the top as having spent quite a bit of time with him I have seen how singled-minded and determined he is, while he is an absolute fitness fanatic, too, and that will give him an edge - as will his nan's magnificent chips!
I really do believe that Quigg can win a world title; Gullermo Rigondeaux, who beat Nonito Donaire earlier this year, is the star of the super-bantamweight division but there is an opportunity for Scott and he will prove that he is world class.
And finally, I sat next to British cruiserweight Ola Afolabi on Ringside recently and his story about going from London's streets to fighting for world titles was fascinating; he is a smart, humble kid with no chip on his shoulder who will be at the top level for a long time.
People may not know too much about Alofabi because we haven't seen him on Sky but I can tell you that he is in a very entertaining division, one which, of course, Johnny Nelson, David Haye and myself used to box in.
It is full of guys with plenty of speed and agility, while the fighters pack punch power and produce all-action bouts - and that's not a new thing, either as some of the best fighters of all time - Joe Louis, Rocky Marciano, Jack Dempsey - were cruiserweights.
Comments (4)
James Gilbert says...
Aaron Cooper... To be the best you have to beat the best. Taking 15'000 fans to the states does not make you a champion. Ward might have fought the majority of his fights in California....however, in the one fight that mattered outside of California/Nottingham at the Boardwalk, Ward did the business. Bigging Cleverly up to be something to get excited about is stupid, you can see already he is not going to be one of the greats. When he comes up against someone of a similar calibre he will get found. Froch for sure would do a job on him and then where would that leave him?
Posted 10:32 26th June 2013
Iain Hamilton says...
I respect Glenn's opinion as a former world champion. I think if Froch has any guts he will take on Cleverly at the end of the year cause Cleverly is fighting Kolavev but I think Froch needs a good domestic dust up and Cleverly in my opinion is the right choice these two will give you a tearup, on Afolabi I think he should look to sign with one of the British promoters cause K2 just handle the Klitschkos and either Frank Warren or Eddie Hearn can give him exposure over here and make him champion.
Posted 13:23 23rd June 2013
Aaron Cooper says...
Yes Froch has fought just over half of his fights in Nottingham but Andre Ward has fought the majority of his fights in California..his home state. Froch is also a 3 time world champion and lost to one of the p4p best so how did he get found out? Hatton is just about the only guy who could bring 15000 fans with him to the US AND oh he has only lost to a former p4p king and probably the best boxer in the last 15 years..James Gilbert you are clueless!
Posted 15:28 21st June 2013
James Gilbert says...
Cleverly is another one who only fights in his comfort zone, wrapped up in cotton wool, fighting domestic Joey's. As soon as he steps out of that comfort zone he will get found out. Just like Froch did the first time he fought Kessler and a second time when he got schooled by Ward. Cleverly is a good fighter but he is never going to be a true boxing champion. Froch fought in front of 9/10 thousand in Nottingham for the majority of his career. In my opinion, the equivalent of Man Utd playing at home every game for a full season. Cleverly will get found out on the big stage just like Froch, Naseem and Hatton.
Posted 12:20 21st June 2013