England can't afford another mediocre display in Mohali.
India, 2-1 up, will clinch the series with victory in Wednesday's fourth one-dayer and even if they don't, the best England may be able to hope for is a 2-2 draw as there's still some doubt over whether the final match in the series, in Dharamsala, will go ahead because of heavy snowfall in the region.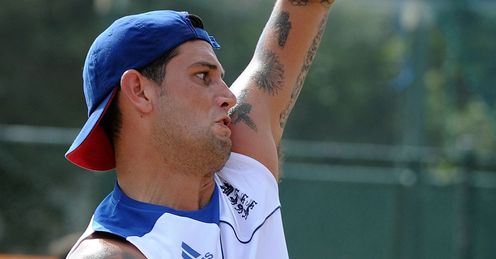 My gut feeling is that it will take place somewhere because India don't like giving up one-dayers, but this is the big game, this is the match we've come for, this is the challenge England must rise to.
I've never played on a tired Mohali pitch and England should expect another good one, with a little in it for the seamers, which means the batsmen cannot afford a repeat display of the kind we saw in Kochi and Ranchi.
This is the big game, this is the match we've come for, this is the challenge England must rise to.
Nasser Hussain
Quotes of the week
INDIA v ENGLAND
Fourth ODI
6am, Wed, Sky Sports 1 HD
Alastair Cook, Ian Bell, Kevin Pietersen and Eoin Morgan had fantastic records in 2012 but they've been poor in the last two games - especially Saturday's seven-wicket defeat. I was really cross after that game because it was a good pitch but they fell well short of a decent total.
There was a little bit of movement early on which made life difficult against the two new white balls and in those conditions you know you'll have to dig in a bit, but there was a real naivety in the way that they played for spin against Ravindra Jadeja when there wasn't any.
It was a clear case of good players messing up so now they've got to make sure they put it right. I'm sure they will, be it tomorrow, Sunday or this summer in England; England have not become a bad side overnight and they know from the first match in this series that India can be beaten in India, even if that's not easy.
Change
As a rule, when a player is selected to play for England I like to give him the whole series to prove himself, but after two batting collapses I do believe that it's time for England to make a change.
Craig Kieswetter has scored only 42 runs in three innings and while that's only marginally worse than Morgan, now might be the time to look forward and see what the next generation of wicketkeeper-batsmen has to offer - whether that is Jos Buttler or Jonny Bairstow.
I'd be happy to go down that road because if neither is able to develop their skills behind the stumps, you know you've always got someone of the quality of Matt Prior waiting in the wings who could be parachuted in.
Neither Bairstow nor Buttler is the finished article - if you speak to Marcus Trescothick about Buttler, he'll tell you that he needs a little bit of work to do with his wicket-keeping. But he'll also say Buttler's a fantastic batsman who deserves a decent run in the side.
On the bowling front I'd stick with Jade Dernbach for the remainder of the series, even though he's going at almost eight runs an over in this series and above six in his career.
Stats don't tell the whole story, though, because Dernbach has played almost a third of his 21 ODIs in India - as tough a place as there is to bowl seam - particularly in powerplays.
By his own admission he has not bowled at the level that he would like, but I'd stick with him because he offers something different, something new.
He's definitely got something about him and I, for one, don't want every England bowler to bowl in the same way.
But I was surprised that Cook gave Dernbach the new ball the other day; I'd like Tim Bresnan to take over that role in Mohali.
Watch the fourth one-day international between India and England, live from 6am on Wednesday on Sky Sports 1 HD.
Comments (3)
Ian St clair says...
Hi Nasser I am an England supporter although I live in South Africa. I have read your article and whilst a lot of it does make sense however whilst someone like Buttler deserves a run in the side I can't see why someone like Alex Hales or Michael Lumb gets given a go either. In my opinon Samit Patel is simply not good enough - apart from the first ODI game. He's been given many chances so why not start with Hales and Cook and move Bell down the order. Not convinced that Jade Dernbach is the right person either - hopefully when Jimmy Anderson is rested he'll move straight back into that position. Tim Bresnan has also done very little with the ball and there may well be a case to use two spinners rather than one (I can't call Patel a spinner..). Obviously, Swann would move straight back into position but Tredwell has not done badly.... Don't get me started on Kieswetter.... Shouldn't be in the side at all - Prior is by far a better keeper and batsman. Bottom line is that we are not playing with our best team and yet the press slaughter us for not winning an ODI series in India for umpeen years. Not sure what Morgan's problem is at the moment. It's great when it comes off but he looks stupid when it doesn't. Look at the last two ODI's (including today). It's not eaasy being an England supporter in SA at the moment!! Thanks for the great articles anyway. Cheers
Posted 09:21 23rd January 2013
Tom Howell says...
Good comments about Dernbach Nass. I remember a certain James Anderson had a spell of averaging over six an over at the start of his career & look how that turned out?!
Posted 18:04 22nd January 2013
Adrian Harvey says...
Kieswetter has been poor since he came into the team. A few slog fests opening the batting doesn't make an international player. His glove-work is poor and his batting isn't anything to write home about either. Prior should be in the team in all forms, not just test matches. Why "look to the future" with Bairstow or Butler (neither of whom are regular keepers) when the best wk/batsman arguably in the world is twiddling his thumbs at the Big Bash?
Posted 17:53 22nd January 2013