The start of the Super League season signifies the beginning of spring for me.
I know that we're still in the middle of winter, but the days are getting longer and I've ended my hibernation; it's time for 2013 to really get going!
I've been to watch some football matches and tuned into some Heineken Cup rugby union on Sky Sports, but I've not half missed my rugby league; I think, like every other fan, that it's almost a part of me.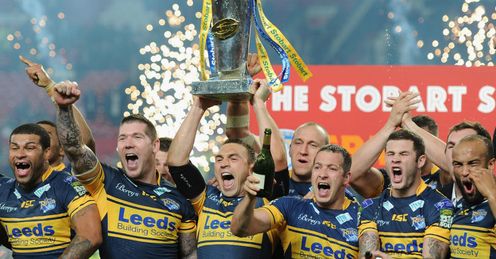 Without it my life's not complete; okay, it annoys me from time to time, and it has let me down in the past, but like a family member, you still love it and can't walk away from it.
2013 also offers us an opportunity to showcase the sport to a new and wider audience; the World Cup in the autumn will have games throughout England and Wales and we have the potential to demonstrate the speed, skill and drama of 13-a-side rugby to people who have never witnessed it before.
I genuinely believe that Widnes will be stronger and more competitive in their second successive Super League season.
Phil Clarke
Quotes of the week
LIVE ON SKY SPORTSLeeds v Hull
7pm, Fri, SKy Sports 1 HD
St Helens v Huddersfield
4.30pm, Sat, Sky Sports 1 HD
Watch on the move with
Sky Go
How to
remote record
In my opinion, it is a brilliant chance to attract a new wave of interest in the game and we all have a responsibility to use this opportunity well. It is 13 years since we last had a World Cup in the UK and from what I saw we didn't do very well both on and off the field. Will it be any different this year?
But before we get to that we've got a full Super League season to get through and the drama and excitement of another Challenge Cup.
It is often said in the investment world that "past performance is not indicative of future results". Is this true in Super League? Well, sadly not. Teams that did well last year tend to do well the next.
If you look at the League table at the end of Round 27, you'll realise that for the last three years Wigan, Warrington and St Helens have sat in the pole positions going into the Play-Offs, jostling around in those top three places.
Everyone knows that Leeds have won the Grand Final for the last two seasons without being in the top four, but past performances do seem to predict the future in Super League.
Have any other teams got a chance in Super League this year?
The Catalans Dragons would have to be closest, with Hull a place behind them. The the rest have a chance of doing what the Crusaders did in 2010 and the Wildcats did last season when they finished eighth (how close were they to beating the Rhinos in week one of the play-Offs?) but are unlikely to win at Old Trafford.
New rules
As usual, the season begins with a few new rules and some alternate interpretations of the existing ones - but what are the purpose of these changes?
The general sports fan will be aware of Bradford City's win over Aston Villa to reach the Capital One Cup Cup Final and the victories of Luton and Oldham over Premier League opposition QPR and Liverpool in the FA Cup.
The unpredictability of outcome, the giant killing acts that occur in football tournaments, should surely be a reminder to the rule makers and administrators of rugby league.
Will allowing the attacking team an extra man out of the scrum help to produce the drama and upsets that sports fans love to see? Or will the dominant team, with greater possession and field position, just be in a better position to score more times?
Do the current rules allow David to still beat Goliath in rugby league? Is this what we should be concentrating on more when we annually tweak the rules?
If Swinton were drawn to play again Wigan in this year's Challenge Cup would they have a chance of victory? If the honest answer is no, then perhaps we need to ask why not?
Most of the changes over the last 20 years seem to have made the game faster, but does that make it better? The men's 100m race is pretty fast, but most people know who is going to win before it begins.
Stronger
The recent difficulties of teams like Salford, Bradford and Wakefield and the limited resources of others like Widnes, London and Castleford means that there will most likely be a divide between the top half and the bottom half of the teams in Super League.
However I genuinely believe that Widnes will be stronger and more competitive in their second successive Super League season, while I also feel that the Tigers and the Broncos will win more games and provide a stronger challenge than they did in 2012.
The Salford Reds are awaiting a heart transplant which could, from say Round 10 onwards, give them a new lease of life and mean that the bottom four teams of 2012 have a better chance of sending their supporters home happy.
After our four-month break from Super League it's time to dig your scarf and replica jersey out and get ready for the games this weekend. Round One usually produces an upset or two and we've probably got the best game to kick start the season when Hull travel to Leeds on Friday.
The start of a season is more important to some teams than others, and Hull are one of those teams who, in my opinion, need to begin with a BANG in Round One. What a better way than by beating the current Champions on their own ground.
The numbers game
There are lots of people who follow sport (even some who play and coach it) who say that they're not interested in stats or numbers, just wins and losses. They claim that the stats are irrelevant and the only number that has any meaning is the one on the scoreboard at the end of the game. Well I disagree.
The foundations behind the capital letters W and L have a multitude of factors underpinning them. These tend to be recorded and measured by the players and staff at most Super League clubs. They know that their best chances of success on the scoreboard require a close eye on the numbers that they think are important to them. For some clubs that could be the number of men they get into the tackle, the number of passes they make in the match or the number of errors that they make when is possession. It might even be how many of the team are running in support of the ball carrier. Monitoring their own indicators is their focus day in, day out.
Just to put an average Super League game into context, it's interesting to note that a typical game last year had just over 50 points in it; more than 9 tries in 80 minutes of action sounds pretty impressive. Each team gets the ball about 40 times (some might say the beauty of the six tackle rule) which gives both teams about 125 to 130 play-the-balls or chances to score by the time that you've taken out the tries, penalties and errors.
A team of 17 players generally get through about 300 tackles, with the better ones missing fewer than opponents, but this number tells us only about the quantity, and not the quality. Teams record and reward their players for dominance in the ruck area. How well they do things is perhaps more important than how often.
The 6 tackle rule also means that teams tend to kick the ball towards the end of their 'set' of possession and will do this 15 to 20 times in a match, in a variety of different ways. (This aspect of the game has grown in importance during the last decade and is often the difference between the two teams. These kicks have an almost disproportionate effect on the whole match).
Possession tends to get shared quite evenly in the sport, but the results aren't always as competitive. The fact that Widnes only managed to win six of their 27 league games is sometimes highlighted as a problem or weakness for rugby league but this also happens in other sports. It wasn't lack of possession why Widnes finished at the bottom of the table. It was what they were able to do with it.
Most of the teams in Super League now collect more stats and data than ever before. Some of this relates to their actions in the games, whilst some of it comes from their workload in training. Almost every team tests it's players to see if they are fitter stronger and faster but I wonder whether it's greater knowledge not more information that we need?
What does a team need to do to win in Super League? Is this the same in International rugby league or is it a different game at that level? Do teams need players with VO2 max scores like an Olympic cyclist or players that can pass the ball more accurately when it's needed? Are we putting our efforts into the right areas?
It is interesting that Leeds' ability to win the Grand Final from fifth place seems to rest on two factors. Firstly, their ability to significantly improve their defence during the Play-Offs. Their tackle rate success went from 93.45% in the regular season to 94.48 in the Play-Offs. This 1% improvement might not seem a lot but was essential in their second successive Grand Final victory. (In simple terms, they missed about three tackles less per game when the pressure was on).
Secondly and perhaps more importantly, is their try scoring ability. The fact that they ranked third for points scored during the season gives them a greater chance of walking on to the pitch at Old Trafford. If your team is in the three top places for points scored over the regular season they have a 90% chance of reaching the Grand Final. (Using stats from the last ten years).
Other sports like cycling, cricket, football and some Olympic events have people employed specifically to look for the 'marginal gains' or 1% improvements that their team can make. Which Super League clubs have found their 1%'s this winter?
Good luck to all 14 teams in 2013. May the best side win.
Comments (3)
Danny Norkus says...
Once again the RFL get it totally wrong. The Super League season openers clash with the the start of the six nations competition and as a result there's hardly a mention by the media. All the focus is on the rugby union and we are once more side lined. Did nobody at RL Headquarters think it might have been a good idea to start the season last week. We continue to shoot ourselves in the foot and will always be in the shadow of the other game. I despair.
Posted 19:51 31st January 2013
Trevor Fuller says...
Hi Phil, First of all belatedly, Happy New Year but also Happy New SL XVIII! I think the usual 4 top teams will be the ones to look out for this year again, i.e. Warrington, Wigan, Leeds & Saints. However, injuries & upsets notwithstanding then my team, the 'Black & Whites' may also be in with a serious shout perhaps with 'Les Dragons' in Steve Menzies apparent 'swansong year' there! 2013 promises to be a super year for Rugby League with the World Cup taking place in the UK in the Autumn & another exciting year also to look forward to in the Aussie NRL. Manly, Melbourne & maybe the Rabbitohs this year there might surprise everyone with another strong showing, building solidly again on their performance last year. This year, I think it might be NSW who could nick the 'State of Origin' over Queensland, to win the trophy for the first time in about seven years or so. I think Steve MacNamara's England could also pull out a few surprises this year as well. I certainly think they beat the 'Exiles' when they play them but also, if they get off to a good start & the 'home crowds' all get fully behind them then they will definitely be in with a shout against the Aussies & Kiwis later on in the WC. On a related subject, Phil, what do you think the chances are for us to have a good, old 'Ashes Series' starting again, in perhaps 2014 or '15? In my opinion, it should always be played every 3 or 4 years as Great Britain (& Ireland, if Irish players are included in the team) v Australia, & not as England v Australia which should be kept for the WC & other yearly competitions. They should also play the Ashes in alternative venues, i.e. the UK (including Wales & Ireland) & Australia of 3 games apiece in each country, & preferably, as in the old days, touring teams should also play games against a number of top-class clubs in each country. The World Club Competition should be played in two legs, one in Oz & one in the UK each year.
Posted 18:59 31st January 2013
Jeff Mayfield says...
I expect some familiarity in that Leeds, Warrington and St Helens will be the teams to beat. I look forward to seeing Hull improve and perhaps along with Catalans battle for that 4th spot. Bradford, Cas, Widnes and HKR are all capable of good performances and winning results on their day. Will be interesting to see if Wakefield carry their end of season form into 2013. Salford, Broncos and Widnes could also get some good results. I think Wigan and Huddersfield could surprise us with poor seasons. Hope I am wrong but Wigan especially have no edge in the centres, new halves and no bite or bulk in the pack - unless they give some of their bigger young lads regular game time, which can be costly in the short term.
Posted 15:25 29th January 2013