If you don't learn from history you're doomed to repeat it. Paul Thompson couldn't afford to repeat history.
On Monday the Blaze officially waved goodbye to John Gordon, kicking the blueliner to the curb faster than you could say "Corey LeClair". Much faster, in fact.
The decision to release Gordon wasn't made first thing Monday morning. It was made on the bus ride home from Sheffield on Saturday night. The 2-0 home defeat to Cardiff ratified it.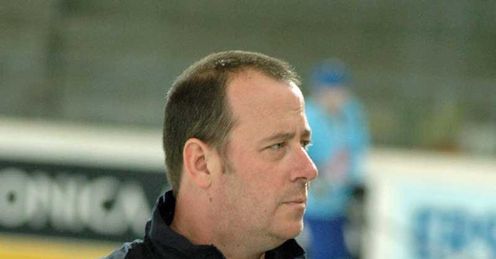 Gordon holds the unfortunate honour of being the first import to be wished all the best in his future endeavours this season. We should have seen it coming. He's been under the microscope since day one.
Gordon was the second import D-man on Coventry's two import blueline. Alongside Jerramie Domish, Jonathan Weaver and David Phillips, Gordon was charged with protecting Peter Hirsch and putting bread on the table for Coventry's forwards.
Pressure
Gordon was new to the league, while those around him were already established. Safe bets. His blueline colleagues were either Thommo's Team GB favourites or had done enough in two stops in the EIHL to prove themselves. Gordon was destined to be the fall guy. In terms of pressure and the importance of his role, Gordon had much in common with Brock Wilson, Nottingham's new D-man. You can decide yourselves where the similarities end.
There's an old saying in sports, repeated by many a head coach, that if a player shows you who he is, believe him.
Gordon showed Thompson who he was. Thompson believed him. Gordon's honesty was repaid in kind. There was no point in continuing a relationship that wasn't working out. With the truth out in the open, it's the right move for both parties.
There was no patience this time. Thompson didn't put his arm around Gordon's shoulder and try to get him to change, to fit the system, to improve. He didn't wait til February before finally allowing Gordon to continue his career at Nottingham and Basingstoke. He moved quickly. He moved now.
Thompson is also being fair to Gordon. The sooner a player is released, the more chance he has of getting a job elsewhere. If he had waited another month, Gordon may have been left out in the cold. Gordon may well hitch-hike his way North of the border and add another warm body to a half empty bench.
There comes a time when no matter how good a coach is, they have to recognise that their abilities only stretch so far. Thompson has put faith in his ability to coach previous players out of their bad habits in recent seasons because it's worked for him in the long run, and rightly so. Thompson has waited patiently, hoping that the player in question will turn it around, that they'll get fitter, that they'll be a better team-mate. Sometimes his patience has paid off. Other times, he's wasted weeks and months on a Tiger that couldn't change its stripes.
The results of last season shortened Thompson's time frame and even though Gordon is far from stuck in his ways in his mid twenties, Thompson decided that he'd seen enough.
A dismissal like this only a handful of games in quickly re-places pre-season optimism with the hard-hitting reality of professional hockey. Anytime a locker gets cleared out it's a warning to the rest of the line-up. Gordon's release may well be only three weeks into the new campaign, but it's a roster move that is years in the making.
Since the remnants of the Grand Slam team have slowly crumbled away, brick by brick, Thompson has had to rebuild key areas of his roster. With go-to players like Calder, Carlson and Martin sticking around, until recently Thompson hasn't needed to recruit top tier players. Instead he's been filling roster spots with the likes of KC Timmons, Jason Robinson and Carlyle Lewis - players who have mostly appeared on other EIHL teams beforehand.
Picking known commodities is the safe bet. Thompson has walked into the casino each year, sat down at the roulette table and placed half his money on red and the other half on even. The odds of winning are great, the losses are slim, but the victories are minimal. Still, it's been a sound strategy. He didn't need to gamble on newcomers because he knew what he had at the core of his roster.
Thompson has had aces up his sleeve and all he's needed to do is find a couple of complementary cards to win the hand. Lack of roster turnover and building a stable locker room are vital to success in this league and Thompson and the Blaze organisation have mastered them. Generally, his strategy has been faultless as the silverware has stacked up. But at the same time there have been red flags. And now that the AC/DC era is over, the flaws are surfacing.
Coventry haven't had a player, who didn't have at least a year of EIHL experience, finish in the top five in team scoring since Sylvain Cloutier's first season in 2006/07. On one hand, that shows a consistent roster and smart evaluation of other talent in the league, e.g. Luke Fulghum. On the other hand, it shows how Thompson hasn't been able to hit the lottery with a first-year phenom. Or to put it more mildly, someone who really exceeded expectations.
Although, the Blaze have had not had any problems in recruiting quality netminders though in the post-Jody Lehman era, whether they've been signed from other EIHL franchises or new to the league. There have been some solid D-men, post-Neal Martin, but was there anyone who really set the league on fire?
Strangely enough, Gordon was a wild card - a player with four years of pro experience in Holland. Thompson recognised that the scouting report didn't match the reality of the player soon enough. Or maybe it did, but he had still rolled the dice anyway. Either way, expectations were certainly not exceeded.
Honesty
By signing only nine imports and placing two of those on the blueline, Thompson had exposed himself to threat. Gordon had to overachieve for the Blaze to achieve. Perhaps the Blaze were waiting for another D-man to improve the group and fill out their remaining import slot, and Gordon wasn't a viable long term option with or without the extra blueliner.
Gordon's departure is the move that Thompson should have made a year ago, with another player, but instead he waited too long and it cost him.
There's a team for loyalty and there's a time for honesty. Had Thompson not experienced life at the helm of the Coventry Blaze in 2010/11, John Gordon would probably still be in the line-up today.
This season's Blaze have been dramatically overhauled with Thompson dipping into the North American talent pool like he hasn't done in a decade. Everything was designed to breathe new life into the organisation and when it became apparent that the pieces didn't fit there was no hesitation.
The dismissal was as much an admission of a lesson learnt as much as it was a practical hockey roster transaction. Amidst the clamour of hungry fans and the internal pressure that Thompson has put on his own shoulders, this time he made the decision he had to. Repeating history is not an option this year in Coventry.
So what next for the Blaze? They're now an eight-import team with a gaping hole on the blueline, even with Matt Soderstrom filling in.
But there's a silver lining. NHL pre-season is in full swing. The decisions of general managers in skyboxes from the Staples Center to Madison Square Garden are about to reverberate throughout the hockey world. While there might not be room for someone on a big league roster, there is plenty of space on the Coventry blueline.
If the Blaze are bold, and take another gamble at higher stakes, they can replace Gordon with a D-man or two who could win them the league. Thompson can't afford to strike out again.