When thinking back to the US Sport this year, it's difficult to know whether to laugh or cry. While almost every sport gave fans fantastic Championship games or series, it also gave us moments that - if we're honest - had us screaming to the heavens: "Why? Why? Why?" as everything seemed to go wrong behind the scenes.
For fans across the world, it was a battle of faith. Here are some of things that made us happy and made us sad in America's major sports. Sky Sports' blogger Alex Ferguson has more....
NFL
Making us happy: The Green Bay Packers beating the Pittsburgh Steelers in the Super Bowl and then going on a sensational 13-0 run before succumbing to the Kansas City in one of the upsets of the 2011-2 season; New England Patriots' owner Bob Kraft hugging Indianapolis Colts' Jeff Saturday after a deal was struck to end the lockout, meaning that we HAD a NFL season in 2011-2; The country's adulation of Denver Broncos' Tim Tebow, who has galvanised his team despite not being the country's most gifted throwing quarterback.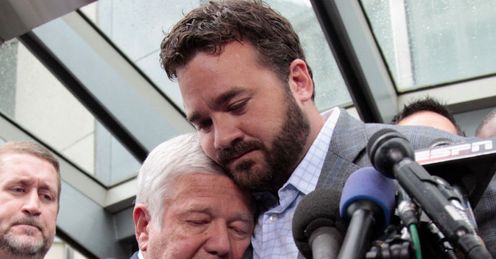 Making us sad: That there was an off-season marred by bickering by NFL Owners and NFL Players; That Super Bowl XLVI was such a complete organisational mess in Dallas, which angered so many fans who had paid so much yet couldn't see the game; Chicago Bears' wide receiver Sam Hurd being arrested on drug dealing charges - despite being well-paid and having a sign-on fee of over $1m.
And finally: Thoughts go to Indianapolis Colts quarterback Peyton Manning, who might never play the game again after a neck injury. While many think he might be fit and OK, we don't want to imagine what might happen if a player goes full-pelt into him in 2012, and puts him in a wheelchair. Your choice, Peyton.
NBA
Making us happy: A fantastic ending to the 2011-2 season with Dallas beating the Miami Heat 4-2 in an incredible NBA Finals Series; Blake Griffin has absolutely ignited the fanbase of the LA Clippers, who are the 'poor relation' of the cross-town Lakers. But now the Clippers have signed Chris Paul, things might well change in Tinseltown; That the season is actually going ahead after an horrific labour struggle that has limited the season to just 66 games instead of 82 (Christmas Day signals the start)
Making us sad: Some of the comments - mostly utterly unrepeatable on this column - during the NBA Labour discussions; The amount of criticism 'fans' still give to LeBron James. Get over it, guys - he's one of the greatest players of this generation.
And finally: What the hell's go on with the New York Knicks? They are suddenly giving their fanbase something to be interested in! After signing Amar'e Stoudemire and Carmelo Anthony last season, they added to the team in the off-season with the signing of NBA Champion Tyson Chandler.
MLB
Making us happy: The Texas- St Louis World Series (St Louis won 4-3) was absolutely fantastic. Seven games of absolute drama- and something worth tuning into in the wee hours; The fact that Major League Baseball has wrapped up a labour deal and it was pretty quietly done - something that sports has needed after the collective NFL and NBA embarrassments; The Pittsburgh Pirates remained in contention for the play-offs for a while - something that their long-suffering fans haven't seen for years on end.
Making us sad: National League MVP Ryan Braun tested positive for performance-enhancing drugs just weeks after winning the award for being one of the game's best players. If he loses his appeal, Braun will get a 50-game suspension, which will torch his Milwaukee Brewers' hopes of a second-consecutive National League Central title; Albert Pujols' decision to take a 10-year, $250m deal in Los Angeles/Anaheim instead of staying in St Louis. We thought he was better than that. Oh, and a note to Anaheim fans: he won't last for ten seasons!
And finally: The Boston Red Sox made us all laugh a bit when they fired manager Terry Francona (yep, the guy who won them two world series after over 80 years of trying!) after a late season collapse left the club without play-offs for the first time in years. Team GM Theo Epstein then walked from the club to take over another team with a curse, the Chicago Cubs. If you win in Chicago, Theo, then don't expect to pay for anything in Chicago. Ever again.
NASCAR
Making us sad: The death of British racing driver and two-time Indy 500 winner Dan Wheldon at Las Vegas in the IndyCar season finale was horrific. We cried. NASCAR and NASCAR drivers paid their tributes to their fellow fallen warrior - who had had a few races in a stock car pretty recently. We just cried.
Making us happy: An incredible season was capped when Tony Stewart pipped Carl Edwards for the 2011 title at Homestead International Speedway by winning the race. He'd promised to win the race before it was run; Trevor Bayne - an unknown insider, taking home the Daytona 500 in February in a dramatic race; The resurgence of one Dale Earnhardt Jr and Jeff Gordon, who have given their fans a bit of hope going into 2011.
And finally: This was the prayer invocation at a NASCAR race this season: "Heavenly father....you said in all things give thanks....Thank you for the Dodges, and the Toyotas, and most of all we thank you for Roush and Yates to give us the power that we see before us tonight. Thank you for GM Performance technology....for Sunoco race fuel, and Goodyear tyres that bring performance and power to the track. And Lord, I want to thank you for my smoking hot wife tonight Lisa, my two children Eli and Emma - as we like to call em the 'Little Es'. And we pray for the drivers tonight and may they put on a performance worthy of this great track. In Jesus name, boogity, boogity, boogity, Amen." Yep, you heard it right. He thanked The Lord for his 'smoking hot wife'. The Lord agreed.
College Football
Making us sad: The child molestation accusations at Penn State, which cost Joe Paterno - the longest-serving coach in college football - his job. Paterno has subsequently been diagnosed with lung cancer; The deaths of college players Garrett Uekmann (Arkansas), Austin Box (Oklahoma) and Joe Villavisencio (Texas A&M) - all gone too soon; The media firestorms that have engulfed Miami and Ohio State, proving that beyond all doubt the NCAA (college football's governing body), needs to be better staffed - or that the players need to be paid.
Making us happy: Stanford quarterback Andrew Luck, lived up to the hype all season long, although he was beaten to the Heisman Trophy by Baylor quarterback Robert Griffin III because 'RG3' was on another planet; Iowa State coach Paul Rhoads and his post-game speeches - check out his "I am so proud of you guys!" speeches. Bring Kleenex! And lastly, college football's loud, crazy fandom. That, people, is passion. We witnessed it first hand at the University of Georgia, which we recommend visiting for a game.
And finally: LSU and Alabama are going to play each other for the National Championship. While Oklahoma State may not like it, they lost at Iowa State and Alabama only lost to LSU. And the right decision was made: the two best teams in the country- despite being in each other's divisions- have a chance to play for it all (and produce a better game that the Nov 5 one produced!).
NHL
Making us happy: The Boston Bruins won their first Stanley Cup since 1972; The league itself is going through a renaissance since the labour problems a few years ago; and Montreal is looking like a competitor again (well, it was in 2011-2 anyway!) - it's good to see big teams back in the saddle.
Making us sad: That the league's best player, Sidney Crosby, suffered concussions, putting him out for most of the 2010-1. And the symptoms are back (they returned in early December). If there is a God, then please, let the kid play! Also was Vancouver fans' behaviour after losing the 2011 Stanley Cup Finals, when they rioted. Not cool.
And finally: Ice hockey arenas were 80% (or more) full for every game of the schedule. That's pretty great numbers considering where they came from!