When did you find out that the 2012 EIHL Playoff Finals were being played in Nottingham? Was it yesterday? Was it last week? Last year, even? Forget about it, you've know for months, years. We all have.
When the season started in September, the finals were guaranteed to take place in April, in Nottingham. That's right - Nottingham. Home of the Panthers. You knew it. I knew it. Gerad Adams knew it.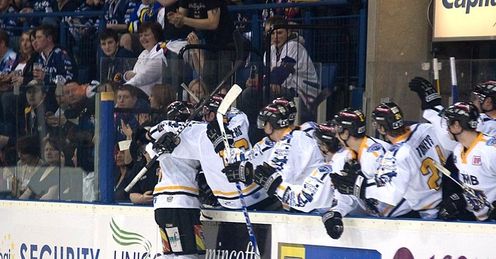 Those were the terms. Don't like it? Don't think it's fair? That's cool, then just don't turn up. Do what half the players in Sheffield did and bomb out in the quarter final to hit the par three faster than you can say: "Finnerty-lost-the-locker-room."
Where else should we contest the final four weekend? Any suggestions? I'd love to fly to Belfast for it or have hockey take over the O2 Arena, but are they practical solutions? Face it, as long as the Elite League chooses to abandon a proper play-off series that means anything and continues with this annual cupcake-making competition, Nottingham is far and away the best place to hold it. Great town. Great rink. What's not to like? I love Nottingham and every play-off weekend that I've had there has been outstanding, and occasionally there have been some decent games too.
Advantage
But now I'm hearing this broken record about home-ice advantage. About how the Panthers keep their warm and cosy bench and locker room all to themselves, regardless of where they're supposed to sit, home or away. Are we talking about hockey players or footballers here? I'm pretty sure Zdeno Chara would have gotten changed in the pit of Hades before game seven last summer and come out ready to play. And I refuse to believe that the benches had any impact on the Devils' mindset on Sunday either. They better not have.
The Panthers home-ice advantage is more to do with the fact that they've blown their chances of winning the league by February and spend the rest of the season targeting other trophies. Same reason why the Devils have been at every finals weekend since forever.
The Panthers didn't win on Sunday because they had home ice advantage. They won because they're a better team and did what better teams are supposed to do. And they also won because they had eight days rest before the final (Sorry Hull). Not 24 hours like Cardiff.
Another play-off title in the books and another yawn-fest of a final. There hasn't been an entertaining finale since Coventry won in 2005. While watching on Sunday, I couldn't help but wonder how much more entertaining EIHL games are on the smaller ice pads.
The pipe dream here is to forget the final four weekend, cut the season shorter, abandon the Challenge Cup and have a proper play-off format. A best of three quarter finals followed by a best of five semi finals and best of five finals series, with the usual OT and pens in every game so we're not hanging around until midnight. Proper play-offs. But that would mean placing the integrity of the game above all else. Never happen, I know - I'm dreaming. But a return to the groups would be a decent start.
The second semi-final on Saturday evening between the Panthers and Stingrays told us nothing we didn't already know about the participants but everything about the state of the locker room in Sheffield. The Steelers, with at least three full rounds of golf under their belts by the time play-off Saturday rolled around, were the talking point after the Panthers' open skating session concluded with a 10-3 scoreline.
We all knew that the Colt King Tevez sacking had some impact on Sheffield's performance in the quarter-final and that this was combined with Hull playing the plucky underdog card to perfection. It turns out that it was much more of the former.
The farcical scoreline (Double figures in a semi -final - are you kidding me?) illustrated how the Steelers had tapped out in the quarter-finals and allowed a mediocre Stingrays team to make the final four. That can be the only explanation for it. There's no way that Hull could have beaten Sheffield straight up after what we saw on Saturday, could they? The Steelers players in the locker room who weren't down with coach Ryan Finnerty rolled over and played like a bunch of gutless dogs, serving up an overpriced exhibition game in the league's showpiece event.
Despite not touching a puck, Finnerty exits play-off weekend as the hero. The villains are the players on the Steelers roster who refused to join Team Ryan. The real bad guys are the ones who sit in their own filth way over on the other side of the gaping crack in the Sheffield locker room, crying a river while allowing Hull to walk all over them because their best mate Colt had been dumped like a bad habit. Whatever their opinions of King, they should have continued professionally and fought until the bitter end. Instead, they turned their backs on Finnerty and urinated on all of the Sheffield fans with that bush league performance.
Instinctive
This weekend marked the first in memory where the pending retirements of star players were announced on Twitter. Usually, we're aware of who plans to pack it in heading down the stretch and the player involved receives a farewell tour of sorts. With the instinctive use of social media now rife throughout British hockey, news circulated quickly that Cardiff's two-way forward Scott Matzka and Belfast lamp lighter Jon Pelle were hanging up the skates.
Following the retirements, both Gerad Adams and Doug Christiansen now face the tricky task of replacing two imports each. When he gets back to South Wales, Adams will have to figuratively replace Matzka the do-it-all forward and Matzka the back-checking D-man. In Belfast, meanwhile, Doug Christiansen has a much bigger task. He needs to find one import to replace Jon Pelle and another to replace Jon Pelle's ego. Take that to Wall Street.
Much like the Theo Fleury year, Belfast's play-off dreams fizzled on Saturday afternoon. And much like the Theo Fleury year, it's hard not to think of the G-men as underachievers. They came across an expertly prepared Devils team that took them to the wire, but with all that talent on the Belfast roster compared to Cardiff, this one will have Christiansen losing sleep all summer.
Belfast's defeat showed just how difficult it is to match success in the league with success in the play-offs and just how special the Coventry and Sheffield teams who pulled it off actually were. The Panthers and Devils have made four play-off finals in the last six years each, but with only one top-two league finish between them. Peaking in April is one thing. Try peaking for 54 games.
The league-winning Giants and cup-double-winning Panthers can look back on 2011-12 with pride and satisfaction. They both achieved the goals that they set out in September to achieve.