The 2014 Stanley Cup Finals are finally here, with the New York Rangers facing off against the Los Angeles Kings.
Although Chicago Blackhawks (and Montreal Canadiens) fans are probably less-than-excited by this pair's presence, skysports.com's Alex Ferguson is excited by the series, which starts on Wednesday night and stars two teams who haven't played each other in the play-offs since 1981...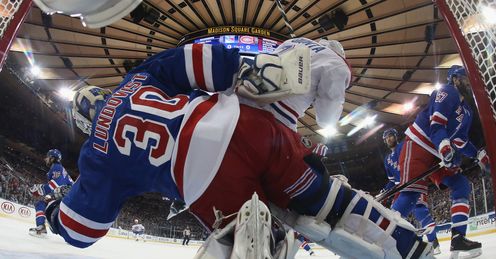 http://www.skybet.com/ice-hockey/nhl
HOW DID BOTH TEAMS GET HERE?
Both sides haven't exactly won a series comfortably, with "SEVEN" being the word to describe both New York and LA's journeys. New York beat divisional rival Montreal 1-0 in Game 6 of the Eastern Conference Championships, guaranteeing them a spot in the Finals, while LA fought Chicago tooth-and-nail in their West Conference finals, with LA finally winning 5-4 in Game 7 of the series.
Before that, No.2 seed New York beat No.1 seed Pittsburgh 2-1 in Game 7 of the Eastern Conference semi-finals, while LA beat the Anaheim Ducks 6-2 in Game 7 of its Western Conference semi-final battle. And before that, New York beat Philadelphia in Game 7 of its Eastern Conference first round match-up, while LA got past the San Jose Sharks in 7, too.
WHO ARE THE LA KINGS TO WATCH?
If its goals you want, look no further than LA Kings right wing Marian Gaborik, who scored in three of the last four Chicago games and has 12 in total for the play-offs. Center Jeff Carter has nine to his name. Carter is also one of the best suppliers on the Kings - he has 13 assists to his name, while fellow centre Anze Kopitar has a tidy 19. Drew Doughty and Justin Williams have 12 and 11 assists respectively.
On the defensive side, goaltender Jonathan Quick (above) will be required to keep the puck out of the net - he's had just one shut-out all series, and is the near the bottom on goals-against average. But when his scorers lead the stats in putting the net in so much at the other end, will Quick and his defence's struggles at this end (he's let in 59 goals in 21 games) cost them?
What will help coach Darryl Sutter is the Kings' depth at forwards, meaning that he will keep the Rangers on their toes with a steady stream of attacks - especially the line of Carter, Tyler Toffoli, and Tanner Pearson, which Chicago couldn't handle all series long.
WHO ARE THE NEW YORK RANGERS TO WATCH?
If there's anyone who's been in fine form, it's New York's goaltender Henrik Lundqvist, who has been absolutely sensational during these play-offs. Without him, it would be doubtful if New York would still be in these play-offs. He's conceded just 39 goals in 20 games, had 504 saves - including some that have been absolutely out of this world - and led the Rangers to the Promised Land. He's been exceptional on penalty-killing duties, too.
And while Lundqvist has been providing the heroics at one end, the Rangers have been finding a way to win. Derek Stepan, veteran Brad Richards, and Derick Brassard all have five goals each. Mats Zuccarello has chipped in with four. Ryan McDonagh has 10 assists, and Stepan has eight, while future Hall Of Famer Martin St Louis, who was traded for in the middle of the season, has seven. The balanced scoring shows the Rangers' depth, which could really hit them hard. But whatever happens to these Rangers, coach Alain Vigneault is going to be stoic on the sidelines.
ANYONE WITH INJURIES?
At this time of the play-offs, almost everyone's nursing some injury or another, but the Rangers will want forward J.T. Miller (above) back, who's out with an unspecified injury to the upper body after getting hurt in the Montreal series. LA says that they could be close to bringing back defenseman Robyn Regehr, which would do their 'D' the power of good.
WHAT'S THE BETTING?
LA is 4/7 hot favourites to win the title, while New York is 11/8 to win out.
SO WHO'S GOING TO WIN?
We normally side with the team with the best goaltender, so we're going with the Rangers in seven: http://www.skybet.com/ice-hockey/nhl