France began Euro 2008 with high hopes but must be feeling very low after Monday's mind-numbing stalemate in Zurich. Conversely, the men from the Low Countries are on a high. Amid much talk of death in Group C, Holland offered a vibrant demonstration that the principles of Total Football are alive and well.
That news will have come as a shock to Johan Cruyff, who told anyone who would listen before the tournament started that Marco van Basten's stifling tactics had killed off the Netherlands ideal. "Our quality has diminished," wailed Cruyff. "There needs to be beautiful football." What will the curmudgeonly 61-year-old have made of Holland's exhilarating display on Monday then? The quality was sumptuous, the football glorious to behold. By all accounts, the Dutch qualification campaign had featured some turgid encounters but surely it was too early to write off a team with such classy technicians as Wesley Sneijder and Rafael van der Vaart.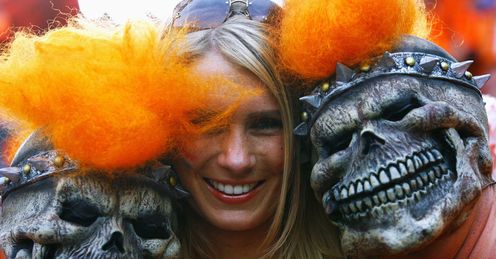 The day before the game, Sneijder had been presented with an early birthday cake - coated of course in Oranje icing - by a journalist friend. I doubt he's saved a slice for old man Johan.
The Dutch performance against Italy made a mockery of my choice of tortellini for supper, although in truth the ageing world champions played some decent stuff at the Wankdorf (stop it). However, even without injured skipper Fabio Cannavaro, the Azzurri XI was still the oldest team ever fielded in a European Championships match. They may not yet be OAPs like Cruyff, but in a lung-bursting rendition of national anthem 'Fratelli d'Italia', the lyrics only served to emphasise their advanced years. A rough translation: sporting the tight-fitting "helmet of Scipio", Italy has awoken from her slumbers and is ready for victory. But reflecting on how Marco Materazzi and co belted out the line 'siam pronti alle morte', the literal translation of "we are all ready to die" seems even more appropriate.
Chickened out
Anyone watching France v Romania earlier in the day will have also considered their own mortality. From the minute Florent Malouda chickened out of a challenge with goalkeeper Bogdan Lobont, it was clear that the contest was going to be cold blooded. Nicolas Anelka brought along his disinterested end-of-season Chelsea form, and Romania happily watched the clock tick down.
At least now France and Italy will both have to go for broke in their final Group C clash in Zurich next week, a game I'm attending. There's a chance I might get to see the Dutch in action too; here's hoping. Their win has proved to be a huge adrenaline boost for Euro 2008, and produced several unexpected moments - Ruud van Nistelrooy being praised for his honesty, an Italian back four all at sea and Gio van Bronckhorst scoring with a header. Dark clouds were setting in around 7pm on Monday, but the future really is bright after all.
Comments (4)
Danny Williams (Arsenal fan) says...
I saw someone make a comment about Toni being a poor man's Peter Crouch. After he scored almost 40 goals in a season for Bayern Munich compared to Crouch's bench filled season I would say that has to be one of the worst comments in Skysports history. The Oranje were brilliant though,even without Robben who will surely enhance their play tomorrow.
Posted 03:43 13th June 2008
Elmer Craven (Stenhousemuir fan) says...
The Netherlands looked, along with Portugal and Germany, the best team so far. The only downside is they showed defensive weaknesses that may be their undoing against the likes of Portugal or Germany. Italy were poor upfront. Luca Toni is a poor man's Peter Crouch. It's a reflection of the poverty of the Italian game that they cannot field a technically better forward. Zambrotta was their most dangerous player going forward (a full back), also Del Piero but it seems he cannot last a full game. I would love to see Holland win this tournament. I hope they get better! Or at least maintain this form. They will have a great spirit in the camp now.
Posted 10:42 11th June 2008
Johan C. (Chelsea fan) says...
Italy may be slow starters but they went out in the Group stages last European Championship as well. Italy desperately needs some young blood in the team. Classic mistake of sticking with the old guard because they are winning while ignoring the fact that to remain high quality youth needs to be brought in as well. Italy's only hope is to start playing keen young players.
Posted 13:50 10th June 2008
Luigi Viganego (Manchester United fan) says...
Italy never start World or European tournaments well...they get better as they go along. In 1982, when we won the World Cup for the Third time and again in 2006 when we won it for the Fourth time, I thought we would not go past the first round, let alone winning it. In Euro 2000 we were "robbed" of victory by France on a Golden Goal rule after Del Piero literally missed 2 open goals in front of Barthez during normal time! Having said all that, I think Holland were deserving winners on the night, (it took them 30 years to do it, but they have done in style!), but the World Champions are the World Champions because they have enormous quality and are resilient; I think that the "old boys" brigade will have some surprises in store!
Posted 10:00 10th June 2008