One of the most enjoyable pastimes, just weeks before a Lions series, is casting an eye over the predictions of pundits, former players and respected journalists.
What is interesting about their crystal-ball gazing, regarding the starting line-up for the first Test in Brisbane, is that none of the experts can agree. They're usually not even close. I'm sure it's the same for you at work or down the pub with your mates. Never have I known a lead-up to a Lions tour when so few players appear to be "nailed-on" to a Test place.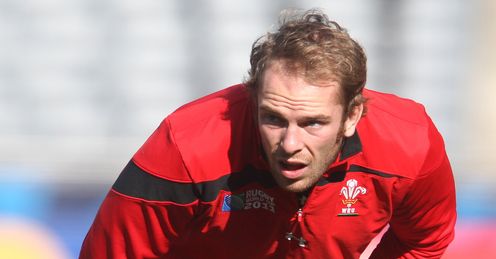 All my Welsh friends, following their country's convincing and record-breaking win over England, think that at least 19 of the match-day squad of 23 have simply got to hail from the Land of their Fathers. Quite graciously, they don't mind if the kit man is Irish and the coach driver is Scottish. Across the Severn Bridge, thanks to a record win over the All Blacks not that long ago, their English cousins reckon the main bulk of the team to face the Wallabies should consist of players of the Red Rose variety.
All this just goes to show that none of us, not even Warren Gatland, can predict just who will trot out of the tunnel at the Suncorp Stadium on June 22nd behind a bloke carrying a cuddly toy. In the weeks leading up to the first test, guys will play themselves into, and out of, test contention.
Phil Edwards
Quotes of the week
The Scots and Irish have less to shout about, but history tells us that the involvement of their compatriots is always vital to the success of any tour. And I'm not just talking about the particularly outstanding contribution of their travelling supporters!
Then there is also the very real possibility that a player, not initially selected for the tour, will be summoned to Australia as an injury replacement and end up featuring in a test squad.
Out on the lash!
In 2001, the last time the Lions ventured into Wallaby territory, Andy Nicol was called up for the third Test in Sydney. Nothing surprising there you might say. However, Andy had just spend the previous three weeks touring the country with some close friends, taking extra care to explore the late night culture and social habits of the locals. In other words he'd just spend 21 days on the lash.
The Lions committee told Andy that they had an injury crisis at scrum-half and that the only two candidates who could possibly be press-ganged into action in time were him and Gareth Edwards. With tongue-in-cheek they said they'd first approached Gareth (then 54), but that he had a slight calf strain. Andy duly volunteered for duty but forgot, in the haze of something or other, to tell his dad. Mr Nicol senior settled down to watch the match at home and almost had a seizure when the camera panned along the line of elite athletes before kick-off, only to settle on a familiar-looking bloke! To the great relief of everyone, especially Andy himself, Matt Dawson managed to make it through to the final whistle.
The 1997 tour to South Africa is another good example of how expectations can come to nought. Most of us at the time expected the England tight five to feature in the first test in Cape Town. In the end, only some bloke called Martin Johnson made it. Tom Smith and Paul Wallace played themselves into the match-day 15, along with Jeremy Davidson who partnered Johno in the engine-room.
During that tour, as I'm sure you remember, Rob Howley got injured and Kyran Bracken was summoned from his honeymoon in the West Indies as cover. Kyran played in one of the mid-week matches and got clattered right where it hurts. His bride asked the Lions doctor, James Robson, whether he could take away the pain but leave the swelling.
All this just goes to show that none of us, not even Warren Gatland, can predict just who will trot out of the tunnel at the Suncorp Stadium on June 22nd behind a bloke carrying a cuddly toy. In the weeks leading up to the first test, guys will play themselves into, and out of, test contention.
Four years ago, when the press contingent arrived in South Africa, we all took part in a quiz in some or other drinking establishment in Johannesburg. We were asked to predict the line-up for the first Test in Durban. The hack that got the most correct answers would win a prize. Several weeks later we were told the results. What do you think the winning score was? Eleven? 12 maybe? Afraid not. It was a measly seven. That's right, in other words Fleet Street's finest got at least half the team totally and utterly wrong!
It all makes my first test team prediction completely pointless. But it's still great fun so I'm going to do it anyway. It's based on the autumn internationals and the whole of the Six Nations, not just the final weekend.
PHIL'S TEST XV
15: Stuart Hogg
14: Leigh Halfpenny
13: Brian O'Driscoll
12: Jamie Roberts
11: George North
10: Jonny Sexton
9: Mike Phillips
1: Cian Healey
2: Tom Youngs
3: Adam Jones
4: Alun-Wyn Jones (C)
5: Jim Hamilton
6: Chris Robshaw
7: Justin Tipuric
8: Jamie Heaslip.
Bench: Dylan Hartley, Gethin Jenkins, Dan Cole, Joe Launchbury, Sam Warburton, Ben Youngs, Owen Farrell, Manu Tuilagi.
Comments (19)
Keith Jackson says...
No o/h cover, so if one of those two get targeted who goes to 10? the last one standing? Funny how Leicster and Saracens so well represented, V cant scrummage, Stevens is unfit, Hartley is a clown, Croft and Heaslip are show pony's
Posted 11:59 30th April 2013
All Knowing says...
15. kearney 14. zebo 13. tualagi 12. brian o d 11. north 10. sexton 9. youngs 1. healy 2. best 3. a jones 4. aw jones 5. o connel (C) 6. o brien 7. tipuric 8. faletau bench t youngs , cole, sheridan launchberry croft farrel halfpenny roberts
Posted 18:15 25th April 2013
Geoff Rea says...
Unfortunately it doesn't matter what the team is Australia will win 3 to 0, too smart for the Lions and as the squad will be mostly Welsh and rightly so they cannot win in the Southern Hemisphere
Posted 22:15 9th April 2013
Pete Trout says...
I think Warren Gatland will go for forward power and try to pick up a few penalties through pressure on the Oz pack and some good tacktical kicking,cant see the lions throwing the ball around much until they get a decent foundation,remeber the Oz backs are pretty smart with loads of pace so they need to be starved of counter ball and pined back in their own half.So i would go with Halfpenny,North,Tuilagi,Bod,Cuthbert,Wilkinson,Phillips,Sheridan,Best,Adam Jones,O'Connell,Parling,Warburton,Morgan,Croft. Bench from:Roberts,Hook,Farrell,B Youngs,Cole,Healy,T Youngs,Launchbury,O'Brien/Robshaw
Posted 11:58 8th April 2013
Steve Harman says...
Hogg at full back??? halfpenny is the best and most consistent player in Britain and you pick him out of position.......No Cuthbert either, somehow I don't think you will be leading the way in the predict the team in the press contingent this year either. Being English I would hope for more English players however you have made 2 huge errors with this tem
Posted 11:39 8th April 2013
Keith Jackson says...
Anyone who picks Ashton is seriously misguided. The guy is a showboater with no rugby brain and an awful defence...flat track bully
Posted 11:31 7th April 2013
Stephen Franklin says...
My test team if fit . I think it has the perfect mix of skill strength and pace needed to take on the wallabies. Also, halfpenny to kick the goals for me: Halfpenny North BOD Tuilagi Zebo Sexton Phillips Healy Hibbard A.Jones OConnell AW Jones OBrien Warburton Faletau subs: best jenkins cole ryan youngs farrell hogg what do ye think?
Posted 10:07 3rd April 2013
Michael Watkins says...
why would you wanna put halfpenny on the wing, it a waste, he was player of the six nations at full back, as much as I like hogg, he is not as solid as halfpenny, hogg is not defensively as good as halfpenny, and he makes a lot more mistakes and I think Australia would target hogg, so I would stick with halfpenny at full back, and alun wyn jones or warbuton captain for me
Posted 22:02 2nd April 2013
Chris Johns says...
15. Kearney 14. Halfpenny 13. BOD 12. Tuilagi 11. North 10. Sexton 9. Murray 8. Heaslip 7. Warburton (cpt) 6. Croft 5. Hamilton. 4. Launchbury 3. A Jones. 2. T Youngs. 1. Healy Subs G Jenkins , D Cole, R Best, AWJ, O'Brien, Care, wilkinson, Roberts Undecided really on splitting up the Roberts/BOD partnership of 2009, but went for Tuilagi after this weeks game.
Posted 09:35 2nd April 2013
Si B says...
Big mistake to base selection purely on the 6N. More than half those Welsh players picked will have no part to play in the HK knock out stages - the only club competition of the intensity comparable (but still lower in skill level) to the Super 14.Need to select guys who should be peaking physically and mentally at the same time as the opposition. Lots of guys will be putting their hand up over the next month or so (including international retirees) and should mix it up far more - O 'Connell, Croft, Sheridan in the forwards. In the backs, can't believe Ashton is completely overlooked - poor 6 N but great record against Aus - not seen many other N hemisphere wingers leave Mitchell and O' Connor for dead at Suncorp stadium - both of whom are certain starters for the Wallabies.
Posted 08:17 2nd April 2013
K H says...
Rob Apsee... the team that beat England; didn't beat Ireland.
Posted 02:30 1st April 2013
Iain Paton says...
Agree with you Phil as the only player assured of a starting place is L.Halfpenny , the rest of the team depends on form , fitness and tactics . One player to watch with Warren Gatland the coach will be the Glasgow and Scotland winger Sean.Maitland who has shone whilst playing for not the greatest teams and would flourish playing with the best of the Lions , Maitland formerly of Canterbury and the Crusaders for whom he scored 4 tries in one super rugby match against the Brumbies has also won the u19's W.cup and u20's world championship with N.Z and will be well known to Gatland and also cousin Quade Cooper of Aus . My team if all fit would be BACKS - 15. Halfpenny 14. Maitland 13. O'driscoll 12. Tuilagi 11. North 10. Sexton 9. Phillips FORWARDS - 1. Healy 2. Hibbard 3. Jones 4. A.w.Jones 5. Gray 6. Robshaw 7. Warburton 8. Heaslip BENCH - Hogg , Roberts , Farrell , Grant , Best , Jenkins , Tipuric , Parling ,
Posted 00:29 1st April 2013
Jay Moore says...
15. L. Halfpenny 14. Ashton 13. O'Driscoll 12. Tuilagi 11. North 10. Farrell 9. Phillips 1. Cole 2. Best 3. Jones 4. Launchbury 5. A.W.Jones 6. Croft 7. Warburton 8. Morgan
Posted 21:47 31st March 2013
Rob Apsee says...
15 Leigh Halfpenny 14 Alex Cuthbert 13 Jonathan Davies 12 Jamie Roberts 11 George North 10 Dan Biggar 9 Mike Phillips 1 Gethin Jenkins 2 Richard Hibbard 3 Adam Jones 4 Alun Wyn Jones 5 Ian Evans 6 Sam Warburton (c) 7 Justin Tipuric 8 Toby Faletau Why break up a winning combo, This team that beat England could easily beat any team in world rugby. After speaking to Sam Warburton last night he would love to be lions captain and if offered would snap it up so for me he is number 1 choice.
Posted 18:59 29th March 2013
Keith Jackson says...
Why would you shuffle the RBS FB of the series to the wing and replace him with someone who's not particularly defensively sound? Why Tom Youngs, he was totally outplayed by Hibbard.Jamie Heaslip did nothing in he 6N,apart from hang around the wing. Hartley is a discipline nightmare Sorry your team smacks of trying to be all things to all men
Posted 10:51 29th March 2013
Gavin Roper says...
I'll go with: 1, Healy 2,best 3, A Jones 4, parling 5,A W Jones 6,o'brien 7,Warburton 8,Faletau 9,care 10,sexton 11,North 12,tuilagi 13,BOD 14,visser 15,HalfP Subs. Hibbard, Grant, vunipola, Phillips, Farrell, Tipuric, Ian Evans.mike brown.
Posted 19:43 28th March 2013
Big Lebowski says...
Not a bad team and always good fun to pick. I'd personally not have either of the English hookers in there (on form Hibbard starting with Best on bench). I'd also swap Big Jim for Launchbury and Tuilagi for Roberts as well as try and find room for either Cuthbert (or Bowe if he can prove his fitness) on the bench. Finally, I'd swap Laidlaw for Youngs (still on the bench). Youngs is more dynamic but I think the games will be tight and behind a pack that isn't getting hammered at the breakdown Laidlaw is an excellent controlling 9.
Posted 18:51 28th March 2013
Des Lavin says...
it funny reading all these comments about the centre pairing for the lions. BOD if fit has to start. wales have tried the big crash centre's on OZ and they were quick to figure out how to stop roberts and davis. with BOD in the centre it brings and X factor. he is the best passing centre in the NH and with that the way he could link with Tuilagi and wings North, Cuthbert. he have the oz backs guessing all day what he was about to do. also both players can play 12/13 so changing postions during a game would keep the oz backs guessing. owen farrell is a very good player but if sexton is fit should be the started. he alot better at attacking the line. my team (only if sexton gets back to full fitness). i pick o'brien at 8 because it was the postion he won player of the year. he is a brilliant ball carrier and with players like robshaw and warburton doing all the dirty work at breakdowns it could leave o'brien out in the loose were he would do the most damage. 1.healy 2. hibbard 3. A Jones 4. AWJ 5. Hamilton 6. Robshaw 7. Warburton 8. O'Brien 9. Phillips 10.Sexton 11. Curbert 12. Tuilagi 13. BOD 14. North 15. Halfpenny.
Posted 18:17 28th March 2013
Rob Wilkinson says...
You have clearly watched a few 6 nations matches and now believe yourself to be an expert. Spelling names wrong and not even picking Alex Cuthbert... What a farce of an article.
Posted 16:44 28th March 2013