Well seduce my aged Doc Martens! Or something similar. Stuart Lancaster has thrown the dice, and a number 14 shirt, in the general direction of one Manusamoa Tuilagi.
Lancaster talked in the week about doing it, but even so, the sight of Manu's name on the team-sheet, and on the right wing, is still quite remarkable.
The guy is clearly someone the All Blacks have grown to respect, perhaps even to fear. His contribution to England's win against New Zealand eighteen months ago at HQ was immense. He scored a try and made two more in a second half onslaught that is probably still causing nightmares up and down the land of the long white cloud to this day.
Then, last Saturday at Eden Park, Manu carried the ball further than anyone else,  scattered tacklers to the four winds, and won an impressive foot-race with Israel Dagg to prevent a try for the hosts.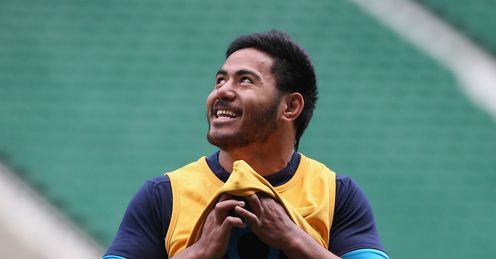 Clearly the Leicester wrecking-ball is going to get peppered from on high in Dunedin, courtesy of Aaron Cruden, but his selection out wide enables England to revert to the midfield partnership of Billy Twelvetrees and Luther Burrell, that was so effective in the Six Nations.
Elsewhere, Rob Webber, Geoff Parling and Ben Morgan retain their places in the pack, and deservedly so many will say, while in comes Tom (nailed-on all week) Wood on the open side.
Danny Care is back, and alongside Owen Farrell at half-back, while the bench looks as potent as a lobster vindaloo, doused in West Indian chilli sauce. I am salivating already!
Among those who'll be polishing the pine on Saturday are the uncapped Newcastle Falcons prop Kieran Brookes, all nineteen and a half stones of him, and Chris (Ash the Splash) Ashton, a bloke who's rediscovered his mojo recently, and in no uncertain terms. You don't get to be the top try-scorer in any Heineken Cup season for nothing. And he just happened to accomplish that feat in the season that's just finished.
We caught up with "the voice of rugby" today, known to you and me as Sky's lead commentator Miles Harrison, and he reckons Saturday's second test in Dunedin has the makings of a classic.
When we pitched up at England's swanky team hotel, Stuart Lancaster was visibly excited at the prospect of fielding this new-look XV, and told us he'd been toying with idea of playing Manu on the wing for the last six to twelve months. Do not think for one moment that this has been a spur of the moment selection. You will find the interview elsewhere on the Sky Sports website.
So what, I hear you ask, is his view of the second test? "I think we're set up for a real humdinger!" Quite! 
Tune in to Sky Sports 1 on Saturday morning to see if England can keep the series alive. The second Test is live, and coverage begins at 8am
Comments (2)
Simon Lewis-davies says...
Phil, Phil...take off those rose tinted specs and smell the coffee! England had their chance last week in the warm up match. ABs will be so much better and will easily win by 15-19 this week.
Posted 09:56 12th June 2014
Myles Costello says...
We have heard nothing from the England camp but talk of their belief that they can win this series, so why experiment with Tuilagi on the wing? With ball in hand there is no question he is dangerous and will challenge the defence, but he lacks any kicking game and that foot race which he (barely) won against Dagg will be lost against Savea, who has employed the kick and chase to great effect in his Super Rugby career. If experiments are to be conducted then they need to be seen in the midfield. Luther Burrell has played well at 12 for the Saints and his ball distribution skills are very good and his tackling excellent. Billy Twelvetrees is the weak link. He has been a consistent performer for England but in the Six Nations he often made bad decisions kicking and executed passes very poorly for a man who can supposedly play at 10 as well. More importantly, Ma'a Nonu, who is still looking for a chance to reignite his game, will look encouragingly at the selection of Twelvetrees who is not a particularly exciting prospect with ball in hand and who is the least physical 16-stone centre in world rugby. The All Blacks will be coming at England hard on Saturday and it is unlikely they will make as many mistakes as they did in the series opener, and the best thing England can do in the backs is keep them guessing. For this reason a new centre pairing of Burrell and Tuilagi would be more appropriate (as Burrell is not totally lacking in the kicking game) because their presence would open running lanes for the likes of Brown, Yarde and my choice for the 14 shirt, Chris Ashton. The selection of Ashton should be made based on his form from the latter half of the season and also because tactically he is a smart winger who will roam and make inside runs to get his hands on the ball. This would be important against New Zealand because it would take Savea out of the game and put more pressure on the out-of-form Nonu.
Posted 08:37 12th June 2014