When Manchester City and Chelsea drew 0-0 earlier in the season the champions were just one point behind Manchester United, while the Blues, concerned about slipping out of the title race, had just appointed Rafa Benitez as manager, who was booed during the Stamford Bridge clash by the home crowd.
Since that November meeting City have slumped 12 points behind United and crashed out of the Champions League, while Chelsea have gone from six points behind the league leaders when Benitez arrived to 16 adrift.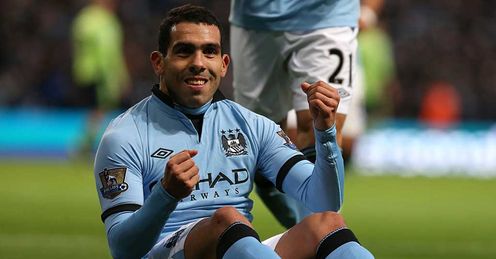 And Benitez is still getting booed by the Chelsea fans.
About five weeks ago it seemed United and City were pulling away from the rest of the pack at the top of the table, leaving Chelsea and co to battle it out for third
However, Roberto Mancini's side have failed to win in three, suffering a shock 3-1 defeat to Southampton last time out in the league, and Chelsea have moved four points behind them, with Tottenham just trailing by five.
Tevez breathed life into City against Leeds. He always sets the tempo for the rest of the side.
Jamie Redknapp
Quotes of the week
LIVE ON SKY SPORTS
Man City v Chelsea
1pm, Sun, Sky Sports 1 HD
Suddenly, Chelsea and Tottenham are targeting second and City need three points on Sunday to keep them at bay.
But City's performance against Southampton was one of the worst I've seen from them in the last couple of years; in the past two seasons they've generally been fantastic but they looked a tired team at St Mary's.
The players looked like they were running on empty, they seemed despondent and didn't have the same fight they had last year. That was encapsulated by David Silva.
He's usually their catalyst and the link to everything they do well, but he's not been his normal self this season and that must result from the amount of football he's had to play in the last few years.
Ensure
At this time of year, when you're not getting results and lose a couple of games, you can start to look towards the end of the season and feel the tiredness, rather than focussing on what you're play for.
But City need to remember they can - although it is now unlikely - catch United and they're still in the FA Cup, a tournament they probably need to win to ensure Mancini keeps his job.
United completely blew it last year and I can't see that happening again - but who knows? All of a sudden we could have a massive change around if United slip up and City string some wins together.
It's unlikely, but City need to keep on believing; they can't allow their season to disintegrate, and They owe it to themselves and to their fans to produce a determined performance on Sunday against Chelsea.
Carlos Tevez breathed life into them last week in their 4-0 win at Leeds and they really need him to get them going this weekend, because he always sets the tempo for the rest of the side.
If he starts then I reckon he can inspire them to a 2-1 win.
Chelsea are back performing at a good level - the level a squad of their quality should be regularly playing at - and Eden Hazard showed with his fantastic goal in the Europa League on Thursday the quality they possess.
But, at the Etihad, where City have been so strong in recent seasons, the home side need to play like champions and fight to defend their second place.
Check out Jamie's Premier League tips at Sky Bet
Comments (1)
Mick G (Arsenal fan) says...
Another very sensible article from Jamie - he keeps the passion well restrained before the games, then kicks every ball while watching - love it! Chelsea are a strange beast right now - it looked like they were gonna move swiftly into Benitez mode when he first arrived (with little help overall from some spiteful, hateful fans!) - the energy and direction of the team play started to look very similar to his Torres led Liverpool team, but they've found it difficult to find a pattern of play that really works for them, and can dominate many games they don't win, where that dominance always seemed to be capitalised upon in the Mourinho regime. City similarly have flattered to deceive on too many occasions this season to make you feel confident about backing them to win this sort of contest. The standard will be very high in this match, but I'd probably plump for another relatively tame 0-0 draw again.
Posted 18:06 22nd February 2013