FA Cup winners Wigan need to defeat Champions League-chasing Arsenal at The Emirates on Tuesday evening to keep their hopes of Premier League safety alive.
Meanwhile, the side the Latics conquered at Wembley, Manchester City, will be looking to bounce back at relegated Reading less than 24 hours after their manager Roberto Mancini was relieved of his duties.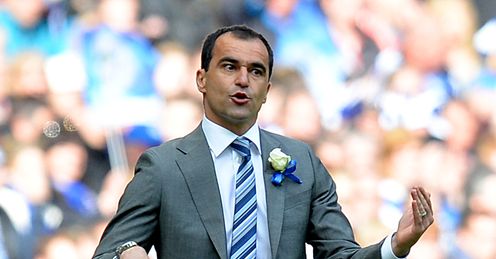 It promises to be an intriguing evening and you can stay bang up to date with proceedings on Sky Sports 1 HD, Sky Sports News HD and skysports.com, and ahead of the action, our expert Paul Merson has revealed what he expects to unfold...
Ford Football Special: Arsenal v Wigan
7pm, Tue, Sky Sports 1 HD
Wigan need to win two games to stay in the Premier League - but I'm not going to completely write off their chances.
They really are like a bag of Revels; one minute they are awful and getting beaten at home by Swansea and the next minute they are playing brilliantly at Wembley, beating one of the top teams in the country and winning the FA Cup.
You won't know until 7.45pm on Tuesday whether their Cup win has been a good thing but the fact they haven't been able to go out and celebrate and let off steam could work against them. However, they know exactly what they have to do as it's win or bust for Roberto Martinez's team.
If they are feeling it they can go out and give Arsenal a proper game, like they did last season when they won 2-1 at The Emirates during their run to safety, but I can also see them getting absolutely slaughtered because this is a massive game for the Gunners.
Arsenal are two points behind Tottenham in the race for the top four and even though they have this game in hand, I still think Spurs are favourites to get a Champions League place because of the fixtures.
Tottenham face Sunderland at home on the final day and if Sunderland are as poor as they were against Southampton on Sunday that is the biggest of home bankers, while the Gunners have this match with Wigan and then an away clash at Newcastle, who, though safe, will be desperate to avoid another good hiding at home.
If Wigan get relegated I don't see Martinez being at the club next season but no-one could blame him for going because he has been as loyal to the club as the club and Dave Whelan have been to him.
I don't, however, see any way Arsene Wenger leaves Arsenal - but if they don't get in the top four having done so for the last 16 years it will be a disaster.
I am not certain they will get in the Champions League but I have to go with them against Wigan - though don't be surprised if Wigan pull off another shock.
PAUL PREDICTS: 4-1
Reading v Man City
No-one likes to see any manager lose their job but Man City can't be losing the FA Cup final to Wigan and I think that is what cost Roberto Mancini.
I know City are going to finish a lot of points behind Man United in the Premier League but I think he would have been alright if he'd won the FA Cup.
Manuel Pellegrini seems to be nailed-on to take over from Mancini and while when the news broke I was a little bit surprised that there didn't seem to be any other people in the frame, if you think about it there aren't that many top managers about.
Jose Mourinho would have fitted in because he is a quick-fix manager, which seems to be what Man City look for, but now he is seemingly going back to Chelsea there is not much else, unless they give it to Jupp Heynckes when he leaves Bayern Munich.
The lad at Dortmund, Jurgen Klopp, has done great with his club but he is still quite young and I don't think he would want to leave such a good thing in Germany to go to City just yet - but whether it's Pellegrini or someone else, Man City have to buy big in the summer.
They have some good players but you rarely see free-flowing football and they don't hammer teams 5-0, and I think they have really suffered from poor buying last summer with Jack Rodwell, Maicon and Scott Sinclair making little impact.
They need a spark from somewhere and it wouldn't surprise me if Wayne Rooney went there; he has been a bit out-of-sorts at Man United in recent months but he is a top, top player who could play for anyone in the world and he won't be short of offers if he leaves Old Trafford.
As for Tuesday's game, it will be a difficult one for Reading because they are not very good - I don't mean that in a horrible way but they have shown all season that they just lack a bit of class - but I don't expect to see a fired-up City as they will still be devastated after Saturday.
PAUL PREDICTS: 1-3
Comments (8)
Sean Johnson (Liverpool fan) says...
as a liverpool supporter i am sad that wigan are no longer with us i do hope they come straight back coz this is not the end for wigan athletic this is just a hugh setback they will be back least one plus they won the fa cup so they will be in europa league next season. i also think they play great football if they had a good defence they wud not be relagated
Posted 10:14 15th May 2013
Michael Aston (Aston Villa fan) says...
Merson you legend. Bang on the money UTV
Posted 00:26 15th May 2013
Christopher Mwakaje (Arsenal fan) says...
I hugely congratulate the gooners for punishing Wigan but the war is far from over...let's show Newcastles what we're made of!....good luck gooners!
Posted 22:37 14th May 2013
Windell Wignal (Arsenal fan) says...
Should be an entertaining open game as both team need to win. I know most of the UK are rooting against Arsenal but in the end I think we will win both game and qualify for the CL. COYG........
Posted 18:35 14th May 2013
Kev Padge (West Ham United fan) says...
Love to see Arsenal secure 4th spot and Wigan go down. Sure Wigan will put up a fight but the Gunners I reckon will win 2-1. Wigan always struggle and have no real place in the top flight.
Posted 18:03 14th May 2013
L O (Doncaster Rovers fan) says...
I really want Wigan to stun the Gunners, It would increase the tension on the last day
Posted 16:51 14th May 2013
Richard Stringer (Luton Town fan) says...
Teams like Wigan that finish in the bottom half every season are there for one reason. To get top managers fired.
Posted 14:56 14th May 2013
Mark Haslam (Manchester United fan) says...
I really hope Wigan beat Arsenal tonight. It would make a very entertaining game against Villa on Sunday. Wigan beating City and Arsenal in 3 days is a very unlikely story. Not to mention Wigan are playing at the Emirates. But who would have believed Wigan beating City in the FA cup final. Come on you latics!!!!
Posted 12:58 14th May 2013