All the newspapers this morning feature page after page about Chelsea's triumph - but let's remember that the Europa League is effectively a plate competition for sides who have failed in the Champions League.
The Blues qualified for the tournament, which has been won in the past by unspectacular names such as Zenit St Petersburg, by losing, and made the final by beating Basel, hardly one of European football's heavyweights.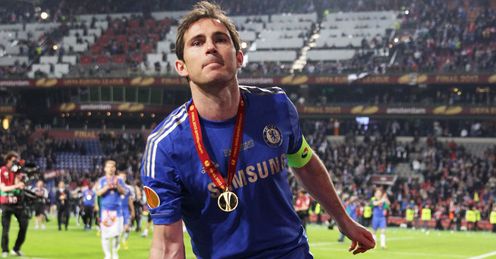 Therefore, while they and their interim manager Rafa Benitez - who may not have won all the Chelsea fans around but has proved what a quality manager he is - have done well, the Blues' victory on Wednesday night should not paper over the cracks.
They still have some defensive flaws, they still have a dearth of depth in the squad - the bench against Benfica was not the strongest - and, for me, they still lack an in-form, top-drawer striker.
Juan Mata, Eden Hazard, Oscar, Ramires and Frank Lampard is as good a midfield, if not better, than anything else in the Premier League.
Jeff Stelling
Quotes of the week
JEFF'S CHARITY CLIMB
To donate visit http://uk.virginmoneygiving.com/giving and search for Jeff's namen
However, I don't think Jose Mourinho would return, as has been highly mooted, if he didn't have guarantees that there would be money to spend to significantly strengthen the squad.
Plus, Chelsea's midfield - Juan Mata, Eden Hazard, Oscar, Ramires and Frank Lampard - is as good if not better than anything else in the Premier League.
I think the Stamford Bridge side will be major contenders for the title next season, whether Mourinho is at the helm or not, but they need to bring in three or four quality new players over the course of the summer.
Impose
There will also be managerial movement at Manchester City, with Roberto Mancini having been relieved of his duties and Malaga chief Manuel Pellegrini odds-on to replace him at the Etihad Stadium.
Mancini probably didn't deserve to lose his job, but not much is fair in football and the Italian got three-and-a-half years to impose himself at City and a lot of managers get a hell of a lot less than that.
He knew the position he was in and that a major trophy was a necessity every season, and he didn't deliver that this year, so I was in no way surprised to see him given his marching orders, just 12 months after guiding City to that dramatic Premier League conquest.
Mancini often left games without attending press conferences and, we're told, there were times when he didn't even go back in the dressing room either, so his relationship with some of the players, too many of whom are just ordinary, was clearly strained.
Whether Pellegrini can do better is up for debate; he has done well in South America, enjoyed success in Spain with Villarreal and Malaga, his English is good, too, and plenty of top managers have come to our country and prospered.
But others have not - Luiz Felipe Scolari is a classic example of someone who arrived with a big reputation but just wasn't able to do it in the Premier League - so it will be intriguing to see how the Chilean, if appointed, gets on.
Punching
What I do know is that the start of the next season is going to be fascinating with new men in the dugout at Chelsea, Manchester City, Manchester United, Everton and goodness knows where else; there will be a real fresh look to the division and I cannot wait.
Unfortunately Wigan will not be part of that after their relegation was sealed on Tuesday evening with a 4-1 defeat at Arsenal and I'm not sure the FA Cup winners' return to the Championship will be fleeting.
The Latics have been punching above their weight for a long time as they are situated in a town of just 80,000 people, which if you want to make comparisons is smaller than my town Hartlepool, and it will be difficult for them to sustain their success.
I would expect them to lose their manager, Roberto Martinez, and possibly Shaun Maloney, James McCarthy, Arouna Kone and Callum McManaman, too, while the Championship will be hellishly strong with the likes of Leicester City splashing the cash.
The biggest thing for Wigan next season will be to use the parachute payments and ensure that they consolidate at worst, because they are the sort of club who could not just struggle to come back to the Premier League but to avoid going in the other direction.
Comments (5)
Beals Beals (Chelsea fan) says...
I actually don't think Chelsea need to spend that much for next year (although we probably will anyway!) We'll probably spend too much on a striker when we just need to bring Lukaku back in and give him a go. I'd like to see de Bruyne and Bruma back from their loans too but we do need an extra centre back. Luiz is better in midfield and Cahill is too inconsistent so that just leaves Ivanovic (who also covers Dave at RB), JT and Bruma as CB. With Ferreira, Malouda and Benayoun leaving, I think Marin and Mikel should be sold, and if we get a new striker then we should keep Torres and sell Ba.
Posted 01:35 20th May 2013
Ben King (Chelsea fan) says...
I completely agree with Jeff. Still we are waiting for that Drogba replacement and we haven't got it yet. We do have Lukaku but people won't describe him as a world class center-forward however, that could all change in the next few years. Someone like Falcao or Lewandowski would be perfect for us next season because I believe they have the physicality and pace of the Premier League. This leaves us with a dilemma though. We would have 4 strikers Ba, Torres, Lukaku and possibly Falcao fighting for one spot. Either we have to change formation which is what we should do and have 2 upfront or sell Torres. Hazard, Mata and Oscar have been amazing this season and will get better and better but we need a clinical striker with an eye for goal. Mourinho will know who to look for because he has managed in so many different countries and we have to let him make the calls on who we buy and I imagine that will be one of his conditions. We can't let Roman make the calls because he was the one who chose Shevchenko and Mourinho didn't want him and he turned out to be a flop for us which was a shame. I would be happy with a center-forward and recalling players who we loaned out this season (Lukaku, Mceachran, Courtois etc.)
Posted 01:37 18th May 2013
Benedict Barau (Chelsea fan) says...
The fact Chelsea won the Europa League will definitelly NOT paper over the cracks in the Blues squad. We have two strikers who scored intermittenly (especially Torres whose goals came in the very same continental champioship) and a defense that's not assured 100% of the time. A fix in these areas will give the team depth and lead to competition for places; a fact that Manchester United has used for as long a Sir Alex Ferguson has reigned there!!!.
Posted 09:42 17th May 2013
Harriston Miller (West Bromwich Albion fan) says...
It is not just Chelsea who need to spend money to overhaul their squad but Manchester City this summer as well not only to challenge for the Premier League but also for Champions League next season. The same applies to Arsenal whose squad sadly is not good enough to challenge for major honours anymore. Whether Arsene Wenger is willing to buy quality players at market prices is debatable even if he ha money to spend from the gunners new sponsorship deal and improve financial status. Manchester United will still be the team to beat even though this current team is no way near as good as previous sides in the past. It is clear that David Moyes will need to buy better midfield players and defensive cover good enough to defend their title but also make an assault on the Champions League in the 2013-14 season. I do agree with Jeff Sterling's comment about Wigan's achievement of managing to compete in England's top division despite their fan base and financial constraints. Sadly, clubs of Wigan''s size are increasingly finding it difficult to compete with clubs with bigger budgets than in the past. I would guess that is unlikely I will ever see a small town club become English champions again in my lifetime because of those factors.
Posted 04:55 17th May 2013
Chris Wilson (Bristol Rovers fan) says...
I was sad to see wigan go down on tuesday after seeing them avoid the drop season after season. But like jeff says i think its possibly going to be a downward spiral for the next few seasons. Although i sincerly hope im wrong and we see wigan back in the prem within the next 2 years.
Posted 00:25 17th May 2013