Every Saturday, Chris Kamara heads to stadiums up and down the country to deliver his unique match reports for Soccer Saturday.
On Sundays you can see him back in the Sky Sports studios as he brings you all of the highlights as well as in-depth analysis of all the action on Goals on Sunday.
And then on Mondays you can find Kammy right here on skysports.com as he brings you his views on the Premier League weekend.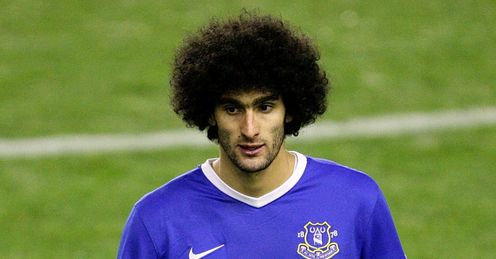 Read below for his thoughts on Marouane Fellaini's foul play, resurgent Aston Villa, and how Adel Taarabt could fire QPR to safety...
The FA have a tough decision to make over Marouane Fellaini
Officials have stopped looking for grappling in the box and Everton's Fellaini took the law into his own hands against Stoke's Ryan Shawcross - three times. The first one - the headbutt - was a definite sending off; the second incident, when he was trying to shrug Shawcross off, was probably a yellow; while the third one, when he used arm, could have been a red card, too. I don't like being too hard on officials but what exactly are they looking for?
People are trying to compare Fellaini to Joey Barton but it is different; Barton's antics (after QPR lost to Man City on the final day of last season) happened after he was sent off and it was easy to dish out a punishment. Fellaini, however, would have got three-game ban for the first offence and the same for the third - but if he had have been sent off for the first one he wouldn't have been on the pitch for the third. So this is a very difficult one for the FA to deal with in terms of what length of ban is handed out.
Aston Villa have had an excellent few days
Paul Lambert's side won at Norwich, who are absolutely flying, in the Capital One Cup and then at Liverpool in the Premier League on Saturday. The team they fielded at Anfield was the youngest in the Premier League this season, with an average age of 23, and they are full of energy and pace.
It is not a done deal yet and they are still not as high up the table as Paul Lambert would like, but they look like they are on the up. The big-money signings won't arrive at Villa any more but Lambert has bought in some good youngsters: Christian Benteke has been brilliant and Ashley Westwood looks a good player, too.
Tom Cleverley is becoming an important player for Man United
He impressed in Man United's win over Sunderland and he seems to be improving all the time. Sir Alex Ferguson trusts him now and is getting the nod over the likes of Ryan Giggs and Paul Scholes, while it is good for England that we have him and Jack Wilshere who can be a major part of the midfield over the next few years.
United will always score goals but Ferguson will be slightly concerned that Man United, six points clear at the top of the Premier League table, are conceding them - and they could have conceded more than one against Sunderland. But the plus point for them is that Nemanja Vidic is back and if he can form a solid partnership with Rio Ferdinand that will only improve the side.
Adel Taarabt could keep QPR up
I like Taarabt and when QPR won the Championship he was the best player in it, but last season in the Premier League the jury was out because he was trying to do tricks that didn't come off, rolling the ball over his foot and losing possession in the wrong areas and when he was stuck out wide, he didn't always perform.
But on Saturday, when playing in the hole, he was the difference between QPR and Fulham and got the Hoops their first win of the season. He showed great ability and awareness of players around him and thought: 'You're a real player, mate'. If he can keep that up then he could be QPR's saviour and because Harry Redknapp loves creative players like him you know he won't be restricted.
Carlos Tevez should always be in Man City's starting line-up
I went to the Amsterdam Arena this season to watch Man City play Ajax and they played with Edin Dzeko and Sergio Aguero up front and it seemed to me that Roberto Mancini was trying to faze Carlos Tevez out and say he would be okay without the Argentine.
But Tevez changed the game when he came on against Man United and he was outstanding again against Newcastle on Saturday lunchtime in a match which City won 3-1. Dzeko and Mario Balotelli are good players but it is an absolute no-brainer, for me, to play Tevez and Aguero together. Tevez not only brings ability but great work-rate, too, and if City are to win the Premier League - and they do have a fantastic chance - he HAS to play from the off.
It is great for Arsenal that Jack Wilshere is signing a new contract
I know Jack well and always knew he would pledge his loyalty to Arsenal after they stuck with him and looked after him when he was out injured for such a long time; he loves Arsenal and would not have had his head turned by any other club.
Wilshere will play a massive role in Arsenal's future and it is very positive that negotiations began so early, something the club have not done with other players in the past, but Jack will be hoping over the next few years that the club bring in the necessary quality around him to make Arsenal successful again.
Comments (13)
Jimmy Cyclone (Liverpool fan) says...
Tough season so far, but once again its hard to knock the play and skill on show at Liverpool. I think we just need a little more patience and goals will come. Its hard to lose 3-1 and take away positives but we do look dangerous in and around the box. A good seasoned striker (maybe bent) could see us push for the top 5 and compete for the top 4. That been said villa took their goals unbelieveably well and they made our defence look very average. Benteke was unplayable and for someone so new to the league it was an outstanding display. Hope carroll was watching because thats what we need from him. Someone to bully defences and really take control of the game!
Posted 11:21 19th December 2012
Aaron Kernoghan (Tottenham Hotspur fan) says...
Wilshere should go to a new club asap before they eventually sell him for a big sum in the future! Its bound to happen! Wouldn't surprise me if Real Madrid went in for him in next 2-3 years like they did with Luka Modric
Posted 12:39 18th December 2012
Jay Qvist (Liverpool fan) says...
i can't really condone the way fellaini acted, but i'm sure there's a few premier league strikers not too sorry to see shawcross get a taste of his own medicine. i have no problem with physical teams like stoke - i think it's good for football to have variety - but I think shawcross takes it to street violence levels to cover up the fact he's a distinctly average player..
Posted 12:26 18th December 2012
Alex Kyrios (Tottenham Hotspur fan) says...
It will be interesting to see how Taarabt performs under Harry. Harry completely snubbed him and then sold him off when they were both at Spurs. But I suppose he's matured since then.
Posted 01:46 18th December 2012
James Evans (Tottenham Hotspur fan) says...
Felaini deserves all that he gets BUT If the referee had penalised Shawcross early on for holding (technically a foul) then he wouldnt have been doing it for every set piece Everton had. If the referee doesnt have the bottle to enforce the law then players will take it into their own hands.
Posted 22:04 17th December 2012
Barbara Macdonald (Liverpool fan) says...
My issue with Fellani's ban is that his head butt was used to try and get himself out of a hold. Shawcross had his arm around Fellani's neck. Where is the FA's action against Shawcross? Where is the talking to the ref deserves for not stopping Shawcross' grabs? And I say this and a Liverpool fan. If someone had me around the throat they would have gotten more than just a headbutt.
Posted 21:29 17th December 2012
Andy Bill (Everton fan) says...
I think Fellainis ban is correct and he was wrong to push his hair in Shawcross's face. I would like the FA watch each incident for 3 seconds before the alleged offence and ask why Everton wasn't awarded 3 penalties and why Shawcross (who is a serial hugger and grabber) isn't also serving a ban. Finally the referee who missed Fellainis antics and Shawcross's antics must surely be handed a ban also!
Posted 20:47 17th December 2012
Neil Nuckley (Everton fan) says...
I'm an Everton season ticket holder and a great fan of Fellaini. His behaviour against Stoke was appalling and deserved punishment. Nothing can condone the way he behaved. But he, like a lot of talented players, is targeted by teams to 'spoil the play'. All are desperate for survival in the Premiership, at whatever end of the league, and will do anything to grab points. I remember Phil Neville being interviewed when he joined Everton and stated that they were coached at United to push the boundaries with officials as far as they could. This is now what has happened over the issue of pulling/arms around/pushing/general mauling of players. It has got to the point that the majority of games are tainted by this tactic and the game is becoming unwatchable. The FA and Mike Riley have to make a stand to all but eradicate from the game. Give the fouls, yellow card players if necessary and start awarding penalties if it's in the box. Players protesting at awarded fouls should have the further award of a foul ten yards nearer to goal - if that then ends up in the penalty area award a penalty. How long will this behaviour last if we get that tough?
Posted 18:03 17th December 2012
John Reid (Granada fan) says...
Stoke are everything that's wrong with English football. Long throws, two defenders who persistently hold onto forwards in the penalty box, a manager who constantly complains about the rough justice dished out to his team and large punts up the park. I've just watched Barcelona v Ath Madrid, not surprisingly I saw very little of the aforementioned activities!! Although I cannot condone Fellani, I have to sympathise with any forward playing against Ryan Shawcross who is after all a below average defender with a talent for hanging on to opposition players in the penalty box. Football is all about entertainment... who would you rather watch Fellani or Shawcross?
Posted 17:38 17th December 2012
Rob Cummerson (Everton fan) says...
Ryan terrible terrible bias comment . What Felliani did was in-excusable and he deserves a 3 game ban and no more, if each incident is a sending off then by the laws of the game he should have walked for the first one and therefore incident two and three would not have taken place. Funny how when a Liverpool player commits an offence it is deemed to be accidental or they being picked on, its easy to cast stones when it doesn't concern your team Racism is a completely different offence to violent conduct as you are taking an individuals race, religion or beliefs and using it against them to gain an advantage. As for diving like violent conduct there must be retribution but in line with the incident. If you take off your Red tinted glasses you would see that.
Posted 17:35 17th December 2012
Michael Curtis (Aston Villa fan) says...
Fantastic result for lamberts limes at anfield on saturday and long may it continue, love what paul lambert is trying to do at the villa with giving the reserve team players every chance to impress and not being afraid to go to the lower leagues to look for talent. He is building a team with lots of energy and passion that will give it 100% every game and its so refreshing to see, its going to be a really tough and gruelling campaign for us but stick with what the gaffer is trying to do and we will get back everything and more that we have put in. Up the villa VTID
Posted 14:45 17th December 2012
David G (West Ham United fan) says...
Why doesn't Carlos Tevez move? A player of his quality can fit into ANY side; it baffles me that Mancini doesn't have him as the first name on the team sheet week in week out! I'd love him back at West Ham - which even I know is unrealistic, but a player of his quality deserves more!
Posted 13:21 17th December 2012
Ryan James (Liverpool fan) says...
Fellani should get a 9 game ban, each incident was worthy of a sending off. If you are going to come down hard on Racism and diving then you have to also come down hard on violence on the pitch. If you headbutted, elbowed and then punched a person in the street you would be locked up. A 3 game ban is nowhere near enough for what Fellani did. How he thought he was going to get away with it when there's so many cameras at every game is beyond me. Loss of temper would be a one off incident which could be forgiven, the fact that he did it 3 times and even had a look at where the ref was shows it was pre-meditated and not just a loss of temper.
Posted 12:38 17th December 2012