Every Saturday, Chris Kamara heads to stadiums up and down the country to deliver his unique match reports for Soccer Saturday.
On Sundays you can see him back in the Sky Sports studios as he brings you all of the highlights on Goals on Sunday.
And then on Mondays you can find Kammy right here on skysports.com as he brings you his views on the Premier League weekend.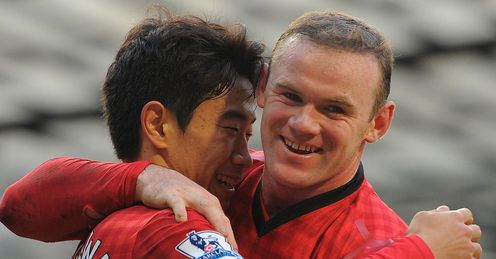 Read below for his thoughts on goal getters Shinji Kagawa and Luis Suarez, Arsene Wenger's future and and a vital victory for QPR...
Man United show no signs of slowing down
Shinji Kagawa scored a hat-trick during Man United's 4-0 win over Norwich and his finishing, especially for the second and third goals, was extremely cool and reminiscent of a young Paul Scholes. He has been on the periphery since he joined from Borussia Dortmund in the summer but that is mainly because of injury and Sir Alex Ferguson has always said what a fantastic player the Japanese is. He looks like he will provide plenty of ammunition for United, both in terms of goals and assists, and could play an integral role for the rest of the season for a club that have a huge goal threat and are only getting stronger. United will have to be strong to come through Real Madrid in the Champions League on Tuesday night because Jose Mourinho's men have hit form at the right time and beaten Barcelona twice in a week - but let's hope they do it to keep up the possibility of having an English team in May's final at Wembley.
It is not nice to see Arsene Wenger in turmoil
Wenger is a legend and a top-drawer football manager and has done so much for Arsenal but you don't want to see him struggling, so if the Gunners do not qualify for the Champions League some tough decisions may have to be made. Wenger is probably getting frustrated with the length of time it has been since his team won a trophy and while you would hope that if Arsenal do miss out on a top-four place, he could go away for a few months, recharge his batteries and then go again, he may feel he like is past his sell-by date. If he does leave, I want it to be on his terms - but who do Arsenal replace him with? Pep Guardiola has gone to Bayern Munich and you cannot see Mourinho going there and even though there are good managers in European leagues, there are no obvious candidates. Perhaps Arsenal's biggest problem is not the manager - they played quite well against Tottenham - but the fact that they are not spending the money the fans have generated?
Rafa Benitez should have handled his rant against Chelsea differently
The Spaniard wanted to get a few things off his chest and while he has right to do that, he should have been a bit more careful when criticising Blues fans. He would have been better thanking the Chelsea faithful, who had travelled a long way from London to Middlesbrough on a week night for their support but then calmly said that their booing was not helping him or the players and asked if they could get behind the side when they were playing a game. That would have taken the onus off him and the fans would have probably thought: 'Yeah, he's right, we are all after the same thing'. However, Benitez was probably bit too critical and what he did is unlikely to result in Chelsea supporters being a bit kinder to him. The trouble he will always have, though, is that his Liverpool connection is not easily forgotten by Blues fans and they will always boo him over the chairman, because they fear Roman Abramovich will walk away and take his money with him if they get on his back.
Luis Suarez is a candidate for Player of the Year
When Thierry Henry came to Arsenal people said he couldn't finish his breakfast, but Wenger thought he was just unlucky and the goals eventually came. The same thing has happened with Suarez, who is now adding goals to his outstanding approach play, as he proved by netting a hat-trick against Wigan as the Reds won 4-0. We did a little poll on Goals on Sunday asking people who they thought would win Player of the Year - Robin van Persie and Gareth Bale got a mention, of course, while I nominated Michu and some Chelsea fans put Juan Mata's name forward - but Suarez has to be up there because he has taken over from Steven Gerrard as Liverpool's talisman. We saw a little spat between Wigan's Emmerson Boyce and James McArthur during Saturday's game and while it wasn't nice viewing, it shows they have the desire to help get their club out of the relegation zone and are not prepared to settle for losing.
Dubai-gate could be a blessing for QPR
The story that some QPR players enjoyed a few too many drinks during a recent tour could have really backfired on them and they could have quite easily slipped to defeat against Southampton, but Harry Redknapp kept his squad together and Rangers recorded a much-needed win over their fellow relegation contenders. Fair play to Harry, too, for backing his players and insisting that these allegations were completely untrue and you get the feeling that it is going to create an 'us against the world mentality' and make QPR more determined to prove their doubters wrong and stay in the Premier League. They have certainly given themselves a chance and considering the Londoners are just four points from safety and have some winnable games coming up, the great escape is on.
Who could replace Arsene Wenger in the Arsenal dugout? Who is your Player of the Year so far? Can QPR stay up? Let us know your thoughts using the feedback form below...
Comments (8)
Sumeet Dhillon (Newcastle United fan) says...
If Wenger was to leave in the summer, i think Klopp, Laudrup or Moyes should be approached, as they are proven, yet are either not at a top club or in the premier league. Also, Suarez or Bale for player of the year. And i personally don't think QPR will stay up no matter how good Harry is because some of the players are only motivated by money (i.e. Remy, biased of course as I'm a newcastle fan) and they will still be getting their pay cheques regardless of what league they are in next year and they don't seem to have the hunger to want to do well.
Posted 10:51 6th March 2013
Alyn Evans says...
i'm not sure I believe the Myth surrounding Arsene Wenger and not spending Money ... I appreciate that he is not spending the amounts of the top clubs but i'm sure he paid a lot of money for Monreal, Giroud, Mertesaker, Arteta, Oxlade-Chamberlain, Cazorla to name but a few
Posted 09:52 6th March 2013
Josh A (Arsenal fan) says...
To Matt Cousins; are you actually serious? Bendtner was signed very young as he came through the academy. Djourou was in a similar situation. Chamakh came on a free. Santos wasn't a massive buy. The only ones I would consider 'big money' transfers are Arshavin, Gervinho and Giroud. And just so you know, without Arshavin, we would not have gotten into the Champions League that year. He should have been signing of the season. As for Giroud ; he has done well, considering it's his first season in the Premier League. Gervinho is really the only one on your 'list' that would get any attention. He has been inconsistent at best. How misinformed are you? Stop believing everything you read and hear...
Posted 00:31 6th March 2013
Matt Cousins (Arsenal fan) says...
I am ashamed to say that I am an Arsenal fan. Kammy says that it is not the manager, but it is. Wenger has not spent any money in the past transfer windows, most notably the window just gone. He only got one player in January and he needed to sign more players. That was the perfect chance to strengthen. If Wenger does stay, he has to do one thing. Break the bank. We hear that they could possibly have around ¿75m to spend in the sumer. Will Wenger use it? No he won't. Arsenal should not be boasting that they have ¿123m in the bank. We haven't put that money to good use. Wenger in the transfer windows, he has bought some players that haven't worked out. These include Arshavin, Chamakh, Djourou, Giroud, Bendtner, Santos, Gervinho and many more. All of these players came for big money and big wages. Why are Arsenal paying these players that money if they are not playing? We need to have a manager who is not afraid to break the bank and knows what players would suit the club best. It's not like they wouldn't be given the time. When you work at Arsenal, you are given more than enough time. Just look at Wenger, Graham. All of these managers have been given the time and money to succeed. In my kind Jurgen Klopp or Michael Laudrup should be given the job. They know how to win trophies and where to strengthen. WENGER OUT!
Posted 12:01 5th March 2013
Tony Burton (Liverpool fan) says...
If Wenger goes then I think they should go for Laudrup from Swansea.He plays the kind of football Arsenal like but I think he would add a little more steel to them and be more aware defensively aware.
Posted 16:36 4th March 2013
Luke Davison (Liverpool fan) says...
Player of the year Suarez with RVP second Bale third Mata fourth and Michu fifth
Posted 16:35 4th March 2013
Jonny K (Arsenal fan) says...
Not too sure if Wenger out is the answer. i think Kammy is right, the problem is not with the manager, but the financial handicap we've inherited as a result of The Emirates move. Arsenal to spend serious money this summer on quality players, and Wenger to have one last attempt before his contract is up. There is no chance of Mourinho coming in, he wouldnt touch arsenal with their current tight restrictions on spending.
Posted 15:58 4th March 2013
Gary Stevens (Queens Park Rangers fan) says...
Wenger out - Mourinho in. Player of the year so far has to be Suarez with Mata a close second. QPR will stay up with Reading, Wigan and Villa dropping down. Arsenal will finish sixth with Spurs getting fourth and Everton fifth. And finally, and this is a long shot, QPR to finish top half of Prem next year...you heard it hear first!
Posted 14:04 4th March 2013