Ireland's recent Heineken Cup dominance reached its ultimate peak on Sunday afternoon. Leinster's resolute victory in Bordeaux confirmed that the final on May 19 will be the first all-Irish affair.
There is no great shock that the champions have passed and scrapped their way to a third final in three years but before this season's tournament kicked off an all-Irish final would have presumed Munster as Leinster's opponents.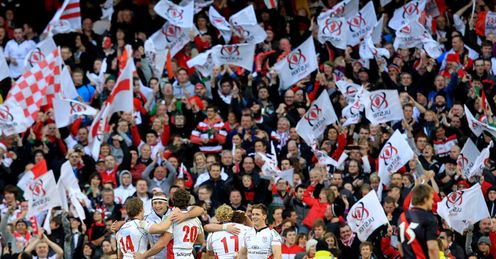 Ulster, however, hung on against a tenacious underdog in Edinburgh to reach their second final; their first with all the Heineken Cup countries competing.
Without taking anything away from their previous champion team, the absence of the English clubs did diminish the competition that year in much the same way that New Zealand's 1987 World Cup win was not quite the real thing with South Africa still in sporting exile.
The teams that earn a losing bonus point in Clermont tend to win the Heineken Cup. Maybe this is just a coincidence but maybe the qualities that help sides get something from Clermont are the qualities required of European champions.
Stuart Barnes
Quotes of the week
LIVE ON SKY SPORTS
Northampton v Worcester
1.30pm, Sat, Sky Sports 1 HD
Watch on the move with
Sky Go
How to
remote record
The All Blacks conquered the entire rugby world this season; can Ulster do likewise in Europe? If they play as they did in Dublin the answer will be a resounding negative. The burden of expectation sat uneasily on the heads of most of their players, the imperious Ruan Pienaar apart.
Edinburgh found holes in the defensive wall that had looked well-nigh impregnable in Limerick in the quarter-final. Credit must go to Michael Bradley who worked out the weaknesses and exploited them brilliantly.
Unfortunately for Edinburgh they could not apply the final pass, catch the final pass or hang onto the ball instead of lunging impatiently for the line.
At half time Ulster lead by four points courtesy of Pienaar's sniper boot and a try from a scrum where the ball popped out and Romain Poite made a mistake in preventing the Edinburgh defence from diving onto the ball.
It was a massive moment because Edinburgh, up at half time, would have faced a team struggling with the burden of expectation even more come the second half.
As it was Ulster tightened the game with a dominant scrum and a masterful display of tactical acumen from their scrum half. Their power controlled the second period and by the time Edinburgh scored with the last play of the game the try was academic. But had they led at half time it could have been so different?
On the flip side the injuries to John Afoa and Chris Henry badly hurt their defence especially around the fringes. Afoa is a huge presence near the breakdown and the fact that Chris Henry had made more tackles going into the semi-final round than any other performer tells its own tale.
Bradley was clever in working out the weakness in their absence but with the duo back for the final Ulster will be a different proposition.
Thrives
They will need to be because Leinster's 41st-minute try by Cian Healey was a classic inside ball move that opened Clermont up 24 hours earlier.
A superb pass by Richardt Strauss was fired into the space marked by the heavyweight tight forwards. Rob Kearney, a leading contender for Heineken player of the season, thrives on these mismatches. He was through and the champions were suddenly in front in a game Clermont's power and the magnificent crowd's passion threatened to snatch from them.
Kearney produced THE seven minutes of the tournament; the break for the try, a 70-metre downfield touch finder from an almost impossible angle and, from Clermont's clearance kick from the corner his left boot put them in, a 40-metre-plus drop goal.
It was a lead they were to keep to the final whistle. For the majority of the half they appeared in control despite the narrow four-point margin.
They were superb for half-an-hour but the French came hard in the final five minutes. Wesley Fofana crossed the line but failed to control the ball. The forwards ignored the backs and tried to batter their way at times a solitary metre for what was an endless two minutes for the visiting team and fans.
By hook, crook and some pretty cynical work at the breakdown, which Wayne Barnes might have punished more severely on another day, the champions were last man standing in Bordeaux.
They are heavy favourites for the final and on the semi-final evidence so they should be but there are form lines that give Ulster a great chance with their proud defence and goal kicking scrum half.
Clermont is the common line. Leinster won where Ulster failed by just four points in the pool stages. Leinster cut Clermont apart more often but Ulster's pack stood up to them a little more effectively in the set piece and when there's a set piece and a goal kicker and a great defence...
Also Ulster's away bonus point has a historical significance to it. Last year, Leinster managed that losing bonus point in the Auvergne and went onto win the competition as Munster had done a few years earlier.
The teams that earn a losing bonus point in Clermont tend to win the Heineken Cup. Maybe this is just a coincidence but maybe the qualities that help sides get something from Clermont are the qualities required of European champions.
Ulster have them; the problem may be that Sunday showed Leinster have not lost them and have added even more to their game since winning the competition last year.
They are rightful favourites and should win but Ulster will relish the reversion to the role of the underdog with a savage bite. It promises to be quite a final.
Jockeying
This weekend is a matter of jockeying for positions. Newcastle might beat Wasps (I would back Wasps were I to wager on this game) but they will not get the four tries and five points to nil scenario needed to avoid the drop.
If Newcastle, who have been wonderfully resilient in the last few games, prove me wrong good luck to them but I cannot see that happening.
Nor can I see Northampton losing at home to Worcester which means another famous Exeter win, this time at Saracens, would be academic in their hopes of fourth spot. The Saints are set for fourth bar a minor miracle, leaving Leicester, Saracens and Harlequins set to fight for the home berths.
Leicester will be one of the home teams. They don't like losing to Bath when there is little at stake; against an average-at-best Bath team, at Welford Road with much to play for there is only one winner.
That leaves Harlequins with a tricky away game in Sale. If they lose it is possible they will lose top spot and a home semi-final on the final day of the season. It would not be the end of the world if they played away but the Stoop has been good to them and their chances will be enhanced with a home semi-final.
Sale will make this hard, themselves buoyed with all-but-certain Heineken Cup qualification but Harlequins were very good against Leicester and should account for Sale; if there is to be a shock that is the likeliest one.
Exeter may have had some of the stuffing knocked out of them when the Saints beat them and Saracens will do enough to win. It is not enough against the best in Europe but the highly functional style is not to be dismissed in a hurry a level down.
Leicester and Harlequins are the form teams but Saracens remain serious contenders for the Premiership.
Stuart answers your emails...
Got a question for Stuart? Email him atskysportsclub@bskyb.com or use the feedback form below...
LEAGUE OF NATIONS
Sky Sports should canvas for a European Rugby Union League. Think of all the French / Irish / English etc competing each week. Is this the future? John
STUART REPLIES: John, it is a vision that excites but the politics means it will not happen in a hurry because the host unions would lose a little more power and control and the game's administrators are not yet ready for that. In the future maybe but until then we'll just have to settle for the Heineken Cup which seems to be a decent enough competition to satisfy most of us rugby nuts.
OH DANNY, BOY
Now that Danny Cipriani has left the Rebels, do you think it was worthwhile for him to go there? Has he improved as a player? Has he developed? Personally I think it's been a massive waste of time. Will we ever see him realise all of that potential we saw when he first broke through or is he going to end up as one of those that got away? Craig N.
STUART REPLIES: Craig, on the face of it he has not developed or even rediscovered the magic of young Danny but until he plays in England we'll not know whether the culture of Super Rugby has changed him. It would take an optimist to see proof of improvement but the reasons he left England - as well as his development or otherwise - are pertinent parts of this issue are need considering; ie, did he feel England had slammed the door on him and did the nature of the Premiership not suit him?
CATT IN THE BAG?
What do you think of Mike Catt joining England in an interim role? Is he a realistic alternative for the job full-time if Wayne Smith turns down the backs job? Has he got the credentials to be an international coach in the future? Jon (Reading fan)
STUART REPLIES: Jon, Mike is driven, focussed and committed. All these are vital parts required for a successful coach. Does he have the credentials? Based on London Irish the answer is not yet but sometimes potential counts as much as CV's when a young coach is appointed. I am adamant that England need an older and foreign influence so Mike would not be my long-term option, although that is not to say he will not be that man a little further down the line.
CULLING CULLEN?
What a game. Best club game of the season bar none. Leinster probably just shaded it but were they fortunate to have Cullen on? Surely it should have been at least a yellow in the first half. We all have seen red for forearm punches thrown no matter how the prop reacted! Boris
STUART REPLIES: Boris. Ten minutes maximum. It was a non-committed blow with the side of the fist but I know what you are saying. It's not in the law books but when a prop drives around that theatrically I sort of think that if there is a rugby god he or she will punish the victim by letting the perpetrator off the hook.
Comments (7)
David Keeley says...
stuart do you think there is a danger that warren gatland will overlook players like jonny sexton or owen farrell for the starting ten, and pick one of the welsh outhalves just because he knows them better. i think farrell and sexton have a better alround game than halfpenny or priestland
Posted 22:57 2nd May 2012
Euan Cooper says...
Dear Stuart You have been adament for awhile that a vetran coach from outside of England would be a strong fit for Stuart Lanaster's coaching group. With Smith out of the equation, and Catt now in place for South Africa is there space, or the need for such a person now in any other role that would benefit England, or would any additional role be redundant?
Posted 13:44 1st May 2012
Thomas Fothringham says...
Stuart, is it not time for the English to accept that Ulster won the 1999 Heineken Cup fair and square? They beat four French teams along the way - no mean feat - and it was hardly their fault that the English clubs decided not to take part that year. Thirteen years on, isn't it time to swallow those sour English grapes, and give Ulster the credit they deserved?
Posted 12:05 1st May 2012
Simon K says...
Hi Stuart. With a guaranteed winner this season that will be 4 of the last 5 Heineken Cups won by Irish sides. Why have the national team been unable to secure similar dominance if the H-cup is, as we are led to believe, almost as intense an arena as Test rugby ?
Posted 10:11 1st May 2012
Aidan Mc cann says...
Stuart Do you think Saturday was Ulsters "final"? They seemed to be celebrating the win as if they won the final and 24 hours later Leinster .... a few little jumps at the final whistle and off the the changing rooms ... nothing won yet!!!! To me it's a different focus from Leinster - did the same last year after wins against Tigers and Toulouse. Or am I just wishing and hoping??? Aidan
Posted 22:43 30th April 2012
John Morrissey says...
why dont the heineken cup winners play the winners of the super 15 in the southern hemisphere?It would be a great specticle for rugby union and would decide who is the best club team in world rugby union.I'm sure both competition winners would be interested as would all rugby fans so why hasn't it happened yet?
Posted 19:04 30th April 2012
Maurice Horan says...
Leinster nearly gave me a heart attack yesterday not putting enough points on the board when they were cruising in the second half. I though Kearney was unbelievable but should have put the game to bed if he off loaded to Nacewa for a second try for leinster. I cant believe this play and the fact that sean obrien had a try at his mercy had he kept ploughing through the Clermont backs when on the charge has not been mentioned by anyone in their match report?? This failure to be clinical could cost them in the final if ulster can put it up to them defensively, but to be honest I can see them stretching the Ulster defence all over the park and running in a few trys aswell as Sexton with the boot who seems to be growing into a big game player. Do you think the standard of rugby shown by Clermont and Leinster was of a higher standard than this years six nations, I certainly do!!
Posted 17:46 30th April 2012