It was one hell of a snowball fight in Leicester. Fortunately for the Tigers, Toulouse failed to land a single accurate blow.
Leicester did a superb job in nullifying the French set piece that had so tormented them in round one. The scrum was clever and Louis Deacon and Geoff Parling were both outstanding - especially given the early loss of the formidable third man in the Leicester line out, Steve Mafi.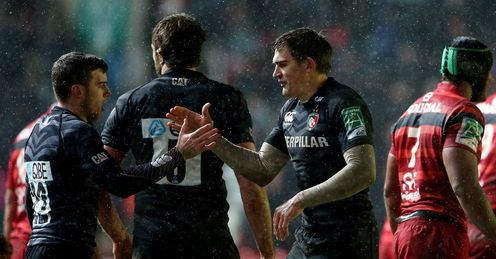 The other area of tactical supremacy was at half back. Ben Youngs was cool and mature and whilst Toby Flood had a curate's egg of a game his willingness to take responsibility for the Tigers was impressive, especially contrasted with the feeble failings of Lionel Beauxis. Guy Noves dithered too long and failed to make the right substitutions and Toulouse are gone.
It will not be easy but Leicester has real shot at the semi-finals and an all-English semi-final with Saracens would be no great surprise to me.
Stuart Barnes
Quotes of the week
Leicester live to travel to Toulon; it looks a forlorn challenge on the face of it but I would not be rushing to write Leicester off. They are nowhere near their best form but they have scrapped their way through a pool with the champions of the French and Celtic Leagues.
They have a pack that can stand up to Toulon as well as the cussed determination needed to thrive on the test awaiting them. If Manu Tuilagi is fit and raring the blunt attack of recent weeks can be rectified... no, this is not the obvious home win a few people were telling me in the immediate aftermath of a win that felt somewhat fortuitous.
Toulon had already qualified and hence their demolition at the hands and feet of Montpellier needs taking with a giant sized pinch of salt but even so there are enough failings in their game to give great hope to Leicester. Their aura of home invincibility was recently destroyed by Racing Metro. They are not invincible.
If the Tigers match them up front they have a great chance. Jonny Wilkinson endured an awful afternoon against Montpellier and Leicester will see him as a weakness. The French back line stutters whilst he sits deep and when he is flat he is uncomfortable. Nobody disputes his Owen-Farrell-like ability to nail the pressure kick but he is definitely a potential opportunity for Leicester.
It will not be easy but Leicester has real shot at the semi-finals and an all-English semi-final with Saracens would be no great surprise to me. Saracens beat Edinburgh and the elements to claim the all-important bonus point to give them home advantage and take Ulster away from Ravenhill.
Yes, I know the Saints won there this season but Ulster came off the back of an easy away win and were probably guilty of complacency. That would not be the case against Saracens.
The English team plays at a slightly higher tempo in Europe. They appear aware that the pace at which they play in England is not quite enough. The pack is powerful and Charlie Hodgson is playing like a potential Lion while another Lion-in-waiting, Farrell, is kicking the goals from the centre.
They are gathering in strength but they might need to. Ulster will be disappointed to let a home draw slip from them after their superb start to the season. The strength in depth of their squad has been found wanting. However, their starting fifteen is formidable. If Ruan Pienaar goes back to nine and Johann Muller regains fitness as expected, Ulster are a huge threat to any team.
The chilling efficiency of their destruction of the Saints in Northampton should not be forgotten. This is probably the tightest of the four quarter finals. It may be the bonus point at Welford Road that separates these sides come the final whistle.
Intense effort
Montpellier announced themselves as a European force with an intense effort against a Toulon team that might not have arrived in quite the right frame of mind. Had Fabien Galthie's team taken their chances they could have stunned the sport by pinching the pool top spot and grabbing a home match rather than the worst trip in Europe, a visit to Clermont.
Clermont are used to beating all comers on their ground and will be confident of seeing off a Montpellier team that will need to produce the game of their club's history to win this match. They have giants like Mamuka Gorgodze in their ranks but there is no way my crystal ball sees anything but a home victory.
Ditto in the game between Harlequins and Munster; Harlequins may be slightly flattered by the weakness of their pool but they have been rising to whatever challenges have come their way. The strength of the scrum is a massively significant improvement. The breakdown is smart and on firmer grounds than they have been getting of late, they have a fast-tempo attacking game to worry any side.
Munster is not the Munster of old. Throughout the pool stages they have prevaricated between styles. The forwards are a decent scrum but not one to scare Harlequins and they are not the breakdown force of old. Simon Zebo is enjoying himself on the wing but a wide game is not the way for them to shock the English champions.
People will not dismiss them because of their name and the region's great European traditions but this team only bares resemblance to the great Munster sides in name. A quarter-final berth is quite an achievement in itself for this team that has played a pool in a state of transition. Harlequins could not have a better shot at the semis.
Exeter's gutsy effort against Leinster, holding them to four tries when the now deposed champions needed a bucketful has probably robbed the draw of the quarter-final that most neutrals would have liked; and not because of those tedious recollections of four years ago but because this could have been one hell of a match.
Harlequins would not have shed too many tears at Munster's gleeful triumph over their great rivals but the draw for the semi-finals was not kind to them. Clermont (if they don't let my predicting down) in France but at least not in the Auvergne. They remain the team I expect to win this tournament but that's for the future, this is a decent set of quarter-finals with the Saracens v Ulster and Toulon v Leicester game the picks for tightness, Clermont for colour and Harlequins for a banker home win... that's done it!!!!
Wasps versus Leinster is a juicy Amlin game in a tournament that also sees Toulouse dropping down a tier, Bath, Gloucester, Stade Francais...
This is going to take some winning...
Stuart answers your emails...
Got a question for Stuart? Email him at skysportsclub@bskyb.com or use the feedback form below...
Stuart, is this situation with Saracens and the salary cap becoming ridiculous now? It was odd how they acquired Ashton last year for a whopping fee without having anyone else leave. How do they go ahead and find the money for Johnson and Vunipola, while signing up 10 players on new deals at what will be vastly improved rates? Nicholas Cole
STUART REPLIES: Nicholas. The Saracens squad for next season does look increasingly strong given the salary cap. How they budget their balance? That I don't know. I can speculate but my speculations have no basis in fact, so, like you I will speculate and wonder if the Premiership is asking the relevant questions.
Hi Stuart, what are your thoughts on the summer whinge regarding Rabo sides having an unnecessary advantage in the Heineken Cup. Surely the proof is in the pudding and the results have shown this not to be actually true? Or am I being far too simplistic? Many thanks Gail Francois
STUART REPLIES: Gail, I wrote on this subject in my Sunday Times column this season. Money is important but playing style even more so. Hence Toulouse, who have stopped playing with their ambition of old are gone while Clermont have upped their ambitions, Harlequins are also attractive to see and even Saracens have a European game that is sharper than their domestic version. English and French clubs did not lose out for years primarily because of Rabo advantages (it was a factor) and they are not going well this time simply because of money (although that too, is a factor).
Stuart, do you think that it is time that Guy Noves steps down at Toulouse? With all their money they still have not got a decent halfback pairing which cost them a place in the Heineken Cup quarter-finals. He also seems to have too much say on the field with none of the players looking capable of making a decent decision. Adam Williams
STUART REPLIES: Adam. In theory yes, I reckon Noves has presided over a gradual slump in the quality of Toulouse, masked by the power of the pack and a reputation that counts for as much in subduing Top 14 opponents as their actual game. On the flip side this club's greatness is partially based on its sense of community and looking after its own; Noves might be ready for a room upstairs but don't ignore the importance of loyalty and trust. I am not going to call for anyone's head but maybe Toulouse need to think pretty hard with Clermont and Toulon on the move.
Comments (7)
Paul Bearne says...
Stuart are you not doing Exeter an injustice after their first adventure into the European top flight with the statement that they "robbed the draw of the quarter-final that most neutrals would have liked;" when in reality it was Leinster's inability to beat Clermont at home as well as the lack of tries scored in the early rounds.
Posted 11:41 22nd January 2013
Peter Mcguirk says...
Harlequins are certainly flattered by their pool,which was very weak, nevertheless it's hard to see the English Champions slipping up at home against a limited Munster side. The break in the competition suits Ulster as they were starting to look a little jadded, they are however a side on the up, their performances last year away to Clermont in the pools and beating Munster away in 1/4 final are testament to that, Sarries have their work cut out. Tough ask for Leicester but you never know, either way I think its Clermont's title to lose ultimately On a separate note Exeter's performance against Leinster in the last pool match deserves a mention and great credit, despite having nothing to play for they played with great integrity which they must be applauded for, unlike the performance from Toulon and Racing (once the first Munster try went in) who obviously decided it wasn't worth their while playing for dead rubber.
Posted 10:25 22nd January 2013
Jeff Badland says...
Stuart, I'm afraid Owen Farrell will be nowhere near the Lions squad; it'd be generous to name him as one of the top 5 English fly-halves, so I'm assured he'll be way out of the fold. Furthermore, to speak of Jonny Wilkinson's 'Owen-Farrell-like ability' is naught but sensationalism (and sacrilege to boot).
Posted 20:16 21st January 2013
Ian Murphy says...
Hi Stuart, love the column. As a Leinster fan I don't begrudge Munster their place, they scored two home BPs and two losing away BPs- fair play to them. My gripe is with Racing - the team they sent over was an insult to the competition, & made Leinsters efforts moot. Munster would have probably beaten their best team, but the thirds/academy crew they sent over...if it happened in football they would be seriously punished. No mention of any sanction....are the ERC afraid of criticizing the French? No hint of Exeter taking that attitude, what a belter of a game on Saturday!
Posted 14:14 21st January 2013
Peter Arnold says...
Hello Stuart, I think the Premiership clubs should modify their salary cap as follows: 1) Anyone who started in the team's academy should not be included in the salary limit. 2) Anyone who has been on the books for at least ten years should not be included in the salary cap. 3) Promoted teams to have slight leeway on the above The above would benefit clubs who develop their own players
Posted 13:16 21st January 2013
Ian Hutchinson says...
Hi Stuart, I couldn't help but allow myself a little chuckle on Saturday evening when during the first half of the Leinster Exeter match, you commented that Cian Healy was a possible Lions contender. The basis for your argument against Healy seemed to be that he is an inferior scrummager and the lions may want to put the squeeze on in this department. If I could draw your attention to Eden Park RWC 2011, Healy absoultely dominated his opposite number and put in a man of the match display in tough conditions to lead Ireland to a convining win over the Wallabies. This is not the Healy who was pushed around by the Toulose pack in the Heineken Cup semi final 2010, an almost impossible task for a then 22 year old. He has now gathered the necessary experience which ensures he can hold his own in the scrum while continueing to be a rampaging bull in the loose. In my view, he has been the stand out loose head in Northern Hempisphere if not world rugby over the last 18months and should be one of the first names on Warren Gatland's teamsheet. A foot note to this, obvioulsy I have to mention that you did award Healy the man of the match award on Saturday, I trust this performance had elevated him another step up the ladder in terms of lions selection. Thanks Stu
Posted 11:57 21st January 2013
Mick Collyer says...
The qualification of Sarries, Quins & Tigers signals an improvement in English teams but also highlights the decline of the Saints who were in the final 2 seasons ago but have failed to quailfy for the quarters for the 2nd successive season. The game has moved on but the Saints haven't, they have a 1 dimensional style of play which just does not work against the better teams, the back play is unimaginative and lateral with a distinct lack of quality players. A massive immediate change is required in attitude, players and tactics or the Saints will become a middle table team with the ground expansion being a white elephant
Posted 11:33 21st January 2013