We have a brilliant derby day in store with London rivals Tottenham Hotspur and West Ham going head to head at White Hart Lane.
Spurs are in a rich vein of form but, after holding Chelsea to a draw at Upton Park last week Gianfranco Zola's men will be confident they can kick-start their season with victory in north London.
Tune in from 12.45pm on Monday for the thrilling derby.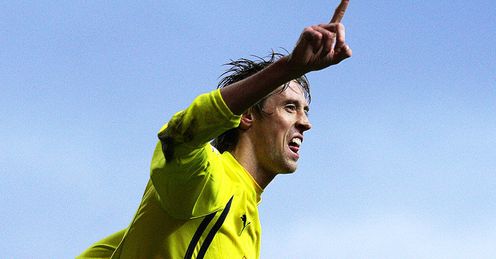 Sky Sports expert Paul Merson gives his views ahead of the game...
Tottenham v West Ham
12.45pm, Mon, Sky Sports 1 & HD1
I watched West Ham play Chelsea the other day and they were outstanding. Chelsea could still be playing there now and they wouldn't have scored from open play. West Ham were very good defensively.
However, it's alright playing like that against the likes of Chelsea at home but it's when the lesser teams come to your ground and you've got to attack - that's when West Ham get opened up all over the place.
"Spurs, meanwhile, are a bag of Revels: you don't know what one you're going to get!"
Paul Merson
Quotes of the week
LIVE ON SKY SPORTS
Tottenham v West Ham
12.45pm, Mon, Sky Sports 1 & HD1

Spurs, meanwhile, are a bag of Revels: you don't know what one you're going to get! From week to week they can become a completely different team - not even in the space of a week. They were beaten by Wolves and then four days later they smashed Manchester City out of sight. But that's Tottenham all over.
They don't play football quite the way Arsenal do but, like the top four, they can rip a team apart on their day. They've already beaten Wigan 9-1 and I could imagine them beating a few more teams by six or seven at home later this season.
They've also got Niko Kranjcar in top form. He could easily play for any of the top four and for £2million he was an absolute steal. He's an outstanding player.
But consistency is the problem with Spurs and it always has been - it was their problem when I first started playing football. The Wolves and Man City results sum Spurs up.
MERSON'S MAGIC MAN

Jermain Defoe - He is scoring loads of goals and he is getting a lot of chances at the moment, which shows he is taking up the right positions and playing well. It's when you're not looking like ever scoring as a centre-forward that you have problems. He's got Peter Crouch alongside him who scored a couple the other day, so he will be full of confidence, so I can see it being a long day for West Ham.
PREDICTION

Home win I will go for Spurs to beat the Hammers quite comfortably. Spurs to win 3-0.
Comments (5)
Liam Barlow (Tottenham Hotspur fan) says...
spot on we will smash them hammers there goin dwn !!!!!
Posted 21:26 27th December 2009
Andy Oates (Tottenham Hotspur fan) says...
Have to agree with Merson - this is a very important game for us and with the results this weekend, is now a must win game. The next few fixtures will have a huge bearing on the outcome of our season - can we handle the pressure? West Ham have started to fight back and therefore, if we turn up like we did against Wolves then we can forget about our top four challenge. Mind you, this season has thrown up so many unpredictable surprises, and im sure there will be a few more twists and turns to come! COYS!
Posted 15:42 27th December 2009
John Smith (Derby County fan) says...
Have to say I agree with your prediction, although three nil is a little far fetched. United to beat Hull and Birmingham to get a point against the Blues (I wish). That woulf be a good late christmas present, thank you!!
Posted 20:03 25th December 2009
Jason Mc donnell (Chelsea fan) says...
i think andy it wont be as comfortable as 3~0 maybe totenham will sneak it by a goal remember it is a derby and if zola can get his players to play like they did sunday against chelsea i think it will be a great game because they showed great heart and determination to hold on and nearly beat us i would like to see west ham beat spurs because zola is a legend down here in stamford bridge thanks for listening
Posted 20:45 24th December 2009
Guy Platten (West Ham United fan) says...
I think Paul had Chelsea to beat West Ham 3-1 before last weeks game. I'm not going to take any notice of him for this one! 2-1 to West Ham. Merry Christmas all!!
Posted 15:58 24th December 2009