For Birmingham City, this game against West Brom is almost as important as the one they played in last Sunday.
Yes, the Carling Cup was the first trophy they'd won for 48 years, but I don't think you could describe it as a good season if they ended up getting relegated. Some Birmingham fans might say they'd accept it now, but they wouldn't be saying that when they're playing away at Bristol City next August!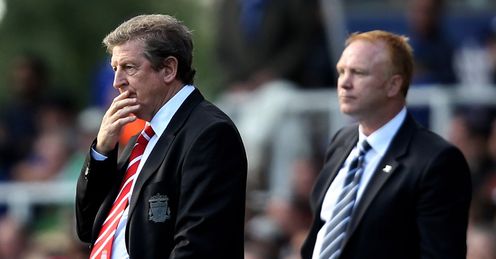 You need to be in the Premier League, it's the ultimate league in world football, so it's vital they sort themselves out on Saturday. They're two points off the relegation zone so they need to move on and start winning football matches.
I won trophies in my career, but I've never been in the situation where I had to put a cup win behind me and focus on a relegation battle. That's what Birmingham have to do and it will be interesting to see how they cope with it.
I won trophies in my career, but I've never been in the situation where I had to put a cup win behind me and focus on a relegation battle. That's what Birmingham have to do and it will be interesting to see how they cope with it.
Paul Merson
Quotes of the week
LIVE ON SKY SPORTS
Birmingham v West Brom
12.30pm, Sat, Sky Sports HD2
Watch online with
Sky Player
How to
remote record
You have to say they were absolutely brilliant last week and that was no smash and grab against Arsenal. They had a gameplan and they did very well. In fact, they should have had a penalty and the Arsenal goalie sent off in the first two minutes, so it could have been even better for them.
You have to be a decent team to play like that and while I wouldn't expect them to go down, it's not a gimme. West Brom are desperate for the points as well, so this is a huge game for both teams.
The most important thing for Alex McLeish is to make sure they don't lose on Saturday. He mustn't go gung ho and it'll be interesting to see if he sticks with the 4-5-1 he used against Arsenal or goes for a 4-4-2.
Whatever happens, I think Nikola Zigic has to play. Even if the team isn't playing well, he provides a threat and gives you a chance from set pieces. I've seen West Brom let in umpteen goals from set plays this year, so that could be an area to exploit.
It looks like Barry Ferguson won't be fit, so maybe you could play an extra striker like Cameron Jerome or Obafemi Martins, or perhaps he'll stay with the system that worked so well at Wembley. I don't know.
For West Brom it's been a story of late equalisers. They managed to nick 1-1 draws with Wolves and Stoke in their last two games and while they can't afford to keep going behind in matches, those points mount up. They'd be in the bottom three if it wasn't for those goals.
I think Roy Hodgson will be more than happy if they can come away from St Andrews with another point and this might be quite a good time to go there.
The League Cup will be at St Andrews on Saturday and a lot of the home fans probably thought they'd never see their team win a trophy in their lifetimes. It's up to the players to make sure the celebrations don't become a distraction.
PAUL'S PREDICTION

DRAW - I think this is going to be a tight game. West Brom need to draw back on their policy of playing open football because it hasn't really got them anywhere. They've had some good results, but they've had some shockers too. You need to be hard to beat when you're down the bottom and they must make sure they don't lose the game. I think Birmingham will have the same approach, so I expect a cagey 1-1 draw.
MERSON'S MAGIC MAN

THE WHOLE BIRMINGHAM TEAM - What they did last week was absolutely phenomenal and to a man they were brilliant. Now it's up to all of them to do it again on Saturday and they need to be on their game. If they can perform like that four more times this season then they'll pick up the wins they need to stay in the Premier League.
Comments (2)
Phil Williams (Birmingham City) (Birmingham City fan) says...
For once, I agree with what you say, to a man, Blues were brilliant. I have sympathy for the Arsenal goalie and defender but there are another 9 men in their team and none of them could cope with the desire B'ham played with nor the guts we showed. Arsenal are well capable of winning something this season but they should never underestimate any opposition nor almost disregard the threat other teams pose. Blues must focus on the premier league for the next 2 games before we begin to dream of another Wembley visit when we try to beat a very useful Bolton side. Phil
Posted 13:25 4th March 2011
Luke Hammonds (Birmingham City fan) says...
i fully agree with this if i had to choose between the cup or staying up it would be staying up every time now that we have the cup we dont have that decision any more so it is up to the players to make it for us with the way things are going in the league anything in the top 17 will be a good finish for us if we dont stay up it will still be a terrible season even after winning the league cup but after winning the cup i think that will cause the players to believe they can do and get some points in the board. as for the game i dont see west brom doing the double. for one were at st andrews which is a stadium all teams hate coming to and two we will have the belief of the players and also the fans roaring us on so i see a birmingham 2-0 win.
Posted 11:18 4th March 2011