In any job you do in life you have to be flexible.
If you're a painter and decorator and someone asks you to paint their house differently then you have to do it differently. If you're a builder and somebody asks you to build a different sort of house then you build a different sort of house.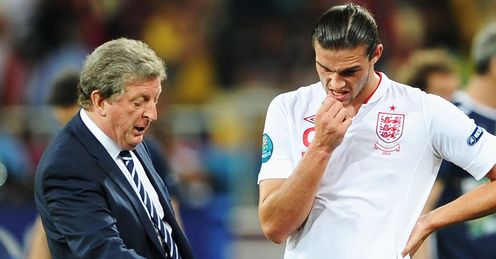 Roy Hodgson is good coach and a good bloke, but he just wasn't flexible enough against Italy. He went in with a rigid 4-4-2 and it didn't change when Italy got on top.
It was very quickly obvious that Andrea Pirlo was pulling the strings on Sunday night. Surely an experienced coach, who has been around the world, must have realised that wasn't right? Surely he realised he had to change it?
If Carroll did not put his hand up then he should be embarrassed. How can a £35million striker not take a penalty? Since the age of 10 when he was playing Sunday morning football in Newcastle his job has been to score goals, but he did not take a penalty.
Paul Merson
Quotes of the week
You had to put someone on Pirlo. You can't just let him run around and pass the ball wherever he wants. I could still play football at the top level every week if nobody ever came near me - and I'm 44 years old. I could still spray balls around for fun if I got the room Pirlo got.
We had to change things. I think you needed three in midfield and they should have put James Milner in the centre and put him on Pirlo. When you look at Milner's career his best ever season was at Aston Villa when he played in central midfield, not right wing.
Milner works very hard, but he's not an international winger. However, you could easily have asked him to go and sit on Pirlo. The guy is 33-years-old and can't run! He was let go for nothing by AC Milan last year as he's past it!
If Italy play Spain in the final then, believe me, Pirlo won't touch the ball more than 10 times and he'll get taken off before the end of the game. But he was running the show against us - and you only have to look at his penalty to see how confident he was.
The best tacticians I ever played under were George Graham and Harry Redknapp. Those two were head and shoulders above Arsene Wenger and people like that.
Harry would have spotted that straight away. There's no way he would have let that keep on happening. The worrying thing is that Hodgson didn't seem to see it...
Miles behind
You can't sit here and say England were unlucky. I'm sitting here thinking we are a million miles behind.
I take no positives from that game. We were playing a team that hadn't won a football match in this calendar year until they beat Ireland. All the good work from our first three games was undone.
To be fair I think me or most of the people reading this column could have got us out of the group. France are a decent team, but then we had Sweden (apart from Zlatan Ibramimovic, which Swedish players could get into the England team?) and Ukraine, who are hardly world class.
I reckon half the Italian team would get into our side - at most - and yet they had 31 shots during the game. You could send Barnet to Old Trafford next week and Manchester United wouldn't get that many shots.
We were never going to win the tournament anyway because we don't have a world-class centre-forward (and I don't class Rooney as a centre-forward, I class him as a number 10).
You need someone up front who's world class and we don't have that in Andy Carroll and Danny Welbeck. How Jermain Defoe doesn't get a game is beyond me because he's still our best centre-forward.
And here's another thing: I bet he would have stepped up and taken a penalty.
If Carroll did not put his hand up then he should be embarrassed. How can a £35million striker not take a penalty? Since the age of 10 when he was playing Sunday morning football in Newcastle his job has been to score goals, but he did not take a penalty.
I've not got a problem with Ashley Cole taking one - and I feel sorry for him for missing - but that isn't the point. He's the best left-back in the world, but his job is to stop people; scoring goals doesn't come naturally for him.
Carroll was bought for £35million to score goals and you should always put your best takers in your first four in any shoot-out (you wouldn't leave Lionel Messi until the fifth penalty because it might not get there).
And you can't tell me it's about who's confident and who isn't because Ashley Young took one and he's had an absolute nightmare in the last three games...
Talent
I don't know where we go from here.
People talk about academies, which have had millions of quid pumped into them, but when you turn up to these academies you'll often find an 18-year-old with no experience coaching the kids.
We also tend to coach the talent out of kids. I remember the first time I played against a young Joe Cole at West Ham, I couldn't catch my breath. He did something against me and I laughed because he was so good.
But look at him now. When he gets the ball he lays it off. If you look at the FA coaching manual, we'll never produce another Joe Cole. I'm not sure if we have any young players coming through and if we do, the talent is getting coached out of them.
It's time to start playing to our strengths. In the Premier League we play at a high tempo every Saturday with shots and crosses coming in from all angles, but when we get to international football we think we need to keep the ball for 40 passes. Against Italy we'd make three passes and lose it!
You have to play to your strengths. I'm a TV football pundit; you don't see me trying to perform brain surgery! It should be exactly the same with football.
Right now, we're an also-ran. If we get to the next World Cup we'll be making the numbers up, it's as simple as that.
It's not possible for us to win. It would be the biggest miracle ever if we won in Brazil.
Merson's Mark: D
We didn't exactly go out with a whimper, but we're just not good enough. It's pretty simple. We also need to be more flexible when the World Cup qualifying comes around.
Comments (37)
Ben Killeen (Chelsea fan) says...
One of the most painfully accurate columns I've read in a long time. When you look at the likes of Spain, Germany and Holland it becomes apparent that as a nation we are behind by a mile, with the whole footballing system! Yes we may possess the best footballing league in the world but where are half the players from? Shamefully not England. We need a lenient club tariff on imported players and a more creative youth development system, developing younger players ball control and confidence on the ball before teaching them to hoof it into a goal a hundred times the size of the goalie.
Posted 13:46 26th June 2012
Charlie Mcbeath (Manchester United fan) says...
Spot on. It's nice to hear the truth after all the "we should be proud" and "we look like we are moving forward" comments by so many TV pundits. We are firmly in reverse I'm afraid and it won't be long before Charles Charlie Charles is back on the pitch playing while smoking a pipe in his below the knee shorts like the Harry Enfield sketch.
Posted 13:34 26th June 2012
Trevor Charuka (Manchester United fan) says...
i would agree most of the facts mers football matches are won with outstanding midfield play.to be honest i never trusted hodgson ability he cost fulham the europa cup final defending playing for penalties against a/madrid ,sacked at liverpool for lack of ambition , what on earth was the fa thinking appointing roy over harry , england should stop giving excuses of penalties and length of the epl the simple fact hogson will be bring memories of graham taylor
Posted 12:39 26th June 2012
Sie Lord (Stoke City fan) says...
Completley agree merse i cant sum it up any better
Posted 12:03 26th June 2012
Johnny Martin (Real Madrid fan) says...
Good article and written by someone who knows his stuff. England have been poor for so long now I just dont get it. Capello had them going in the right direction early on but there seems to be so many ego's involved that team unity is a missing. The Terry?Ferdinand affair, the captaincy dithering, Rooney misbehaving or whatever always seems to be present wheras the football should be dominating. England should get a decent manager first and foremost who understands the game at this level. Mourinho springs to mind but hey what about Pep or Klopp? These guys know man management and get results with the players they choose. Start now to build the dynasty starting with Rodwell,Wiltshire, Baines and Wellbank and Hart and we will start winning these big tournaments again.
Posted 07:35 26th June 2012
Dick Adcock (Tottenham Hotspur fan) says...
A great summing up, yet another shocking tournament by England, and what's even more distressing are the attempts to pass things off as being a step in the right direction, and as good as we could have expected. Nobody in their right mind would have expected England to win this tournament, but four dour, defensive displays against moderate opposition was unacceptable. Hodgson has always been a negative coach wherever he's been, and there is not much for England fans to look forward to over the next two years. Maybe Harry wouldn't even have got us through the group stages (unlikely), but he would have served up more entertainment in the first thirty minutes against France than Hodgson provided in six and a half hours.
Posted 15:48 25th June 2012
Whocares Cares (Manchester United fan) says...
Agree with you merse about us being miles apart from the the elite, but i think hodgson did ok considering the time he had. Also with wilshere, cleverly and rodwell who all i believe will turn into good players if not this "world class" tag we keep giving out so easily. I don't think the future is that bleak i remember lampard was very raw until about 23 - 24 so there will always be talent coming through its about the style of the national coach breeds into them and gels them into a talented organized TEAM like the Germans!!!
Posted 15:36 25th June 2012
Daniel Dwyer (Arsenal fan) says...
Have to agree Merse... how Pirlo was given that space I will never know. He was even that dominant against Ireland take it from me I was at the game. That in itself says alot. I don't think it is fair to make the comparisons with Harry Redknapp and I find it quite amusing that Harry is head and shoulders above Wenger in the tactics stakes according to yourself! Tactics clearly don't win trophies then! Last time I checked Wenger had three premierships and two doubles not to mention an unbeaten season! Harry on the other hand has a ... FA Cup I think? I love you Merse you put yourself out there but calling Harry head and shoulders above Wenger in anything football is laughable. Please post this comment by the way every time I am in anyway opinionated I never get posted!
Posted 15:15 25th June 2012
Dean Tinsley (Arsenal fan) says...
we have produced another joe cole in jack wilshere.....not many players can outshine messi,iniesta,xavi which jack did when he came up against them in feb'11 and it such a shame he missed his first chance to represent his country at a major tournament especially as he had cemented his place in the team @ start of euro qualifiers and lets just hope he can come back as good as he was before! apart from jack i can't think of many other english midielders coming through @ the mo with the technical ability of europes elite!
Posted 15:03 25th June 2012
Grant Mccall (Arsenal fan) says...
Merse, you're right, too rigid, too one dimensional and a total failure to take Pirlo out the game (or even realise he was the man to stop).The players can;t be blamed as they were out run in midfield but i can't see Roy doing anything to change tactics, only the personel which just isnt enough sadly. Martin Keown would have taken Pirlo out like a sniper if he were still playing. I also agree Milner is useless on the wing and should have been the man for the Pirlo job. I think a fit Darren Bent would have helped as you say, Italy's back line is average save for Buffon who is still staggeringly good. I can't give you your comment on Harry though, that is surely just a gratuitous dig at Arsene again. In the home game this season, Harry could do nothing to throw away a 2 nil lead when we spanked them! I am pleased to see Gerrard finally get the spotlight on him. Rooney has never done it for England and neither has Lampard. I don't care for the argument that they have played a 'higher level' for their club because half of their club teams just aren't English! If Gerrard can bring Wilshere and the Ox into the fold, passing on his experience and we unearth a manager who can provide modern day tactics then the future isnt as bad as you make it out to be. 4-4-2 is fine when we dont have the ball but we need some creativity going forward and quite simply, we didnt have any with the players last night. Ashley Young was clearly overwhelmed by the responsibilty and froze in this tournament. Hart, Terry, Lescott, Cole, Johnson, Parker, Gerrard - all fantastic. That should be enough class to beat any team in a war of attrition but the game is no longer about power or heart. You need speed, passing, overlapping and running of the ball - i saw none of that in our team last night albeit they gave everything. In summary, at least we showed spirit and some respect for our military by playing for the flag not a pay cheque.
Posted 14:41 25th June 2012
Daniel Davis (Liverpool fan) says...
I couldn't agree more!!! It was so obvious that 442 wasn¿t working even my Sunday league manager changes it when we are getting over run in the middle of the park. Hodgson is too stuck in his ways. I think he is too used to managing teams where holding on and getting a draw is the best they can do. The England side was probably better than the Italy side if you compared the players but the Italians were set up much better, yes they played 442 diamond but they had basically 4 central midfielders all given licence to roam where the England players had to stay in their straight banks on 4. We could have changed our formation to 433 or 4131 or even 451 and then we could have at least tried to get control of the game, imagine if Gerrard was given the amount of time and space that Pirlo had. I honestly couldn¿t fault the players effort but they were given no chance by the manager, if they were set up to control the game that effort would have been put to use attacking and causing problems for the Italy back 4.
Posted 14:35 25th June 2012
Pete Bladon (Everton fan) says...
As usual you are bang on the money Merse! The way England played through the group stage was bad, and when Wayne Rooney came back and did nothing except miss goals that frankly even Andy Carroll would have bagged the writing was on the wall. Why oh why cant we see that the way Germany and Spain play is the way we need to go. We have genuine pace and it was left on the bench. I have to admit though Terry was a rock at the back and despite his lack of pace he saved England countless times this tournament. Drop Rooney, get youth in, pack the mid field and get away from 4-4-2 otherwise the World Cup will be a mess as well. This tournament showed that as usual the FA made a mistake in appointing Hodgson over Harry Rednapp and now we have to wait 2 years to prove that.
Posted 14:31 25th June 2012
Conor Jones (Leeds United fan) says...
"If Italy play Spain in the final then, believe me, Pirlo won't touch the ball more than 10 times and he'll get taken off before the end of the game" He played very well for 90 minutes against Spain in the group stages, and Italy should have beaten them
Posted 14:30 25th June 2012
Omer Mirza (Manchester United fan) says...
Pirlo is past it? Have you not seen or heard anything of last year's Serie A season? I would've stopped reading at that point but thankfully I wasn't disappointed about what came later. Gotta agree with the 'coaching the talent out of youngsters' bit.
Posted 14:27 25th June 2012
Dave Gardiner (Hartlepool United fan) says...
Spot on ! Merse, Why the England coaches just sat back and did nothin to stop Pirlo runnin the game was just dumb. England did show signs of getting at Italy in first 20 mins, if only they played the wingers we have who could pick out a man with a cross. Johnson,Ox,Walcott,Lennon to name four. Gary Neville? what happened to your theory that we need to utilise the whole squad durin the tournament. Same players run themsleves ragged for all 4 games ?
Posted 14:23 25th June 2012
Ricky Teague (Middlesbrough fan) says...
England 2014 1 Joe Hart 2 Glen Johnson 3 Ashley Cole 4 Phil Jones 5 Micah Richards 6 John Terry 7 Alex Oxlade-Chamberlain 8 Jack Rodwell 9 Andy Carroll 10 Wayne Rooney 11 Adam Johnson 12 Chris Smalling 13 14 Theo Walcott 15 Tom Cleverley 16 James Milner 17 Danny Welbeck 18 Ashley Young 19 Jack Wilshere 20 Leighton Baines 21 22 Kyle Walker 23 Daniel Sturridge
Posted 14:22 25th June 2012
David Preston (Newcastle United fan) says...
Well said Paul I couldn't agree more; that was the worst performance England has given in any competition that I have watched. Why 3 goalkeepers in a small squad, Adam Johnston could have given us more pace and width? If the players he used were all suffering from tired legs why then did he not use the rest of the squad. Milner should have been in the centre of midfield and Downing should have been supplying crosses, otherwise why take him to sit on the bench for 4 games? Perhaps Roy's inaction was due to his being mesmerized by Pirlo, who knows? Roy Hodgson now has time to get to know his available players; he should have learned a lot about the papers favorites he kept picking and I would expect many changes to his next team/squad. If not then I fear your prediction for Brazil will be inevitable.
Posted 14:18 25th June 2012
Martin Foreman (Tottenham Hotspur fan) says...
totally agree.another problem is we don't have a playmaker, somebody who can open teams up.Gascoigne was the last we had.Problem being that all the playmakers in premiership are foreigners.And with Hodgson there we will never play attractive football
Posted 14:12 25th June 2012
Harry James (Liverpool fan) says...
Merse, you're absolutely right that Hodgson is too inflexible for England to ever win a tournament with other world class players on show. Time to overhaul the academies and start teaching how to keep the ball and pass. Just those two things would be an improvement over what is now on display. As for Carroll, he just isn't that good. Period. He doesn't know how to take penalties either. When he took one for Liverpool he missed and it was taken very poorly. He should never have been on the field to begin with. Defoe at 50% is 100% better than Carroll.
Posted 14:03 25th June 2012
Godwin Alegieuno (Crystal Palace fan) says...
I'm not sure where Merson plucked these thoughts from. He's saying Pirlo wouldn't make 10 touches of the ball against Spain in the final. Lest he forget both teams already played in the first game and although Spain were the better team, Pirlo was still a menace and made the pass that got Italy their goal. Pirlo's strength is even when he's closed down by two players he knows how to hold the ball in tight situations and open up space for himself to make the pass. This is something England players cannot do and it showed yesterday as they lost the ball whenever Italy put any pressure on them. And where did he come up with that Graham and Redknapp are head and shoulders better tacticians than Wenger? That's just being ridiculous. I think Merse was speaking with his heart here and not his head.
Posted 13:59 25th June 2012