The way Southampton have treated Nigel Adkins is disgusting, absolutely disgusting.
I can't understand the decision to get rid of him, especially after the unbelievable week they have just had. They had away games against Aston Villa and Chelsea and I'm sure they'd have been happy with one point, but they ended up with four.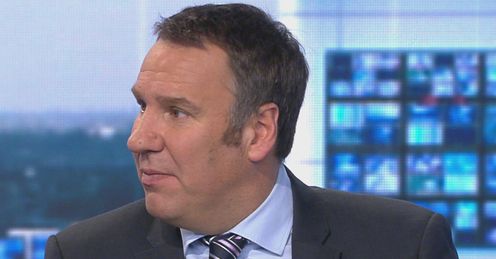 They went to one of their relegation rivals and won and then went to the champions of Europe and got a draw. They were a little bit fortunate in those games, but that doesn't matter. It's been a massive week for them.
You've got to wonder what the owner is thinking. I understand that people don't always get on with each other, but can't they behave like adults?
I'm a Portsmouth man, but even I'm staggered by this decision. It's an absolute joke.
Paul Merson
Quotes of the week
It's mindblowing to hear this news and in my opinion it shouldn't be allowed. I remember being sacked by Walsall because we were terrible - we had lost four on the trot and I couldn't have any qualms about it - but if I was in his position I would be devastated.
It leaves a bitter taste in the mouth and I'd be sick if I'd got the sack in this way.
What were Southampton expecting this year? If they finish in 17th place and stay up that's a job well done. Currently they are 15th so you'd have to say he's done a good job so far.
Earlier in the season they were letting in far too many goals, but they'd just started to play well and were getting harder to beat. They're playing as well right now as they have all season and are a hundred times better than they were a month ago. He has built a team that never gives up and both he and his staff deserve credit for that.
And remember, this is the man who has brought them up through two leagues and got them into the Premier League far quicker than they ever could have expected.
I sit next to Matt Le Tissier every weekend, but whoever you talk to in football would say he has done a brilliant job there. They've done great to be where they are at the moment.
I had just finished my preview of Monday night's game for the website when the news came out and I'd tipped Everton to win, but I think that's even more likely now.
I'm tipping Everton for a 3-1 win because they are a side who could get into the top four if they get a bit of luck with injuries to their key players. That's no reflection on how Southampton have been playing.
I think Nigel Adkins will get another job fairly easily. He definitely deserves one, although he might need to drop down into the Championship again.
But there's nothing like managing in the Premier League. That's the ultimate and we shouldn't get away from that.
Remember, I'm a Portsmouth man, but even I'm staggered by this decision. It's an absolute joke.
Tune in for Southampton's first game under Mauricio Pochettino against Everton from 7pm, Monday, Sky Sports 1 HD
Comments (43)
Davey Regan (Leeds United fan) says...
Come on up to Elland Road Nigel, we have plans for the next three years and could use a calm head like yours.
Posted 01:33 22nd January 2013
Liam Dobson (Leeds United fan) says...
awful descion maybe he should take over at leeds id welcome that warnock out MOT
Posted 20:27 21st January 2013
Craig Obrien (Celtic fan) says...
absolute joke of a decision , if southampton survive this season thats a job very well done so the fact they are sacking him when sitting 15th in the league either means the chairman has ridiculous expectations or thinks this guy who cant speak english is going to pull a top half finish out of a hat , no matter what the relationships are like behind closed doors its still a crazy decision
Posted 17:58 21st January 2013
Darren Ribton (Southampton fan) says...
A completely disgusting and outrageous mall treatment of one of the best managers going. A legend at the club, Could do no wrong, he raised and went far beyond our exceptions, he changed our view and profile at the club making them in to a positive, competitive tough and attacking team. Southampton were having a very good first season in the return to the Premier league. The chairman has mad a big mistake at such a pivotal point in the season. To bring in a Argentinian, with no experience in English football, No knowledge of the players, their capabilities and mentality, what makes then strive to succeed and play better, can only be a bad thing and a extremely difficult task! All of this but to add insult to injury and place the cherry! on the top......... He speaks no English, this is going to make the challenge 100% harder with no understanding of the English language, culture ect. As a Saints fan , this is the first time I've felt ashamed of the club, we shall await and see, but I think this could spell relegation. I wish the new manger luck for the rest of the season with Adkin's Red and whites, and wish N.Adkins all the best in his future endeavours, he will manage again very soon and whatever his club they will do very well.
Posted 11:28 21st January 2013
Iain O'hare (Leeds United fan) says...
I liked Southampton, they have been exciting to watch and have some decent attacking players... Atkins had done a great job and they were one of the teams I really hoped stayed up.... But now, for the way they treated him, I hope they get relegated so the board can be put on trial for such a ridiculous decision!!
Posted 10:53 21st January 2013
Mick Trezise (Manchester United fan) says...
This smacks of stupidity from the Southampton owner. A successful season for a newly promoted team is staying up. Nothing else but survival. Adkins had them playing better and they were finding their feet. Now that will be shaky all over again and with their new manager, he will need to get used to a new country and a totally different league to the slow pacing of La Liga. I can see them going down now where I thought they'd be ok before.
Posted 13:12 20th January 2013
Andrew Mowat (Newcastle United fan) says...
Its a disgrace how southampton have treated nigel adkins as paul merson says its a joke can't beleive when I heard about it, good luck in your next job nigel get back soon.
Posted 12:59 20th January 2013
Rob Campbell (Chelsea fan) says...
It's Di Matteo all over again, Adkins has done really well for the Saints and this is how he's repayed? Shame on the club's owner and good luck to Nigel (just saying there's a post at Chelsea in the summer if you're interested, even Abramovich can't deny what you've done)
Posted 01:52 20th January 2013
Gary Newton (Southampton fan) says...
As Jeff said above its a DISGRACE. I am a bit younger a mere 53 and saw my first Saints match at age of 7, so a true Saint for only 46 years - a far distance than our egotistical dictatorial Chairman - whose name I cannot comment. Two season tickets along with Corporate and match ball sponsorhip I have done over the last 3 years but I cannot bring myself to go to watch my team anymore until the family sack the Chairman - HE MUST GO - He will get his come uppance when this not English speak Argie gets us relegated - and I hate to say this but I hope we go down this season now. My season tickets will now gain dust and I will spend my Saturday pm elsewhere. DISPICABLE Chairman
Posted 21:48 19th January 2013
Paul Watkins (Crystal Palace fan) says...
Had to check it wasn't April 1st when I heard this yesterday. So much for picking the right man for the job and letting him get on with it - in Adkins, Saints had that man and their recent improvement shows that to be true - they were always working to improve and learn together as a group. The note Adkins left for the players speaks volumes: no sour grapes, just "keep working hard to get better, lads." Also noticed that Adkins was on a 3-year contract which would have been up for re-negotiation shortly; maybe the Saints board just didn't fancy giving him the huge pay rise his achievements obviously would have deserved. BTW I haven't seen any comments from Saints fans who approve of the sacking yet; anyone? anyone?
Posted 15:22 19th January 2013
Dave Pickford (Southampton fan) says...
Ashamed to be a saints fan after shocking decision ref nigel adkins hope your next club treat you with the Respect you deserve. Top Man top manager all the very best
Posted 15:02 19th January 2013
Harry Austin (Portsmouth fan) says...
As a Portsmouth supporter I think it's an absolute joke, Southampton have exceeded expectations this year and getting the points. Treated VERY unfairly.
Posted 12:12 19th January 2013
Neil Poole (Manchester United fan) says...
For once in my life I am in total agreement with Paul Merson, I believe Foreign owners are ruining English football Here is a manager that has given a club back to back AUTOMATIC promotions, has a team that plays good attrcative football and has put together a team that would have survived athe first season in the Premier League. The owners then hire an almost unknown mamanger who barely speaks English. The owners should do the Southampton faithful a favour and get out of the club. Absolute shame on you, has for Nigel adkins, I know we will be seeing you back in the Premier League, a good manager like this man has proved to be, will not be out of work long, I just hope it is sooner than later.
Posted 08:35 19th January 2013
Badger Sfc (Southampton fan) says...
As a Southampton fan i think the decision is a shocker , This is either going to be right up there with one of the worst decisions ever made by Cortese or an absolute stroke of genius . Despite his dictatorship style rule id still rather have him at the helm than Rupert ''jolly hockeysticks'' Lowe. I should really be here talking about the managers but you all know as well as i do , he who has the most money has the most say .
Posted 08:02 19th January 2013
Ben Scott (Manchester City fan) says...
if this if what happens to adkins expect the likes of steve clark,david moyes, tony pulis and fergie will be gone by omnday
Posted 22:34 18th January 2013
Alan Donnell (Norwich City fan) says...
Norwich City fan: Beyond belief. NA did a fantastic job for you guys. I am gutted for NA and the fans of Southampton. Always had respect for the Saints. I am sure you lot will let the owner know your feelings. Like us team spirit and great fans all on the same page got us where we are. Now what!
Posted 22:19 18th January 2013
Paul Richardson (Everton fan) says...
I am a big Everton fan and still clinging to the hope that we will finish 4th!! Hopefully this totally baffling and shocking decision will assist in us gaining 3 valuable points. I am fast falling out of love with the beautiful game because of decisions like this. Be interested to hear what Tiss has to say but good luck Nigel Adkins. Congratulations to the small minded Chairman and Board at Southampton, hope you get relegated!!!
Posted 22:17 18th January 2013
Dylan Bamber (Wigan Athletic fan) says...
I agree with every comment on here, absolutley shocking decsision to sack Nigel. As one of our relegation rivals, I thought saints had a really good chance of staying up, but now I think their certains to go down. Manager who can hardly speak english and sacked by espanyol (bottom of league at time) Good luck
Posted 21:52 18th January 2013
Rob Fletcher (Portsmouth fan) says...
Nigal Atkins come to Portsmouth !!!!!! Pleaaaassssseeeee
Posted 21:23 18th January 2013
Simon Jones (Southampton fan) says...
You are are a legend Nigel and always will be at saints.Once again our great club has become a laughing stock by our chairman.Another opportunity for the press and people like 'Pompey Man' Merson to have a pop at us.I dont see Merse putting his hand in his pocket for them.
Posted 20:57 18th January 2013