I was having a conversation with Chris Kamara the other day about the top Championship players of the season. It's been such a competitive league this year and there are lots of players that have caught the eye.
We agreed that you can't just look at players from the top two or three teams. There have been some outstanding performances in the teams that haven't got a lot of money, and in some of the promoted teams, and that needs to be taken into consideration when coming up with a list of the star players of the campaign.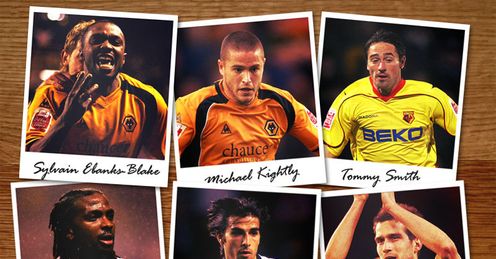 Here are my top six...
Jason Scotland (Swansea City)
Everybody wondered whether he could step up to this level, but his 16 goals have shown it hasn't been a problem. He has spent most of the season up front on his own and he has all of the attributes for that role; a good touch, he's strong and quick and he's a very good finisher. When Swansea get him in the right areas, they're guaranteed goals. His pace and power will trouble any defender and he's very good at leaving people in his slipstream once he's turned them. The transition to this level has been no problem - and who would bet against him making the step up to the top flight next season?
Jordi Gomez (Swansea City)
He is naturally left-footed, but he operates on the right wing and there's not a more gifted player in the Championship. He and Scotland have 27 goals between them, but Gomez is not only a scorer of goals, he creates them as well. He's a lovely, balanced player, very light on his feet and he has a tremendous shot on him. He's very athletic too, but what has impressed me more than anything is his vision and awareness. He dribbles with his head up, he's always taking a picture of what's around him and he has been tremendous for Roberto Martinez this year. A very astute signing and I love watching him in full flight.
Roger Johnson (Cardiff City)
Ross McCormack's goals may have won games for Cardiff, but the guy who has been a real leader for them is Roger Johnson. There were question marks over him when he signed from Wycombe, but he has stepped up to this level no problem at all. He has weighed in with a few goals at the other end as well because he attacks the ball so well and he will always be a threat in the opposition box. He's a genuine leader, a great communicator and he's the reason why Cardiff have got the best defensive record in the Championship.
Tommy Smith (Watford)
I heard on the footballing grapevine that he turned his phone off on deadline day, even though several teams were chasing him. That shows a tremendous attitude. He wanted to focus on keeping Watford up and he shows that commitment every time he pulls on the shirt. If you ask any Championship manager, they'd all love Tommy in their team. He's a great professional, a great performer and he's about more than goals. Sometimes he plays as a wide man and he has been the tormentor-in-chief of every team that has played Watford. That club would have been cast adrift at the bottom but for this guy.
Michael Kightly (Wolves)
It's no surprise that I'm going for another winger and Michael Kightly has always been a favourite of mine. His performances have illuminated Molineux this year and he has been the stand-out performer of all the wide men in the division. It's important not only to contribute service, but goals as well - and he has done that. He is predominantly right-footed, but he's not scared to come inside and have a go with his left. That makes him unpredictable for defenders and if you give him any encouragement to get into the box he'll do it. He uses those quick feet and just dares defenders to dangle out a leg.
Sylvan Ebanks-Blake (Wolves)
Goals win games and Sylvan Ebanks-Blake gets onto my shortlist just ahead of Kevin Doyle. On the back of a tremendous season last year when he was top scorer for both Plymouth and Wolves, he has been a revelation again. He plays with a smile on his face, he has a great work ethic and he creates things out of nothing. With a great turn of pace and a blinding shot he has got everything you need to score goals at this level and he is more than worthy of the final spot on my list.
The other contenders
I could easily have put Wade Elliott in there who has been fantastic for Burnley and also Ross Wallace, who has been sensational for Preston. I'd also like to mention Graham Alexander who has been tremendous for Burnley, playing in every single game at 38 years of age. Lee Carsley has been an amazing free transfer for Birmingham along with Kevin Phillips. Reading's Kevin Doyle has also been a star and Matthew Kilgallon has really matured for Sheffield United. I'll also give a special mention to the young Sheffield Wednesday centre-half Mark Beevers who is just getting better and better. I've also enjoyed watching the young Coventry defender Daniel Fox, who scored one of the best goals I've ever seen from a full-back against Norwich. There have been plenty of outstanding candidates.
Do you agree with Peter's selections? Use the feedback form below to let us know who you would list as the players of the season.
Peter answers your questions...
To send Peter a question on the Football League, send an email to skysportsclub@bskyb.com or use the feedback form below...
ROYAL LUCK?
Peter. I noticed you were covering the Reading game on Sky on Tuesday night when the Royals finally won - and scored - for the first time in ages. Did Steve Coppell do anything differently in this game or were we just lucky? Jamie (Reading fan)
PETER REPLIES: They were a bit lucky, but you need a bit of fortune and they haven't had much of late. They might have thought it wasn't their night when Stephen Hunt hit the bar and Marek Matejovsky saw his shot superbly saved. Then Kevin Doyle scored a neat header and that spurred them on before Shane Long drilled home the winner. I thought Steve Coppell might make wholesale changes, but he only made one with Jay Tabb coming in for Jimmy Kebe. Leroy Lita was not included in the squad either, which was surprising, but they got the points and that was the important thing for the 600 Reading fans who made the trip on a miserable, cold night. The league is so topsy-turvy it's hard to say if they are back on track, but the good news is they've scored a couple of goals, the strikers have some confidence back and it was a good win against a team with a very impressive home record.
BEES BUZZING
Do you think Brentford can keep it up and get out of League Two this year? Ray Blackwell.
PETER REPLIES: I do. I've been very impressed with them and their young, vibrant manager Andy Scott. I like Charlie MacDonald, who has scored 18 goals, and in fact I tried to sign him when I was player-manager at Scunthorpe but we couldn't convince him to move north. He's hungry and ruthless and you don't see him panic in front of goal either. However, Brentford aren't over-reliant on him because they've got Marcus Bean and Glenn Poole who have 15 goals between them. The team are four points clear of second-placed Wycombe and seven points above third-placed Rochdale. If they can win a big game at Rotherham this weekend, there's no reason why they can't take the top spot.
Battle of the Backsides - Week Seven
I'm going to have to give the point to Trunds this time because he came off the bench for Leeds against Scunthorpe and they won the game.
He narrows the deficit on Deano, who was in a pink shirt on Monday night, but certainly wasn't in the pink during or after the game. The bright Oldham shorts didn't bring any colour to his cheeks.
He was told on Saturday that the manager was going to rest him against Millwall with the big game against Leeds in mind. But when it came to Monday night he was not in the team.
Not only that, but another young striker was brought off the bench before him - and Deano was given barely a minute at the end of the game. That just added insult to injury (the injury being severe splintering of the backside).
He has said he won't play for Oldham again and I believe that will be the case. He hasn't dropped down all those divisions to sit on the bench and if he was categorically told that he would play on Monday then there is a question of trust as well.
Only Deano and John Sheridan know where to apportion the blame in that disagreement, but it could spell the end for the Battle of the Backsides!
LATEST (MAYBE FINAL?) SCORE: TRUNDLE 4 WINDASS 5
Comments (38)
Daniel Edmondson (Preston North End fan) says...
Jon parkin and sean st ledger and ross wallace should be in there come on u whites beat the seaside scum
Posted 13:07 25th March 2009
Leighton Thomas (Cardiff City fan) says...
I think Joe Ledley should get a mention he's going to help cardiff get to the prem this year. If not he'll be there with another team next season for sure.
Posted 18:38 18th March 2009
Rhys Cooper (Nottingham Forest fan) says...
James, Commons is in Burger King. Mcgugan is one of the most talented players in the league without a doubt, worth a mention at least. Disagree with other Forest fan, Cohen runs around a lot but can't pass, shoot or cross.
Posted 17:38 12th March 2009
Phil Cox (Swansea City fan) says...
leon britton what a workhorse and not short on skill
Posted 10:01 12th March 2009
Andrew Frost (Burnley fan) says...
Robbie Blake has been sparkling this year. Terrorised the defense of so many teams, including Premiership opposition this year. Scored some fantastic free kicks and has really been impressive for Burnley.
Posted 00:26 12th March 2009
Adam Fox (Nottingham Forest fan) says...
Scotland is not as good as is to believe but has got fire power behind him with Gomez. Chris Cohen should be in with a shout!! He never stops running. Forest need Camp back. Come On You Reds!!!!!!
Posted 16:58 11th March 2009
James Smith (Derby County fan) says...
Where is Kris Commons
Posted 16:01 11th March 2009
Petr Cech (Manchester United fan) says...
Stephen Hunt! what a player, what a guy.
Posted 21:24 10th March 2009
Lee Allen (Sheffield United fan) says...
what about kyle naughton best right back in the championship he has kept sun jihai out of the team and broke in to the england u21's
Posted 11:31 10th March 2009
Tom Baker (Norwich City fan) says...
In my opinion majority are feesable but suprised Sammy Clingan has no mention, he is awesome and that is why we will most likely lose him in the summer.
Posted 21:09 9th March 2009
Ian Macdonald (Derby County fan) says...
You just must have forgotten Kris Commons at Derby. He is the best I have seen all season
Posted 14:14 9th March 2009
Andy Dewhurst (Burnley fan) says...
what about Chris Eagles, he has been described as the ronaldo od the chamionship.
Posted 13:27 9th March 2009
Aaron Gregory (Celtic fan) says...
i have to say my top 6 in no particular order would have to be kieran westwood...ross mccormack...jason scotland....kris commons...kevin doyle....and paul heffernan
Posted 11:29 9th March 2009
Karl Moorby (Preston North End fan) says...
i believe Ross Wallace should be in your top 6. and Why is Sean St. Ledger not in there? he is one of the best centre backs in the league.
Posted 19:59 8th March 2009
Jason Petty (Nottingham Forest fan) says...
robert earnsure is the best striker in the championship. if hes fit he will get 20 goals plus .
Posted 14:48 8th March 2009
Shane Mc elroy (Liverpool fan) says...
surely kevin doyle should be in the top six outstanding player for reading this year. powerful fast and has great accuracy.
Posted 13:12 8th March 2009
Andy Pickles (Manchester United fan) says...
ROBBIE BLAKE has been the best player all season in the championship
Posted 08:35 8th March 2009
Russell Sykes (Sheffield Wednesday fan) says...
I think Our goalkeeper Lee Grant has been outstanding for Sheffield Wednesday, he had an indifferent first year with us last season, but has been tremendous for us this year. Playing behind a young very promising defence including Richard Woood, Mark Beevers, and Tommy Spurr, i think Lee has really matured this year and has helped us maintain a healthy mid - table postion. I hope we can hold on to these excellent young players.
Posted 18:06 7th March 2009
Adam Naylor (Derby County fan) says...
Krissy Commons has been fantastic for Derby, he should definitely be in there in the top 6. I agree with Richard Johnson but I'm afriad I don't agree with Kightly, he played well for the forst 10 games of the season and not done a lot since. Think Matt Jarvis has had a better season than him personally. Also what about Lee Grant? I live in Sheffield and I'm hearing he has been outstanding along with MArcus Tudgay this season,.....
Posted 17:14 7th March 2009
James Yates (Hull City fan) says...
for dean windass its more insulting being a left out of a game against leeds, probably one team he would love to beat single handedly. deano is a legend and to be left out of team like oldham shows how disrespectful there manager is. why isnt kevin doyle in the top 6?
Posted 16:26 7th March 2009