Once again we've enjoyed a fantastic season in the Championship with some superb players on show. I've been asked to choose my Championship XI and it's been no easy task, I can tell you.
There have been some outstanding performances this season. There have been some brilliant displays from players in teams that haven't done so well but, as you can expect, the majority of my XI come from teams that have made the play-offs and promotion places.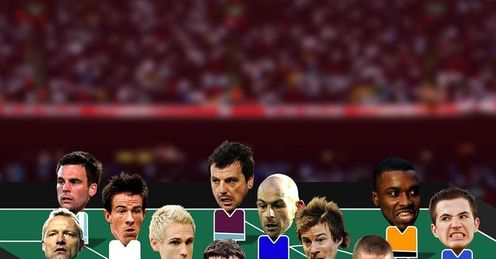 In terms of the formation I have gone for a 4-4-2 system. I would have liked to have selected a team to play 4-5-1, because there have been some superb midfielders in the Championship this season, but in the end I had to choose a formation that would allow me to include two fantastic strikers that have really impressed me this year.
So here it is, my dream XI from the 2008/09 Championship season:
Manager: Owen Coyle (Burnley)
Owen Coyle has been operating with the smallest squad in the division and one of the smallest budgets. He has used just 23 players this year, which speaks volumes for not only the training methods and man-management skills he has used to keep them ticking over at the right time, but also his ability to manage little niggles and injuries which are inevitable when your side has played over 60 games. Only Manchester United have played more and the Burnley players have become a really close-knit bunch who enjoy coming into work every day - that's down to the manager.
You also judge managers by their signings and he has made some really astute purchases. The big money buy was Martin Paterson from Scunthorpe United for more than £1million. He got goals for Scunthorpe, Coyle took a chance, and Paterson has done it again. A really good signing.
Goalkeeper: Maik Taylor (Birmingham City)
I've seen Maik Taylor on several occasions this season and every time he has been tremendous. When you look at Birmingham's run to promotion you can't fail to notice they recorded about ten 1-0 wins. In each of those games there were pivotal moments when they could have been pegged back and he has saved them. He has been worth at least 21 points for Birmingham this season.
Several other keepers were up there in contention for this place - for example, the Preston stopper Andrew Lonergan, he has been tremendous in their high-pressure run-in. However, I had to go for the experienced Taylor.
I think they'll stick with him next year. He has been in the Premier League before, his decision making is very good and I think he has been great this year. Defensively Birmingham have been terrific and he has been a massive part of that. It's one thing keeping the ball out of the net but he's organising and talking to his defence all the time and they have obviously got confidence in him.
Left Back: Danny Fox (Coventry City)
It has been a very disappointing season for Coventry but Daniel Fox has been an absolute star. He has wonderful distribution skills and is fantastic in dead-ball situations. I remember when Iain Dowie signed him from Walsall and he said 'this kid is fantastic'. He got him for about £250, 000 and that is a great buy because I can certainly see him moving onwards and upwards into the Premier League.
Dowie got the sack shortly after he signed him so Chris Coleman has been the one reaping the rewards. He has been the stand-out performer for Coventry in what has largely been a disappointing season.
Right Back: Kevin Foley (Wolves)
Kevin Foley, AKA, Mr Reliable. Foley is a tremendous performer and every week we put an 8/10 by his name. Mick McCarthy speaks very highly of him and it's not hard to see why. He's very dependable and the rest of the Wolves defence and the midfield in front of him know they can rely on him to perform week-in, week-out. He is one of about five or six Wolves players who you can say will definitely have a decent season in the Premier League next season.
Centre Back: Matt Kilgallon (Sheffield United)
Matt Kilgallon has benefited immensely from having a season next to the 'Iron Man' Chris Morgan. He's matured massively over the past eight months, he's got blinding pace and his positional sense is far better this year than it has been.
He really has been outstanding for Sheffield United since that move he got from Leeds. He cost the Blades about £1.75million but he seems to be well worth the money. He's had an incredible year and they will be hoping he can hold off the threat of the Burnley forwards so they can end the season on a real high.
Centre Back: Sean St Ledger (Preston North End)
Sean St Ledger is clearly an inspirational captain for North End. He has also come up with some very important goals as they sneaked into the play-offs. He's a better footballer than people give him credit for and, as far as centre-halves are concerned, you won't find many with better distribution skills than him.
He has been a tower of strength in an unforgettable season for Preston. They can't be disappointed on missing out on a Wembley spot because they've been outstanding. In similar fashion to Burnley they have only used 25 players, but in a small squad Sean has been a revelation. I'm sure after such a good season he will be happy to stay at Preston and give it one more crack at making the Premier League with them before looking for a move to a bigger side, which he is capable of doing.
Left Wing: Robbie Blake (Burnley)
Robbie Blake has been outstanding this season. He's playing in my old position on the left wing. I played with him at Bradford and he reminds me a bit of myself. He's two-footed, not blessed with blinding pace but has a bit of balance. Particularly in the last 10 games of the season when Burnley were under lots of pressure he was desperate to get on the ball and make things happen. He has played 59 games this season - one of the most appearances in the division and has been superb throughout the year.
He's also scored some very important goals for them this year including a few in their FA Cup and Carling Cup runs earlier in the season. When he went to Birmingham he struggled and people said he couldn't make it in the Premier League but he proved in those cup ties that he could. When they beat West Bromwich Albion, Fulham, Chelsea, Arsenal and Tottenham he was tremendous and proved he had no problem handling that company.
Right Wing: Michael Kightly (Wolves)
I'm a big fan of this boy. He has got a tremendous amount of confidence in his own ability and has got pace, guile and is also a goal threat. He had a couple of niggly injuries during the season and Wolves really missed him when he was out. He took them to a different level as far as attacking options are concerned.
I just think he has got more to his game than your average winger. A lot of players are just known for their pace and crossing ability but he can drift in from the flank, play off the front man, his head is always up, he plays one-twos off the centre forward and he can pick a pass out as well. Sometimes wide men drift out of games if their team aren't dominating the midfield - Kightly will have a wander, drift inside and looks to pick up the ball from the opposition centre half if his striker isn't winning headers.
Invariably, a lot of Wolves' good moves come from Kightly. He's a very good, intelligent footballer.
Centre Midfield: Lee Carsley (Birmingham City)
Without a doubt Lee Carsley is the best free signing of the season. He was a very astute signing by Alex McLeish. He knew exactly what he would get with him - he is a leader on the pitch.
He let himself down with his sending off later in the season but until that point he had been the organiser, making sure Birmingham were a really solid unit. He was not just a destroyer, though. He can create as well. But he will be very important for the Blues next season in the Premier League. He will have to pick people up during the course of games.
He had one other rival for that position - Graham Alexander at Burnley has had an incredible season in the holding role in front of the Burnley defence but I've gone for Carsley. He has come back to Birmingham, he's Birmingham through and through and he has been rewarded with promotion back to the Premier League. He loves the club, he's from that area and he has flourished. His decision has been justified.
Centre Midfield: Wade Elliott (Burnley)
This was a difficult decision. Jordi Gomez at Swansea has had an incredible season for the Swans but the more I see of Wade Elliott the more he has swayed my decision.
I first saw him in the play-off finals for Bournemouth and actually played against him once. He's absolutely fantastic. He has quick feet, a quick footballing brain and he delivers the ball from the back to the front. He uses the ball intelligently and rarely gives it away.
This decision might raise a few eyebrows but when I speak to people in the game they rate him really highly. He's not a massive star name but whenever I've seen him play he has always performed. He never goes missing, he always wants the ball and always uses it well.
He's not a strong, physical lad but his anticipation is so good he always gets to the ball first and rarely has to steam into tackles. He's been fantastic this year and I'm going to put him in there alongside Lee.
Centre Forward: Sylvan Ebanks-Blake (Wolves)
This is the first name on my team sheet. Sylvan has a frightening ability and self belief. He's a centre-forward who can not only finish off chances but can create something out of nothing. He can turn a game on its head.
It isn't just his ability and technique, his dribbling, his pace or his power, he also has an absolute love of the game, which you can see when he chases lost causes. He has been sensational this season and I can see him causing problems for defenders in the Premier League. There's no question about whether he will be able to adapt to the Premier League - the question is can Wolves get the ball to him in dangerous positions next season?
He is my Championship Player of the Year.
Centre Forward: Ross McCormack (Cardiff City)
Ross McCormack is the signing of the season. He cost about £120,000 from Motherwell and was a great spot by Dave Jones. He's seen him mature and score all kinds of goals this season. He has finished off with 24 goals and got his international caps and scored for his country. A fantastic season.
I think it is important he remains at the club next season. Cardiff have invested a lot of money in him, made an environment for him to flourish in and played him week-in, week-out. He owes Cardiff at least another season and that would benefit him as well. It is too soon in his development for him to go anywhere else.
I wouldn't even like to see him go to one of the bigger clubs in Scotland. Cardiff had a right go this year and just ran out of steam at the end but from a personal point of view Ross has had a tremendous season and I would like to see him give it another go next season, then he can have a look at his situation after that.
Do you agree with Peter's choices? Let us know using the feedback form below.
Comments (90)
Callum Bracey (Cardiff City fan) says...
i think that it should be brian jensen,roger johnson,danny fox,kilgallon and st ledger midfield we would have lee carsley robbie blake wade elliot and routledger upfront i would have jason scotland and ebanks blake
Posted 12:18 3rd October 2009
Adam Searle (Plymouth Argyle fan) says...
My fellow Plymothians make me laugh, Paul Gallagher? he scored a few goals but half the time it looked like he couldn't be bothered, only player with half a chance was Marcel Seip, agree with the many, many, many shouts for Kieran Westwood, everytime i've seen him he's been class.
Posted 01:02 10th June 2009
Alan Lamb (Cardiff City fan) says...
Please to see McCormack in the team, but id rather have jason fat boy Scotland in the team of season, beter all round striker i think, also Roger Johnson is missing player of championship
Posted 18:56 8th June 2009
George Gourdoulis (Liverpool fan) says...
I reckon Scotland had a alright season, Larsson And Brucie
Posted 12:01 8th June 2009
James Tweddell (Sunderland fan) says...
I cannot beleive Chris Eagles isnt in this side, he had a great season! Greg Halford also put in consistent match winning performances for Sheffeild United and needs to come back to Sunderland. Jordi Gomez also deserves a place in the side, god knows why he's in the championship?
Posted 11:26 8th June 2009
Joe Stewart (Charlton Athletic fan) says...
exscuse me nicky bailey was outstanding
Posted 15:35 5th June 2009
Matt Van den hoek (Queens Park Rangers fan) says...
Andy londergans been solid all season whats happening here ??
Posted 11:57 5th June 2009
Damian Cox (Preston North End fan) says...
Prestons back five should all get a mention , they have been overworked all season because of our very average midfield. Special praise for keeper Andy Lonergan,probably one of the best shot stoppers in the country, just needs to command his box better then international football beckons.
Posted 19:09 4th June 2009
Huw Kinsey (Cardiff City fan) says...
I am a Cardiff City fan and i think that Roger Johnson and Joe Ledley should be in the team for sure Johnson is alot better than St Ledger and Ledley is better than Wade Elliot simple. I would just like to say that the departure of Roberto Martinez from Swansea is so funny because now i think they will lose the energy he brought to the team also if not Ledley in the team then why not Bodde he was class before he got injured
Posted 18:41 4th June 2009
Stefan Preeb (Plymouth Argyle fan) says...
i cant believe we sold ebanks blake! with him and all our other players, norris, halmosi, capaldi, we could be going for play offs :(
Posted 12:54 3rd June 2009
Rhys Williams (Cardiff City fan) says...
i definately think roger johnson should of been in there,also joe ledley and kevin mcnaughtan deserved to be in there,rhys bluebird fan!come on city top six next yr!
Posted 19:09 1st June 2009
Gary Wooldridge (Wolverhampton Wanderers fan) says...
I cant beleive you would even consider hennessey, I dont miss many games and beleive me he is a shadow of Ikeme and Murray (when fit). There are so many better keepers in this league, Maik Taylor obviously wins by a country mile, followed by Hannerman and maybe Beeeaaasst! I honestly think if we wouldve carried on like we did for the first 10 games then we wouldve have 8 players in this squad! But we slowed down and started grinding out results. . . Good luck for every team in the championship next season!
Posted 17:54 1st June 2009
Paul Cafe (Charlton Athletic fan) says...
we have not had a great season mainly due to poor attack and defence but we have had 3 greay exeptions so where is jon joe shelvy-ok maybe he is a bit young at the moment but nick baily should be there and definatly zheng zhi
Posted 11:48 1st June 2009
Chris Howes (Wolverhampton Wanderers fan) says...
The trouble with having Michael Kightly is that he was never near 100% after Reading at Molineux so for the majority of the season we missed his true potential but in those first few games we absolutely squashed the opposition. Overall I think Matt Jarvis had a better season but both of them could have been left out. As for Ebanks-Blake and Foley, they are something else and had to get in the team of the season! Some of the performances that Foley put in were so good that on several occasions I could not imagine how a full-back could have a better game, Barnsley at home being the prime example and that's why I voted for him for Wolves player of the season. Ebanks-Blake can turn a game on his own and a number of times at Molineux this season when there was a goal towards the North stand you could bet your house that the PA would start playing KC and the Sunshine Band! Onward and Upward!
Posted 22:36 28th May 2009
Stefan Broadhead (Sheffield Wednesday fan) says...
As a wendysdayite i may be seen as a bit biased however when there is no lee grant (scouted by cappello) or PFA player of year tudgay then it is a bit of a rubbish team. After watching temas home and away my team is: Grant(sheff wed) RB:Nauhgton (blades) CB'S:Johnson + Craddock (cardiff and wolves) LB: Fox (Coventry) RW:Jamal Campbell Ryce (barnsley) LW: (
Posted 16:33 28th May 2009
James Fletcher (Hull City fan) says...
Im a Hull City Fan. I think though one player who isn't in there should get a massive pat on the back is JASON SCOTLAND. He has placed swansea city on the right tracks to championship sucess and if there chairman puts good funding into the club Then swansea city could have a excellant couple of seasons ahead of them.
Posted 00:28 28th May 2009
Phil Smith (Southampton fan) says...
What about Kelvin Davis? What about Chris Perry? What about Saganowski? Southampton do not deserve to be where they are now. You talk about Maik Taylor who you could say is very inconsistent, I have never heard of Kevin Foley but i am sure that everyone has heard of Chris Perry
Posted 00:22 28th May 2009
Sam Lockwood (Coventry City fan) says...
can't believe that gunnarsson , westwood or dann is not in the team - peter only picks the players from the teams in the top 5 - at least 4 cov players should be there. also jason scotland( swansea) or nicky bailey (chartlon) arent in either.
Posted 17:27 27th May 2009
Peter Hickey (Doncaster Rovers fan) says...
why no players from the best footballing side in the division ?.Doncaster rovers
Posted 13:51 26th May 2009
Mark Cutts (Sheffield United fan) says...
what about paddy kenny?? most clean sheets this season!! think tommy spurr could be in there aswell and thats coming from a blade. kyle naughton also deserves a mention
Posted 13:14 26th May 2009