If I was drawing up a shortlist of teams that would suit Roy Keane's managerial style, then I would have placed Ipswich Town quite near the bottom.
I always viewed Ipswich as a quiet retreat with a set of fans that like to see good football played along the floor. The season before last they were almost unbeatable in the comfort of their own backyard and they have always been a family club with a rich history.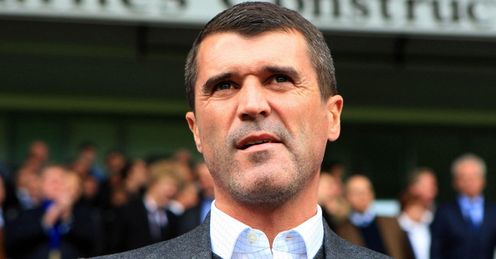 From the beginning I thought it was a mis-match to see an abrasive character such as Keane take over the top job. For it to work, something has to change: either Keane has to change his philosophy or the players - and the club as a whole - have got to buy into the manager's ethos.
Personally, I think Ipswich are more important to Keane than he is to Ipswich. People are monitoring the job he's doing very closely and after a disastrous start to the season they were asking when he was going to walk out.
For it to work, something has to change: either Keane has to change his philosophy or the players - and the club as a whole - have got to buy into the manager's ethos.
Peter Beagrie
Quotes of the week
LIVE ON SKY SPORTS
Ipswich v Sheff Wed
5.15pm, Sat, Sky Sports 1 & HD1
After walking out on Ireland and Sunderland, it's almost impossible for Keane to do so at Ipswich because I feel that would be him turning his back on football. for good Would another club want to gamble on a guy that doesn't want to stay anywhere long term?
I'm pleased he is still there and hopefully he can turn things around.
Signs
Perhaps we are seeing the first signs of things turning around and maybe a few of Roy's traits are coming through. I'd be interested to know what their supporters think about that.
They have still only achieved a solitary win against Derby in a poor season littered with individual errors. Keane has been searching for some form and they finally seem to have found a little bit.
They went through a spell where they conceded 12 goals in four games, but since then they have only let in four goals in five games and have remained unbeaten in those matches.
They have had big problems in defence, particularly at centre-half, and two clean sheets all season is not good enough.
The manager will look at their nine Championship draws and think that if half of those had been wins they could be in mid-table. Perhaps it's a confidence thing; when they go in front they feel like they are hanging on and when they concede it has a very negative impact on morale.
Hampered
But five unbeaten games should restore some confidence going into a home game against a Sheffield Wednesday team that have only kept three clean sheets themselves.
Wednesday have been hampered by injury and illness and haven't won in their last four league games, but they only know one way to play - and that's going forward - so it should be an open game. This is an important game for Brian Laws to try to address their recent slide.
A lot will depend on whether Ipswich can cope with one of the most complete strikers in the division, Marcus Tudgay.
It wasn't a shock to me when Burnley tried to prise him away with a seven-figure bid, but he has committed his future to Wednesday now and will be a massive feature for them. Ipswich's deficiencies have been between the two centre-halves and Tudgay could exploit that.
It's a difficult game to call because Wednesday have picked up some good results with their backs against the wall. They have scored more goals than anybody else in the bottom 10 but both teams have struggled defensively.
I suspect we could see a high-scoring draw and it should be good to watch for the neutral.
Good for Gus
In other news, Brighton gave their new manager Gus Poyet the perfect start in our live game at Southampton last weekend.
I spoke to Gus before the match and he was a bit worried about how the lads would fare in front of the TV cameras. I suggested he would probably find out more in a live game than in another type of game and that proved to be the case.
So Gus passed his first test and came through his second in the FA Cup against Wycombe. It's proving a masterstroke of an appointment.
If I can digress from the Football League, I can't help but comment on the France v Republic of Ireland game.
Thierry Henry's handball shows why we must always make sure the right referees are appointed to the high-profile games. It's terrible that neither the referee nor the linesman spotted it.
There are fine lines between success and failure and the careers of players and managers can depend on decisions like that. Ireland have been fantastic throughout qualifying and but for that mistake they might have been on the way to a World Cup.
There's no reason why one of the officials shouldn't have spotted it and I'm desperately disappointed for the Ireland players.
Peter answers your questions...
To send Peter a question on the Football League, send an email to skysportsclub@bskyb.com or use the feedback form below...
OFF THE MARK

Hi Peter, I just wanted to comment on the situation at my home town team Peterborough Utd. I agree with your comments that this story has more miles to run. It is my opinion and I guess the opinion of many Posh fans, that Barry Fry has had a lot to do with Darren Ferguson's departure. For many years now Fry has continually held Peterborough Utd back! He can't stand people making a success of the job, because he couldn't! I hear Posh have appointed Mark Cooper, once again taking the cheap option! Steve Coppell should have been given the job, people all over the country recognise him as a brilliant manager! If not him Aidy Boothroyd, but Cooper is not up to the job! Don't get me wrong Cooper will make a good manager at this level one day!!! But not at Posh. Matt Rowan
PETER SAYS: I think that's an astute assessment of the situation Matt. After losing one of the top young managers in Darren Ferguson, it's easy to look at Mark Cooper's arrival as a backward step or a cheap option. It seems to be an appointment that will allow Barry Fry and the chairman to have an input.
I remember Mark as the son of Terry Cooper, so he comes from good stock - just like Darren Ferguson. He has served an apprenticeship in non league, taking Tamworth into the third round of the FA Cup and winning the Conference North title with Kettering. His win percentage at Tamworth was 29.7% at and Kettering it was 57.4% - and I think Peterborough would accept the latter! We'll have to watch this space. Ferguson had a special bond with the players and it will be interesting to see how they react.
You must remember that in the appointment of any manager, the chairman stands to take the most stick if he fails. I always thought Darragh MacAnthony would go for a young, up-and-coming manager such as Andy Scott or Eddie Howe and it was no surprise to see him appoint that type of manager. However, Cooper himself is a bit of a swerveball!
PAINT PREDICTIONS

Let's see how good a pundit you are Peter. Tell us who is going to make it to the final of the Jonstone's Paint Trophy and who will win it? Dean (Bradford fan).
PETER SAYS: I'll let my heart rule my head and say Bradford will beat Carlisle and play Leeds in the Northern final. I remember those two meeting in the JPT at Elland Road before and it was a fantastic game with Leeds scraping through after a controversial penalty.
In the Southern section I am backing against Norwich, despite their recent upturn in fortunes. I expect Southampton to beat them because they create so many chances. They weren't ruthless enough last weekend but I expect them to go through and play MK Dons. I'll leave it at that for now - and if that turns out right I'll get the crystal ball out again ahead of those games!
Comments (4)
Richard Hibbert (Ipswich Town fan) says...
I agree with colm, its a 2 year plan and longer. Ipswich are a great club and maybe gave Magilton slightly too much time... Roy Keane has had to make a lot of changes and Its probably the best thing to happen to ITFC. A strong man with firm beliefs. Put in the effort and be proffessional and you will go far with Keane.... these players are paid huge sums so when they are at training or match they should give everything as keane wants
Posted 11:26 20th November 2009
David Foster (Ipswich Town fan) says...
I agree with the first comment. It seems strange to me that it is the journalists that want Keane to fail. From all the reports I have had there is still a lot of support for Keane from the crowd at Portman Road. Perhaps you guys are just looking for a story. I think the Club should be given credit for sticking with their decision to employ him. There are too many clubs around that would have sacked him after such a start. I would prefer to reserve judgement until he has had a chance to prove himself at Ipswich. Sure along the way there will be mistakes but it is the end result that matters.
Posted 00:34 20th November 2009
Ben Wilson (Ipswich Town fan) says...
The supporters for the home games this season have been fantastic, getting behind the lads and Roy keane at every opportunity. In particular, in the last few home games, the supporters have been applauding the team of the pitch. As you said in your report, it has just been a few individual mistakes that has cost us and I can only imagine where we would be if we hadwon a few more games that we ended up drawing. In summary, I feel one of the safest jobs in the championship is keanes seat - the board, team and the supporters are behind Roy Keane :)
Posted 19:58 19th November 2009
Colm Hogan (Manchester United fan) says...
Good Story. except Roy Keane did not walk out on his country he was sent home by that idiot mick mcCarthy. as soon as McCarthy was gone and Brian Kerr took charge Roy came back. People have a very short memory on Keane. he took Sunderland back to the premier league where they still remain.he said he would need 2 years to take Ipswich to the premier league,this is his 1st year.give the man a break.
Posted 14:17 19th November 2009