Before last week, the closest most Crystal Palace players had got to playing with Edgar Davids was on their PlayStations.
So I was initially shocked to learn the former Holland international had signed to play for the club, given Palace's financial problems and the heavy reliance on their youth policy.
However, when I thought about it, the deal made a lot of sense. Palace look to be returning to financial stability and they've signed Davids on a pay-as-you-play deal, so they won't get stung if he gets injured (which is very possible in a physical division like the Championship).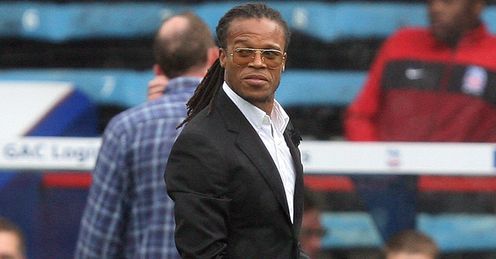 And even though he is 37-years-old, it could be a great deal for the future of Palace. This is a guy who has played for Ajax, AC Milan, Juventus, Barcelona, Inter Milan and Spurs and has won 74 caps for Holland. He can offer so much to the development of Palace's young players.
The likes of Wilfried Zaha, Sean Scannell, Lee Hills, Nathaniel Clyne, Alassane N'Diaye, Kieron Cadogan, Owen Garvan and Kieran Djilali have fantastic futures ahead of them and playing with Davids can only enhance that.
Davids is as fit as a fiddle and has a real hunger and passion for the game.
Peter Beagrie
Quotes of the week
He is a quality player and somebody who is prepared to roll his sleeves up and put a shift in, so it's a no-brainer really. My eyebrows would have been raised if Palace had encouraged certain players out of retirement, but everyone I've spoken to says Davids is as fit as a fiddle and has a real hunger and passion for the game.
This is a very positive and forward-thinking move from George Burley. He played under Bobby Robson at Ipswich and there was always a big Dutch connection there. The former Ipswich midfielder Romeo Zondervan is now an agent for Dutch players, so I suspect Burley has used some of his contacts to bring Davids to the club.
He'll be hoping Davids will add something to the coaching side too. Perhaps from Davids' point of view, this could be a good place to do a bit of an apprenticeship under an experienced Championship manager ahead of a potential career in coaching.
And I'm sure the more educated football fans in the Championship will give him a great reception wherever he goes, paying respect to the wonderful service he has given the game of football over the years.
This club are getting their house (or should that be Palace?) in order at last and this is a win-win deal. It's nice to see them in a positive position after some tough times.
Leicester v Reading
5.15pm, Sat, Sky Sports HD1
Sky Sports will be at the Walkers Stadium on Saturday to see two sides who've endured inauspicious starts to the season.
Leicester would have expected better than a 3-2 defeat at Crystal Palace on the opening day and were then beaten comprehensively by Burnley before drawing 0-0 with fancied Middlesbrough.
Leicester will be disappointed to have only taken a solitary point so far, in contrast to last season when they took eight points and remained unbeaten in their first four games.
They only conceded two goals in that run, but have already let in six this season and have seemingly saved their best performances for the Carling Cup matches against Macclesfield and Leeds. Hopefully, the midweek victory over a strong Leeds side will give them confidence.
They have kept Matt Fryatt, which is a huge plus, and the central midfielder Andy King is a favourite of mine. Richie Wellens gets the headlines, but King is very mobile and provides a real goal threat. Leicester need to hold onto him.
However, I'm not sure if they can repeat the success of last season and I suspect they may finish somewhere between ninth and 12th. Saying that, they should be strong at home.
Meanwhile, Reading lost to Scunthorpe on the opening day and have only picked up two points so far.
Brian McDermott gave the youngsters a chance last year and they finished the season amazingly well after only winning one of their first nine. Their fans will argue they've had tough fixtures against Portsmouth and Forest, but they'll be disappointed by that loss to Scunthorpe.
The fans will also be disappointed that apart from left-back Marcus Williams, the club haven't added many players over the summer and I do wonder if the squad is strong enough to put up with the rigours of a play-off push.
They do have a lot of pace in the side and Gylfi Sigurosson offers a goal threat from set pieces and open play. He could be the main threat to Leicester from midfield.
It's a difficult one to call, but the bookmakers make Leicester favourites on their home turf. That seems just about right.
Peter's Picks of the Week
CHAMPIONSHIP PLAYER OF THE WEEK - Davide Somma (Leeds)

The Leeds striker was banned at the start of the season, but made a fine debut in both League and Cup this week. He scored two late goals following his late introduction against Millwall last Saturday to win the match and then one more in their Carling Cup defeat to Leicester. Three goals in a week is a fine return.
See highlights of Leeds v Leicester here
CHAMPIONSHIP GOAL OF THE WEEK - Davide Somma (Leeds)
I was torn between two very different goals this week. Craig Bellamy's 35-yard free-kick in the 4-0 rout of Doncaster sealed a fantastic week for Cardiff. He's somebody who writes his own headlines! However, my goal of the week goes to Somma for the move that led to his second goal against Millwall. Jonny Howson wrestled the ball away on the edge of his own box, drove forward to the half-way line and played a 70-yard diagonal pass to Somma, who controlled it instantly, isolated the defender and smashed it into the top corner. Absolutely incredible.
See highlights of Leeds v Millwall here
LEAGUE ONE PLAYER OF THE WEEK - George Boyd (Peterborough)

His move to Nottingham Forest didn't work out for whatever reason, but he has always caused problems as part of Peterborough's front three. They were 2-0 down to much-fancied Huddersfield, but his goal on the stroke of half-time set them up to go on and win 4-2. He then hit an 89th-minute winner against a strong Cardiff side in the Carling Cup. A fantastic scalp for Peterborough and a great week for Boyd, who clearly feels loved back at London Road.
See highlights of Peterborough v Cardiff here
LEAGUE ONE GOAL OF THE WEEK - Dean Furman (Oldham)
The winner of this award for the second week in a row is Dean Furman, who hit another right-footed blockbuster in Oldham's 1-1 draw against Charlton to maintain an unbeaten start to the League One season for Paul Dickov's side. It was almost a case of Dean-Ja-Vu after last week's similar screamer against Notts County.
See highlights of Charlton v Oldham here
LEAGUE TWO PLAYER OF THE WEEK - Adam Le Fondre (Rotherham)

This was a tough decision because three hat-tricks were scored in League Two last Saturday. Danny Whitaker of Chesterfield scored three goals in a 4-0 rout of Hereford and Sean McConville hit a hat-trick for unbeaten Accrington (although the third looked like an own goal to me), so the award goes to the prolific Adam Le Fondre for his hat-trick-plus-one for Rotherham against Cheltenham at the Don Valley Stadium. The pre-season favourite to top the League Two scoring charts has got five in his first four games and after finishing with 30 goals last season is looking good again.
See highlights of Rotherham v Cheltenham here
LEAGUE TWO GOAL OF THE WEEK - Ray Putterill (Accrington Stanley)
This was another difficult decision. Stevenage midfielder Michael Bostwick scored a great right-footed goal in their 3-1 win over Stockport, but this prize goes to Ray Putterill of Accrington Stanley for his outstanding Carling Cup goal against Newcastle. He dropped his shoulder about 20-yards out and bent a fantastic right-footed shot past the despairing dive of Tim Krul. Unfortunately they still lost to a strong, experienced Newcastle side, but after all of Putterill's injury problems it is great to see his desire just to get out onto a football pitch again.
See Accrington highlights here
Comments (3)
Paul Jones (Crystal Palace fan) says...
Thanks for the positive comments about Edgar Davids. I for one was shocked when we signed him but I agree the knowledge he can impart onto the academy youngsters will be invaluable for their development. It also shows how commited the new Palace owners are at bringing in players who have not just playing ability but a complete knowledge of the game. It can only produce positive results for the coming season.
Posted 08:48 27th August 2010
Tom Watson (Crystal Palace) (Crystal Palace fan) says...
At last a positive and well thought out article on Edgar Davids move to Crystal Palace. I have been amazed at the derision his arrival has created in some quarters, and I, like Peter think it signals positive times for the Eagles. CPFC2010 came to the club with a belief that the foundations of the club should be built upon the academy and bringing through young talent. Over the summer we have lost experienced pro''s in Shaun Derry and Clint Hill so it has been imperative that Burley replaces these guys with experience. This is where Edgar Davids comes in. This is a guy who has played for some of the worlds greatest clubs and his experience and know how will be a fantastic help to a very talented crop of kids we have coming through at Palace. George Burley wants these kids to express themselves and develop playing attractive football and what better player to have around them than Edgar Davids to give them the belief to do this. As Peter rightly pointed out its a pay as you play deal so its win win for the club, because if he doesn''t perform he wont play! It's exciting times for the club and I think every Palace fan is relishing seeing one of the Worlds greatest play in the famous red and blue!
Posted 20:28 26th August 2010
Peter Waters (Crystal Palace fan) says...
It'' so pleasing to be getting good press! Everything is moving forward at my beloved club and the signing of Edgar Davids, which could have been the subject of ridicule, is being portrayed in the most positive light by all. I would like to express my thanks to Peter Beagrie also for his kind comments and his good wishes.
Posted 18:52 26th August 2010