Gary Speed's appointment as Wales manager could prove to be a move that suits all parties.
He's only been in charge at Sheffield United for four months, but when you look at the position they are in - 20th on 22 points - there's not exactly been an upturn in their fortunes.
He was a fantastic player, who has given the club great service, but he hasn't set the world alight since being promoted to the managerial position. He hasn't really changed the formula and despite trying to play a better brand of football, he has not enjoyed much success.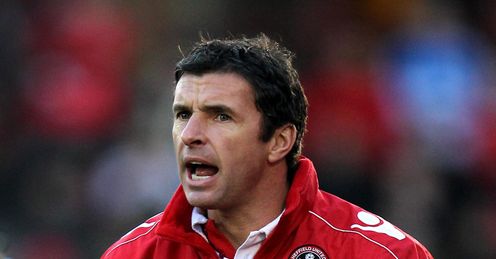 Like many former Sheffield United managers, he has suffered injuries to key players - Jamie Ward being an obvious example - and he hasn't been able to field his best side. However, there is a lack of pace and creativity in the squad and their goalscoring record has been abysmal.
I envisaged a season of struggle for them, down among the relegation places, so I don't think the Sheffield United board will be to upset by this. In many ways, the timing is perfect; there's time to appoint a new manager before the January transfer window opens and the next man will have half a season to work with the team.
The timing is perfect; there's time to appoint a new manager before the January transfer window opens and the next man will have half a season to work with the team.
Peter Beagrie
Quotes of the week
And it's a good move for Speed was well. He's a very proud Welshman and he can move into international management without any damage to his reputation and with his credibility intact.
It's a good move for Gary, a good move for Wales and a good one for Sheffield United.
Impetus
So where do the Blades go from here? I would like to see some fresh impetus. Gary was part of the managerial set-up when Kevin Blackwell was in charge and as much as we like to see continuity at football clubs, sometimes you need to make a clean break.
The usual names on the "managerial merry-ground", like Phil Brown and Alan Curbishley have been talked about, as has Sean O'Driscoll, which is inevitable because his Doncaster team plays such wonderful football.
There's one Sheffield United old boy that springs immediately to my mind - Chris Wilder, who has done a tremendous job with Oxford. He's Sheffield United through and through - down to the tattoo on his ankle - and he would be able to work with limited resources. He has a sound knowledge of League Two and the non league, so might be able to find a couple of rough diamonds.
Another highly-regarded coach who has just become available is Neil McDonald. He did an excellent job at Carlisle and after assisting Sam Allardyce at Blackburn he is now looking for work again.
Personally, I would like the board to be innovative and forward looking over this appointment. There is a temptation to go for a quick fix and go with an experienced name. But sometimes "tried and tested" means "tried and failed" - and that's why some of these guys are out of work.
They need to think outside the box, plan for the future and make the appointment with the club's long-term progress in mind.
Bright Owls
There is a very good mood on the other side of Sheffield right now - what a difference a week makes!
The future is looking increasingly bright for Sheffield Wednesday under Milan Mandaric and the fans are happy after the team hit Bristol Rovers for six - with six different names on the scoresheet. It's nice to see them making headlines for the right reasons.
They're back in the hunt in League One, which is incredibly tight this year. There's only 10 points separating the teams in first and 14th.
That's not good news for Brighton, who had won four straight games, scoring 12 and conceding none, but have now failed to win in their last four.
It's all set up for a very exciting Christmas period in that division.
Peter's Picks of the Week
CHAMPIONSHIP PLAYER OF THE WEEK - Jonny Howson (Leeds United)

Leeds have gone eight games without defeat and moved up into fourth after a fantastic comeback win over Burnley. Captain Jonny Howson led by example and crowned a great performance by scoring the winner, his sixth goal of an outstanding season so far. It's fantastic to see a local lad leading their push for the Premier League.
See Leeds highlights here
CHAMPIONSHIP GOAL OF THE WEEK - Billy Sharp (Doncaster)
This was a tremendous acrobatic volley from James Coppinger's cross. Unfortunately, Rovers had the audacity to go 1-0 up before being hit for five by the ever-improving Leicester, but at least it was a good goal!
Click here to view
LEAGUE ONE PLAYER OF THE WEEK - Bradley Wright-Phillips (Plymouth Argyle)

Bradley Wright-Phillips has scored 12 league goals and is the top scorer in League One, playing with consistency each week. Plymouth will be desperate to hold onto him and with their financial problems I'm sure the supporters are hoping this is one player they don't need to cash in on.
See Plymouth highlights here
LEAGUE ONE GOAL OF THE WEEK - Thomas Ince (Notts County)
This was a close call. I nearly went for James Brown's right-foot curler for Hartlepool in their 1-0 win against Bournemouth, but I decided to go for Thomas Ince's effort against MK Dons. He was thrown on by his old man to earn three points for Notts County (maybe he threatened to not let him have any dinner) and he hit a tremendous, sweet left-footed volley that hardly left the ground as it fizzed into the bottom right-hand corner. There'll be an extra present in his Christmas stocking from dad after that!
Click here to view
LEAGUE TWO PLAYER OF THE WEEK - Izale McLeod (Barnet)

A lot was expected of him this season. He's not a physical striker, but he is fleet of foot and looks to be enjoying himself at Barnet. Perhaps he will go on to fulfil his early potential at last.
See Barnet highlights here
LEAGUE TWO GOAL OF THE WEEK - Aaron Webster (Burton Albion)
This was a cracking left footer from outside the box from 22 yards, which curled into the top corner. The ball was just behind him and a fantastic first touch brought it back into his path and then he looked up and picked his spot. It helped his side to a good 3-1 win.
Click here to view
Ref watch
Finally, I'd like to say a few words in praise of referees. The officials in our game are much maligned, but I spotted a couple of great advantages this week. In the Preston game, the referee played a vital advantage in the build-up to Iain Hume's goal and in Rotherham's game the referee waved play on and a few moments later Adam le Fondre scored. Both officials deserve a pat on the back for those incidents.
Comments (7)
Thomas Brammer (Sheffield United fan) says...
David you think we will go down. Don't be silly were too good to go down and it wasn't us who lost 5-1 to Exeter wasn't it. you are the team playing Dagenham this season and will be next season. enjoy 3rd tier football for many years to come.
Posted 12:48 19th December 2010
Mark Stevenson (Sheffield United fan) says...
Good comment by Peter,theres not much Gary could have done with the team he inherited from Blackwell & with the board saying theres no money the football Gary wanted wasn't going to happen.After scraping a win today against a strong Swansea side there are signs & hope of recovery,maybe mr Green has spoken too soon lol
Posted 17:00 18th December 2010
Mark Mitchell (Sheffield United fan) says...
Beags I think your spot on, even though he was not in the position for long Speedo was not pulling up any trees at the Lane. I think O'Driscoll will be unvieled very shortly as the new boss and lets hope he can turn things around. He has got Donny playing some nice stuff and the fact thier fans dont want him to go speaks volumes.
Posted 19:32 17th December 2010
Mary Mcdowall (Sheffield United fan) says...
Interesting article and I agree with most of what you say. However, I think Gary has jumped out of the frying pan into the fireplace - regardless of his part record with Wales. I find it amazing that they have appointed him as their manager with his lack of experience, and lack of success so far - perhaps they know something the Blades dont! Anyway, time will tell.
Posted 18:21 17th December 2010
Jamie South (Sheffield United fan) says...
personally i'd like to see us go for a younger manager from the lower leagues if we cant have odriscoll, i think brown or curbs would be a waste of money and would struggle to connect both with the players and fans. i like the idea of an ex player giving it a go like wilder or pesch, maybe craig short. but whoever comes in is going to have their work cut out for them, i'm not sure the current players are good enough.
Posted 17:56 17th December 2010
Peter Marshall (Sheffield United fan) says...
Peter. I think your comment about Gary Speed and Sheff U parting company as been Ideal for both parties is spot on. thanks for the comment
Posted 16:38 17th December 2010
David Green (Sheffield Wednesday fan) says...
I think you are right. It's a good time to leave Bramhall Lane. May as well get out before their trips to Dagenham and Rochdale next term. Maybe they can get a few loan players from Wednesday
Posted 16:34 17th December 2010