England are heading for home with the win they so badly wanted in the bag.
OK, the victory over PNG wasn't as emphatic as those posted by New Zealand and Australia but it came at the end of a tough few weeks for Steve McNamara's men.
The injury problems that have hampered the squad continued right through to the last game. Sam Burgess picked up a worrying shoulder injury, Kevin Brown had to leave the field with concussion and, after scoring two first-half tries, Luke Robinson joined the casualty list.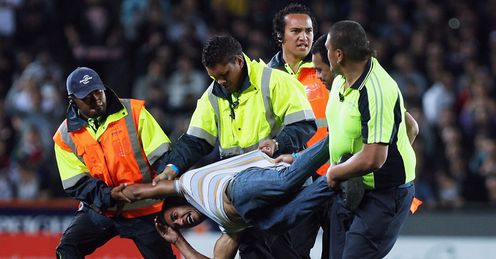 It turns out Luke has dislocated his elbow and that'll need repairing, as will a long-standing shoulder problem. He's due to have surgery when he gets home and there's the prospect of him walking down the aisle later this month with his shoulder strapped and his other arm in a sling.
He might just struggle to get that ring on the finger of his very patient fiancee Laura Towler, but I imagine there'll be more pain to come if he doesn't get it sorted on November 20.
Debris
At least England got the win at the weekend. After their emphatic defeat by Australia the poor Kiwis were left to pick up the pieces - and the bottles and the debris that littered the Eden Park sidelines and the surrounding area.
Saturday night was supposed to be a trial run for the World Cup, so why weren't those controls in place for the Four Nations game? You have to wonder.
Bill Arthur
Quotes of the week
It was not a good night for New Zealand rugby league on and off the pitch. Stephen Kearney's men have a chance to put things straight next weekend in Brisbane but it's going to take some time to repair the damage done to the game's image here in Auckland.
The local media has been scathing about the behaviour of some Kiwi supporters on Saturday night. Bottles were chucked not just onto the pitch but at fellow spectators too and an English supporter was among those hit, apparently by a plastic shot glass. Another of those whistled past the head of the Australian captain Cameron Smith.
The drunks were fighting among themselves and making life unpleasant for those around them to the extent that genuine supporters were heading for the exits.
There's been a furious reaction from New Zealand rugby league administrators and supporters. Sir Peter Leitch, aka the Mad Butcher and a NZRL stalwart, has been on local radio berating the so-called fans and also the stadium management for letting the situation get so out of hand.
Sir Peter said: "I will not sit back and let all league fans be painted as louts. The condemnation of the behaviour began on Saturday night at Eden Park, and it was led by the vast majority of ordinary fans who were sickened by what they saw. What occurred can't be defended. It was not the fault of rugby league or its many genuine supporters."
Drunk
There was supposed to a drinks ban around the ground but there were shops nearby selling beer by the case and it seems that stadium bars then kept selling ale to already drunk fans.
Eden Park is in a very smart neighbourhood and the local residents association has branded the stadium management as "incompetent". They, in turn, are trying to find the timber to build a stable door while the horse is charging around the local streets dropping piles of manure all over the place.
The Eden Park residents must be really looking forward to having the union World Cup on their doorstep next year. The stadium management have said they'll learn from the weekend's problems and tighter controls will be in place for the RWC.
There goes that horse again. It doesn't matter if it dumps it on NZRL's back yard as long as everything's ok for next year. Saturday night was supposed to be a trial run for the World Cup, so why weren't those controls in place for the Four Nations game? You have to wonder.
Remembered
The first game of league back at Eden Park after 22 years will be remembered for the brainless behaviour of some tanked-up supporters.
Jim Doyle, the Scottish-born chief executive of NZRL looked devastated as he watched the bottles raining down on his guests and on the genuine league fans, some of whom had travelled from the other side of the world to be part of the event.
They'll leave New Zealand with memories of a beautiful country and friendly, hospitable people - apart from the Eden Park idiots who conspired to ruin the game's big day.
Comments (6)
Dave Marsh says...
Being Born in St Helens and living most of my life there, playing and watching RL, I believe it is the best game in the world. (Needs Better Marketing Though) I now live in Cornwall and watch the Cornish Pirates which i have to say I enjoy, but find the rules complex, with even ardent RU fans perplexed by some decisions. Let's clarify one point there is no and never has been segregation in RL. In the 80's RL went through a bad time with crowd trouble, although it never got the publicity and recognition that hooiganism in football got, and eventually died a death. I attended the Grand Final this year and there were incidences of sporadic fighting, generally young groups of drunk lads who were not supporting either Saints or Wigan. It is creeping back into the game, and needs to be stamped out. My other worry is the ammount of players of both codes who are back chatting the ref, James Graham for one. It's just not done in either Rugby code it is what sets us apart from football. Let's also be clear that RU is no better, with fans booing opposing kickers etc, again it is a drop in standards. Lets keep both codes where they should be, the envy of football fans and players, stamp it out now before it's to late. Senior clubs, Super League, RFL, BARLA and the RFU all need to lead by example.
Posted 13:57 11th December 2010
Neil Johnson says...
Phil, it may appear on TV that fans are segregated but if you were to actually go to a live game you would find that this is rarely (if ever) the case.
Posted 09:17 9th December 2010
Phil Murphy says...
I watch rugby league every week on sky sports, but, I'm an ardent union supporter and the one thing I have noticed is that visiting rugby league fans are segregated at every ground why is this if you promote your game as a family sport?? the flaws found at Eden Park are rugby leagues as it was they who had the venue and to blame players as some part of the problem is ridiculous, even here in the uk you hear RL fans chanting abuse to the referee???? just like the morons from soccer games, maybe RL needs to look inwards and wake itself up because being in denial is spoiling what is a great game.
Posted 01:27 6th December 2010
John Wilson says...
Sad scenes but we should not think that this is just a New Zealand issue. I attended the Challenge Cup Final and Grand Final last year and the mindless morons were there as well fighting amongst themselves. These idiots are not part of our game and we should make sure they are held to account by the law and banned from attending matches. Well done to Sky for showing it as it is. If there is trouble it should be noted - not pictures live but use them to help the police id the culprits and then hammer them. We do not want them and action needs to be taken.
Posted 12:42 12th November 2010
Steve Smith says...
Hear what you are saying Bill re the bad behaviour. TV cameras did a very good job covering it up and so did the commentary as I don't think much was said, even when I saw glass beer bottles in the try scoring area following a Kangaroo try. I've always enjoyed the fact that you can have a beer on the terrace in RL, and the only time I've seen it kick off is with the Hull fans. I visited Rhinos and Salford the week after Hull played there and the FC fans had wrecked the little bar. These people are just plain idiots and don't warrant the title of being a "fan." The game was played over there at the end of a non-working day. If people choose to have a beer on their day off so be it, but the ground staff and mgmt should make sure that druken supporters don't get in. Easier said than done but in typical steward mentality, most won't get stuck in when they need to they just stand and watch - maybe they are trained to just be a physical deterrant by just being there...? Either way not fair on the fans to put up with it. Great to hear though that our southern hemisphere ex-pats and travelling crowd did us proud - just shame about the lack of passion from the players - think McNamara was commenting on a different game to the ones we saw..! Roll on start of super league...!
Posted 15:54 8th November 2010
Graham Cox says...
Having spent a fair amount of time in New Zealand and Australia (in 2009) I would like to report the following observations. The majority of New Zealand and Australian citizens that we encountered, throughout our stay, were really greate people. However, from what we also observed first hand, what we saw on TV and what we read in the local media both countries clearly have a problem with alcohol abuse. Poor examples are often set by professional sportsmen who , lets face it, are very wealthy, very young and overall not very bright. One only has to look at some of the examples that are set for our young people by our own football players. When you mix alcohol with lack of intelegence then you have a recipe for serious problems. Unfortunately the drinking culture is clearly a problem in both countries. Just think, how many Australian players have have had off the field problems that have been fuelled by alcohol? I believe that the players in New Zealand are no different,
Posted 12:04 8th November 2010