While some England supporters have been heading home this week there are still plenty of red and white shirts to be seen out and about in Brisbane, although some of them may have been wishing they were back home after witnessing the city's worst storm in 25 years.
There was torrential rain, severe flooding and hailstones the size of golf balls flying around. However, that could have been Stevo teeing off at Royal Brisbane.
But the Poms stuck it out, as they have done on what has been a disappointing few weeks as far as supporting their side goes. And now they've become honorary members of the A.B.A.A or W.A.P. supporters groups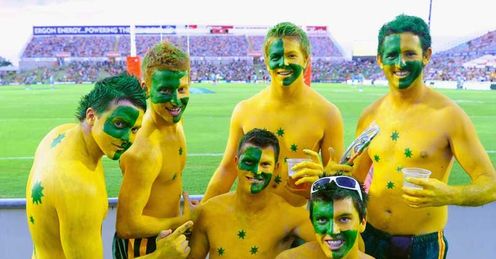 That's the Anybody But Aussie Association and the Whoever Aussie Plays, which means that this weekend it seems many of the England followers will be supporting the Kiwis when they take on the Kangaroos at the Suncorp Stadium.
Mind you, New Zealand captain Benji Marshall won over a few more supporters with his kind words following the Kiwis defeat of England in their semi-final.
It was a real shame that there was no trophy to present to the British team after their 26-16 win. Surely it wasn't because the prospect of handing a trophy over to the Poms at the Sydney Football Stadium was just too much to bear?
Bill Arthur
Quotes of the week
WORLD CUP FINAL
New Zealand v Australia
8.30am, Sat, Sky Sports 2
Marshall described how he and a couple of team mates had been having a walk through Brisbane the day before the game when they'd met a group of England fans. He was amazed by their friendliness and good humour and by how fair and knowledgeable they were. Marshall also complimented the Poms on they way they supported their side throughout the tournament, even when things weren't going well.
Suffer
And how the Aussies have enjoyed seeing the Poms suffer! Not just the rugby league team either. One of the local papers had an entire page which was captioned Pommie Bashing. It listed England's sufferings in the World Cup and how the cricket team had been hammered in 20/20 and in the one dayers against India.
They especially enjoyed seeing the union boys being kicked to defeat on their own cabbage patch by Aussie. Now they claim they're better than us in darts as well. What's the country coming too?
Well what the paper forgot to mention was the fact that the Australian cricket team has just lost a series in India and is in total disarray. Then there are the defeats that the British have inflicted on them in the last few weeks.
So congratulations to the British Armed Forces side, who won the inaugural Armed Forces World Cup, beating guess who in the final - Australia. It was a real shame that there was no trophy to present to the British team after their 26-16 win. Surely it wasn't because the prospect of handing a trophy over to the Poms at the Sydney Football Stadium was just too much to bear?
Winners
That game was preceded by the women's World Cup Final. England got to the semi-finals of that competition, losing to the eventual winners New Zealand. In the final the Kiwi ladies beat - Australia.
The tournament was a step forward for the women's game and, apparently, there's a good chance there'll be another development next year because there are plans to run a tri-nations series alongside the men's tournament.
And well done to the England wheelchair team who won their World Cup, maintaining their unbeaten record right their way through with an impressive, emphatic, thumping victory in the final. They won 44-12 - against Australia. It was the second time they'd beaten them, having rolled them over in the qualifying stages too.
So the Poms might have taken a bashing but, along the way, some of them have dished a bit out as well.
Comments (4)
Neale Vaughan says...
Trevor,I see we beat England in Rugby the other week. Tell me was that a country we beat or a state of Great Britain?
Posted 07:24 22nd November 2008
Trevor Fuller says...
Neale Vaughan to respond to your reply. Exactly how long must Great Britain as a sports entity have to justify its existance, as being the primary national team/unit of the UK? Since 1896, when the first Olympics of the modern era came into being, the country has always been represented as Great Britain. The country is known giving its full title as the United Kingdom of Great Britain and Northern Ireland, so slagging us off for choosing to be represented in individual constituant forms, as England, Northern Ireland, Scotland & Wales respectively, in certain sports is not wholly right! Although, personally I think you have a point here. However, for other reasons, I believe this has the effect in my opinion of dissipating the collective national effort! In all sports, personally speaking, I'd honestly prefer to be represented as Great Britain or better still, the United Kingdom! Anyway, not to forget, from a Rugby League standpoint, let me say how impressive & thoroughly enjoyable to watch has the Australian team's perfomance been to date! It has been a sheer delight to watch & almost poetry in motion. Something which other teams, including England (Or Great Britain for that matter) can only draw inspiration from & aspire to match! Good Luck to you (& NZ also) for the final on Saturday! Unfortunately, the England team were not up to it this time but by 2013, I think you may find it to be a different story by then!
Posted 13:49 20th November 2008
Neale Vaughan says...
Trevor Fuller,you are the perfect example as to why us Aussies love Pommie Bashing, You mention about the Olympics and how Great Britain won more gold than us,what you forget to mention that it was 4 countries in1 team and if you break down how many Gold Medals England won you will see they won 14 and Australia won 15,yet again we beat you Poms.
Posted 04:11 20th November 2008
Trevor Fuller says...
Hi Bill, I enjoyed reading your 'Bashing Back' article! While you're still down there in Aussie, you might also wish to remind (Twist the Kangaroo's tail, as it were!) our dear Antipodean 'kith & kin', that the Great Britain Olympic Team at Beijing in 2008 finished the Games in overall 4th place on the Medals Table, above Australia (In 5th or 6th place), acquiring both more Gold Medals & Total Nos. of Medals than did our esteemed, erstwhile, 'convict cousins' there as well! Keep up the good work, Bill!
Posted 14:37 19th November 2008