Some final thoughts; Clermont Auvergne probably were not tuned in to the semi-final between Saracens and Northampton but they really should have been. The Saints showed how to avoid a debilitating bout of the wobbles. Get so far in front that nerves are taken out of the equation.
Northampton actually contrived to look a tiny bit panicky for a few minutes in the second half against a Saracens side that was overpowered for forty minutes but the margin between the sides was such that a full scale mental scramble of the senses was not to play a negative role in losing a game that should have been won.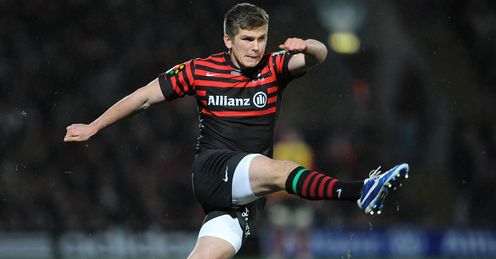 Had it been close I believe Saracens would have prevailed despite Northampton being the better team in every aspect of the game. But with just three wins in their last 20 matches against the league's top three, the Saints had to overcome the lack of belief that was there deep down. And they had to ensure their opponents, mentally so tough, were not granted a ladder with which they could extricate themselves from the pit Northampton played them into.
Matt Stevens was a shock selection; in retrospect the two games since make the choice appear even more alarming. Owen Farrell, it has to be said, does not look to be the second best fly half in Britain and Ireland either.
Stuart Barnes
Quotes of the week
They did it with power, precision and plenty of aplomb in a first half that was not quite as impressive as Leicester's second half against Harlequins but was still high class. 17-0 was exactly the sort of lead to keep any gremlins at bay.
Contrast that match with Clermont's semi-final against Munster when they could not turn their first 30 minutes supremacy into the sort of lead Northampton built. Had they added a second try to their early score and eased into the same sort of lead as Northampton had they would have run away from the technically inferior Munster team.
Instead they blew their chance and with the iron will of Ronan O'Gara to steer the visitors, Munster came close to one of the most astonishing results in the history of this tournament. If they blast out of the changing rooms and get away early on they are capable of ending the miserable history of all-French finals.
Poor finals
They have been abominations to date. A decade ago in Dublin Toulouse beat a Perpignan side that were afraid of taking the game to a typically conservative Toulouse team. In Edinburgh only a sumptuous individual display by Yannick Jauzion and a bizarre scrap between the overly zealous Edinburgh constabulary and Guy Noves lives in the memory. The last all-French affair between Toulouse and Biarritz in Paris was the best of them but even so the Amlin final between Toulon and the Blues eclipsed that game twenty four hours later.
Toulon lost that game in Marseilles. They were expected to win. Next Saturday they are expected to lose but if they can keep in the game and within six points of Clermont for the first hour the money is on Wilkinson and friends to grind out a victory for the passionate but not particularly pretty Toulon team.
Toulon will not be afraid of Clermont. Who would they fear with their stellar cast but they are nowhere near as good a team in any of the departments bar mental hardness and goal kicking. Toulon were too physical for Saracens but Clermont are another kettle of fish from a Saracens team who have been exposed as not quite as special as some of the marketing elements within the club would have had us believe. Clermont - as they have shown time and again this season - are special. It is their centenary season. In all that time they have only once won the French league. This season the neutrals will be hoping they can claim the Heineken Cup.
Thereafter they have the small matter of Castres and either Toulon or Toulouse if they wish to win the double and go down in the records as one of the great French teams of modern times. They have the ambition, the skill and the individuals to do just that. If they can emulate Northampton they will win next Saturday.
If they tighten up in what has become the classic French final fashion the odds swing Toulon's way. The fewer the tries the likelier we are to see the team from the Med grasping the trophy and setting in motion one of the best weekends imaginable if you can hop down to Marseilles and hop a cab to Toulon. Clermont's marvellous fans will have fingers crossed for an entertaining final, Toulon will take a battle of the breakdown and boot.
Would Toulon have made the final had they travelled to Leicester rather than vice versa? I have written and said it before and after the quality of Saturday's semi-final in Leicester it is worth reiterating, the Tigers would be the team contesting the final. That is all conjecture but the commitment of their pack and the slickness of their backs suggest they are the finest Leicester team we have seen for a few years.
However they do have a nasty habit of losing finals against teams they have recently beaten. Think Wasps in the Heineken Cup and Harlequins last season and maybe Northampton will think, 'hey, an 8-36 hammering at home sets us up nicely.'
It will be a hell of a turnaround.
Tigers impress for Lions
The Leicester Lions looked as sharp as the Saracens trio looked toothless. Mako Vunipola will be used as an impact substitute but men like Dan Biggar and Mike Ross who plays in Friday night's Amlin final will wonder how they are not on the plane for Australia. Matt Stevens was a shock selection; in retrospect the two games since make the choice appear even more alarming. Owen Farrell, it has to be said, does not look to be the second best fly half in Britain and Ireland either.
The best of them, Jonny Sexton, will star Friday night when all our fingers will be crossed for that horrible last match before departure. Six Lions will seek to begin the finals weekend with a win against Sergio Parisse and Stade Francais.
Leinster will then face Ulster in what will be a ferocious Rabo final....it is a fantastic finale but surely the clubs and Lions could have sat down and brought this spine tingling schedule forward a week or two?
Warren Gatland has six Leinster men and Tommy Bowe playing that match and nine will compete in the English final. The Lions get together at Syon Park Monday morning to pick up their kit, and then 16 will be off again for the bruising end to the European season. An epic end could be in store but the Lions' beginning is far from ideal.
Stuart answers your emails...
Got a question for Stuart? Email him at skysportsclub@bskyb.com or use the feedback form below...
Stuart, Do you think Saracens method of playing Farell at 12 could work against the Lions? I think having Sexton, Farell and Tuilagi on the same pitch could seriously rip up the Aussies, not only would it give you two excellent footballers it would also give you a more expansive and open game plan... exactly what is needed to win in Australia. I am intrigued on your thoughts on this.
Blair Somerville
STUART REPLIES: Blair, I think it could work against the Lions but is that what you meant? My biggest concern is that Owen Farrell is finding the same kind of form at the end of this season as he did at the end of the last season. Did you watch him when he switched to 12 on Sunday? I would imagine Dan Biggar felt pretty hacked off.
Stuart, I believe too much has been made of the Roberts/O' Driscoll partnership. In South Africa in '09, bok coach Pieter de Villiers had to pick Jacobs as 12 - a good player but no Jean De Villers or Jacque Fourie who when he came on and was in tandem with JdV got the better of the Lions pair. Just saying, what worked in '09 might may have been exaggerated by the circumstances of the starting opposition at the time. Plan B for the centres may become an issue in Australia?
Ed O'Callaghan
STUART REPLIES: O' Driscoll's injury after smashing (illegally but inspirationally all the same) Danie Rossouw was the factor that swung the battle away from the Lions...I have mentioned this because the soft hands and bludgeon is a good balance in midfield. It worked well in SA and could work in Australia. Of course, BOD is four years older and who knows but I reckon Gatland will give it a go.
Stuart, what do you make of Argentina apparently 'resting' some of their big names for England's tour? Do you think that this should not in fact be a Saxons tour, a chance for both side to test some players out while giving the established some time off to recuperate and recover for a bigger future fight?
Ray Galpen
STUART REPLIES: Call it what you will. Argentina will have plenty of home grown talent and England has some bright things too. It's lovely for the players to win caps but in the scheme of 2015 (and that is the overriding role of this tour) it's not the name of the teams but the quality of the play that counts. Both teams are resting players but that doesn't mean the guys that take the field cannot be capped.
Stuart, why are no Exeter players picked for England? They have some great prospects and finished sixth on the table. Surely that should count for something?
Alex Smith
STUART REPLIES: Tom Johnson is an Exeter player and he is on tour; who else should tour? Hayden Thomas could play against the Barbarians but wouldn't be one for the future which leaves your uncapped Irishman at fly half; Gareth Steenson has been superb in the second half of the season but does he want to represent England? It is taking the badge of convenience slightly too far, don't you think. You also have to remember that Exeter's great strength is as a team which explains why they have done so brilliantly - and why your outstanding coach is - indeed - selected for Argentina.
Regards to you all,
Stuart
Comments (7)
Dennis Morgan says...
I agree with the comments that Andy Farrell should not be part of the coaching team for the Lions. There are a number of reasons. If Owen Farrell is selected then many supporters will think its because his father is part of the coaching team, whatever his ability or form. If his father was not there then most supporters would accept the decision to include him. Being father and son works against both of them in this situation, it is lose lose. It adds pressure to all parties. If you are wondering who I support I am Welsh, I am just trying to get some sort of balance. If you read my previous comments you will see I am not a fan of Owen Farrell.
Posted 21:18 18th May 2013
Andy Dyson says...
Stu I have to agree with your comments on the dire performances put in by O Farrell, I dont even have him as an international. A Lion? Never!
Posted 17:19 17th May 2013
Dennis Morgan says...
I agree with comments about Farrell not being ready, but my main concern about him are the needless penalties he gives away. Some of his offences are petty and foolish, penalties cost games. Watch him off the ball, worrying.
Posted 20:01 16th May 2013
Pat Mcguinness says...
I'm struggling to get my head around the enduring cult of O'Driscoll. Did no one watch Ireland's 60-zip flogging by the ABs last winter? Ireland were poor but O'Driscoll was dire. Watching the match I remember thinking: "He's gone; well gone." I fully expected to be reading the next day about his immediate retirement from rugby.
Posted 16:50 14th May 2013
David Rackley says...
Gavin Wild, i'll go even further to say Owen Farrell will never be ready. He's extremely overrated and nepotism is the word on most fly halfs' mouths I'm sure. Flood, Biggar, Hook, even O'Gara will all be if not bitter then amused at the treatment Owen Farrell gets. This is a professional game, Andy Farrell shouldn't be anywhere near where his son is concerned
Posted 17:14 13th May 2013
Ruaidhri Duddy says...
If Andy Farrell wasn't a lions coach, would Owen Farrell be anywhere near the plane? Apart from goal kicking i can't understand what he brings. Especially when we have leigh halfpenny and jonny sexton.
Posted 13:52 13th May 2013
Gavin Wild says...
Stuart, you talk about Leicester's slick back line and how well it is playing and rightly so. Well surely Toby Flood has to be factored into why they are playing so well. I have no qualms Sexton lining up as the Lions test number 10 but I would have thought you would want a similar attacking fly half such as Flood who whilst admittingly has his flaws, can bring his backs into the game and is equally as good a kicker as both Sexton and farrell in my opinion. At this stage of his career Farrell is simply not ready.
Posted 13:13 13th May 2013