A Super League season is always a long battle. Right now, though, Bradford are facing a real fight just to survive. It is a worrying time, not just for the Bulls but also for the sport as a whole.
No one wants to see a club go to the wall, particularly not when it is a club steeped in such tradition and history. This is, don't forget, a team that has been Grand Final winners three times since 1998.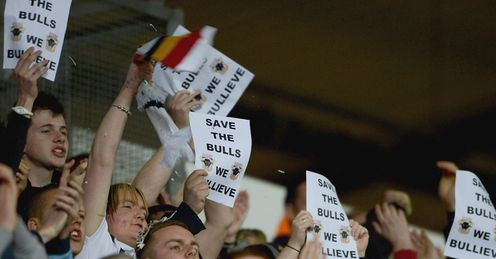 They came through the licensing system last year, as you would expect, and yet in the space of time since that decision and now, they've got themselves into trouble. Now either someone knew about these financial problems and hasn't picked up on it early enough, been proactive rather than reactive, or they've buried their heads in the sand.
Now, though, someone just needs to admit they've gone wrong, and show exactly where.
It's always the fans that are asked to get their team out of trouble. But if they are paying their money, they deserve to know where it's going and to know that measures are being put into place to make sure this situation doesn't occur again.
Luke Dorn
Quotes of the week
I have questions - lots of them. Why is it £1 million that's required? Why the sudden date being set? What happens if they get £750,000? Where does that money already pledged go if the target isn't reached? Would that just be it for Bradford? What is this money that's being raised going to pay for? And, perhaps even more importantly, are those that have allowed Bradford to get into such a state going to be the ones trusted to spend it?
Even more importantly, it just seems to me that while the fundraising has gone on, no one has really taken any responsibility for the perilous position that the Bulls have seemingly suddenly found themselves in.
I know that some will point to there being warning signs - the sale of their ground just before the season got underway, as well as the fact that they cashed in on prized asset Andy Lynch during the winter.
Supporters
I feel for the players because of the uncertainty, but the people I feel for the most are the fans. They are the ones who buy their season tickets, their memberships, pay out for the jerseys and the merchandise, yet now they are being asked to dig deep into their pockets again to save the club they love.
It's always the fans that are asked to get their team out of trouble. But if they are paying their money, they deserve to know where it's going and to know that measures are being put into place to make sure this situation doesn't occur again.
The supporters should be able to voice their opinions and concerns. They need to know who they are putting both their faith and finances in to take better care of Bradford.
The response from former Bulls, and the rugby league community as a whole, has been outstanding. I've seen on Twitter that former players like Shontayne Hape, Stuart Fielden and Jamie Peacock have been giving up their time, and some of their prized possessions such as Grand Final jumpers and rings, to try and help their old club. That is a tremendous personal sacrifice; they are not expected to do such things.
I worry, however, that this is just a band aid for the Bulls, a short-term plaster placed over the top of a deep wound. That's how it seems to me anyway.
I'm one of the strongest advocates for the licensing system, but this - after what happened with Crusaders right before the announcement last year - doesn't say much for it. If you're going to make a farce of it, then just get rid and go back to promotion and relegation.
We need to make sure that this doesn't happen again. Perhaps it's time for the Rugby Football League to get involved. To let one club go broke does not look good, to let two go in the space of six-to-eight months is just a disaster for the competition, and the sport, too.
If a club the size of Bradford is in such danger, what does it say for the rest in the competition? Is there a bigger issue in Super League?
With the Crusaders it was brushed aside a little because it was an expansion club, so people just said that the RFL should go back to their northern roots. I heard the RFL say they don't micro-manage clubs, which is all well and good. But surely someone has to oversee the way they are being run?
At the very least, the fans have a right to know.
You can follow Luke on Twitter @lukedorn
Comments (4)
Dianne Potter says...
This is the first time since the Bulls debacle was made public that someone has said in print exactly what I am thinking. Well done Luke Dorn you have raised many valid questions that Bradford fans and wider Rugby League community deserve answers too. If I was a Bradford fan i would be very worried about the future of my club if the current board remain in charge.
Posted 12:11 17th April 2012
Malcolm Elliott says...
The people at Red Hall are a joke. Who elects these people if they are elected. They seem to be a separate organisation to profeesional rugby league
Posted 17:56 16th April 2012
Philip Oates says...
Might I suggest you read up to ascertain certain facts before posting. i would refer you to the thread in RLFANS.COM in redamberandblack titled "Peter Hood says Bulls on brink of going bust" The thread is on the 3rd page and contains answers to almost all of your questions as well as giving an insight into many of the fans opinions.Alternatively you can call the club direct and speak to either Peter Hood, Ryan Ducket or Andrew Bennett who will be happy to answer your questions as they have for many fans who have bothered to ask them.Perhaps you should be grateful for being at a club backed by a many with bottomless pockets who has kept you afloat as have all before him. We do not possess one of those!
Posted 17:20 16th April 2012
Dennis john. Heaton. says...
I believe Luke as hit the nail on the head in his blog concerning the financial problems of the bulls and Rugby League as a whole. Being a long term season ticket holder at the bulls it as been a real rollercoaster of a ride both on the field and off it over the last few years, for a club the size of bradford with a strong fan base to be in the situation we find ourselves is really rank bad management by the incumbent directors of the bulls who have not been honest or upfront regarding the situation we find ourselves in over the last 3or4 years.At the twice yearly forums the fans have with the directors of the club we have repeatable been informed by our main board and especially the chairman of the club how well the club was progressing both on and off the field as late as the begnning of this season when we are hit with this bombshell 2 months into the new season obviously some one somewhere along the line as not been completely trueful regarding the state of the business and should be held to account over this fiasco. I also feel sorry for the players and especially are overseas players who have come to Bradford on the back of false promises, and given their best in difficult circumstances and showed pride in the club and the shirt, for the 1st time we look like a top 8 team this year which is remarkable when you think they may not get paid this month yet are still playing fantastic rugby week in and week out well done boys you are doing the club and the supporters proud. Also i am sorry for the hardworking staff at the club who are doing a brilliant job not knowing if they will have a job at the end of this month or next i say hats off to you we supporters really appreciate your efforts. I along with Thousands of other who deeply care for the club and have put their money into a pledge need some honesty and clarification about what the future holds for the club from the directors if not they should stand down.
Posted 15:42 16th April 2012