It was incredibly exciting to watch the Lions beat Australia in the first Test in Brisbane - what a game of rugby!
I did feel for Kurtley Beale when he slipped taking that last-minute penalty which would have won them the game but on the whole I thought the Lions deserved to win.
Saying that, the Lions will have to raise the level at least another 30 per cent in Melbourne as the Aussies will really come back at them.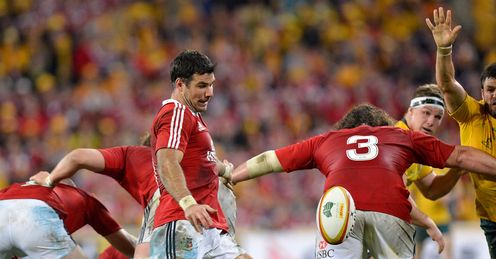 The fight back will come from Will Genia who was just outstanding and is the key for the Wallabies. I just thought he was sensational and is by far the best scrum-half in the world. I know Will Greenwood rates Kahn Fotuali'i right up there but sorry Will, he is not in the same class as Genia.
Genia's opposite number Mike Phillips did not have his best game and will be very disappointed. He was very pedestrian and easy to read and posed no threat in the first test. However, I still think it's a big call to replace him with Ben Youngs for the second Test. Phillips knows he can still pose a massive threat and I think he just over did it a little bit and did not vary his game - the Aussies knew he was coming and were able to stop him. In the second Test I think he needs to look at giving the ball to Jonny Sexton as much as possible. Sexton can then hit it up for runners like George North and Alex Cuthbert to chase. Then he can start to vary his game a bit - attack the fringes and keep the defences on their toes.
Pick and drive
As for other changes, well I would seriously consider bringing in Toby Faletau for Jamie Heaslip at No.8 because I think the Lions need a bit more ball carrying ability and Faletau adds that, he gives a bit more direction and a bit more pick and drive. Geoff Parling will come in for the injured Paul O'Connell and look to add a bit more ball carrying ability and keep them on top at the lineout too.
I would seriously consider bringing in Toby Faletau for Jamie Heaslip at No.8 because I think the Lions need a bit more ball carrying ability.
Dewi Morris
Quotes of the week
Australia have been ravaged by injuries and it will be interesting to see where Robbie Deans goes. I would expect Kurtley Beale to come in at 10 for the second Test. Don't get me wrong - James O'Connor is a superb player but put him in the midfield or on the wing where he can really do some damage. Deans is not going to bring back Quade Cooper for obvious reasons. Cooper would pose the Lions problems but you have got to draw a line in the sand somewhere and Deans has done that. You need to have someone at 10 will take the pressure off Genia - Beale is a fine player he can run and jink and cause some problems. They will also be hoping that Christian Leali'fano is back because he can give some options too.
The ball is firmly in the Lions court now and they have to put the pressure on Australia. They need to do some work on the scrum - especially as now they know how the Aussies are going to scrum.
If Australia have their full strength side out then I can see them levelling the series but if they have problems in the midfield like I suspect they will, then there will be not better chance for the Lions to clinch the series. I really think the boys can do it. They have to be sharp and improve though. If the Aussies have the ball then let them have it - marshall your men and wait for your opportunities. Then, when you can, relieve the pressure and make the most of Leigh Halfpenny - he is a weapon and a half!
The Lions can really go out and play a tactical and territorial game knowing that Aussies will come out and chase the game. If the Lions can frustrate them and force the penalties then Halfpenny can really make them pay. 1997 is a long time ago and it's about time the Lions had another series win.Watch every Lions game live only on Sky Sports. Click here to sign up or upgrade now.
Comments (7)
Melvin Longhurst says...
Philips is to slow, to predictable and one dimensional. He has a rubbish kicking game and his only asset is his size. Ben Youngs is a superior gifted player he has pace to burn, a devastating runner and a great kicking game and he should start the next test. Phillips is not there on form or merit its down to nepatism .
Posted 17:26 26th June 2013
Lee Wynd says...
John Chapman, Phillips' problems are that he is slow, lazy (check out his 'defence' for the first try) and doesn't posess the basic skills of distribution and box kicking required of a good scrum half. You and Spidey Jones obviously didn't watch the game because Croft was the one back-rower actually grafting at the breakdown and getting involved!
Posted 14:41 26th June 2013
Emmett Gracie says...
I love how this photo shows Adam Jones blatantly trying to illegally impede players without the ball. Nothing personal on him, this practice is rife in the game and I'm a bit mystified as to why it doesn't receive more attention.
Posted 14:37 25th June 2013
Spidey Jones says...
Lydiate showed today how a 6 should play, hitting rucks and mauls, tackling and giving his 9 some protection how much longer do we have to put up with glory boy croft stood out on the wing and not doing any hard work well played the welsh back 3 Saturday they won us that game
Posted 12:59 25th June 2013
John Chapman says...
I think a lot of Phillips problems were down to Croft (and Heaslip to a lesser degree) not providing the job a blindside is supposed to do. The fringes at the breakdown wern't covered leaving Phillips exposed. A 6 may well be able to run out wide playing behind a Leicester front 5 but not at this level. SOB or Lydiate would improve things greatly - Croft for the bench.
Posted 10:09 25th June 2013
Shane D says...
Heaslip has carried the ball more times than any other Lions player on this tour Dewi and for more metres than any other forward (look at the stats!) - if you want to add ball carrying ability bring in Sean O'Brien and Vunipola. Croft is a great line out option and an excellent runner out wide but what the Lions miss is ball carrying forwards who do the hard yards and run through the middle - O'Brien is the best player on tour at this and he should start (or at least have a place as an impact sub) on saturday. Plus he covers all three backrow position - still not sure why Lydiate was on the bench ahead of him last Saturday because as good as he is he does not provide nearly the same potential impact
Posted 21:38 24th June 2013
Peter Crawford says...
While I understand and accept that Faletau is a more dynamic runner than Heaslip, the problem I have with picking him is that he tends to get himself isolated by running away from support far too often. Heaslip does it too but seems to have enough awareness and ability to stay on his feet for that extra second or two to allow back up to arrive. Faletau on the other hand, when isolated, drops to the ground like a stone and subsequently coughs up turnovers or penalties far too frequently.
Posted 18:36 24th June 2013