Mark Cavendish has confirmed that he wants to leave Team Sky and Dave Brailsford, the team principal, has said that, in his other role as performance director for the national squad, he wants to do what is best for British cycling.
The inference is that he will allow Cavendish, whose full potential cannot be realised in a team dedicated to winning Grand Tours, to leave. Brailsford more or less said as much on the final day of the Tour de France and seemed to confirm it on Monday at the Tour of Britain.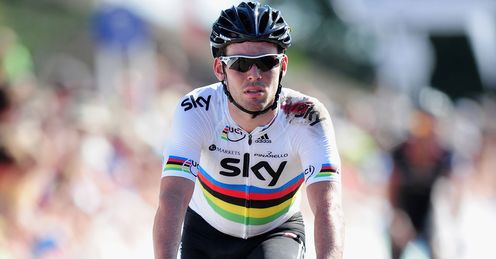 "We've known each other a long time and I'm the team principal of Team Sky, the performance director of British Cycling, and it's in my interests, his interests and everyone else's interests to try and find the best solution," said Brailsford.
Cavendish had said a couple of days earlier that he was seeking an "amicable divorce" and Brailsford echoed that: "The word is amicable. That's what it'll be and that's where we're at."
This is the dilemma, I would imagine, for Brailsford. On the one hand, he has two Tour contenders. But just as both were transformed in the last 15 months, there is no guarantee that they will be in Tour-winning form next July.
Richard Moore
Quotes of the week
He did not say that his departure is inevitable. And it might not be as straightforward as simply ripping up the three-year contract that Cavendish signed at the start of the year. There has been talk of Brailsford insisting on a release fee, but what if that isn't the issue, but, rather, a reluctance on the part of Sky to let go of the world champion and the most prolific winner in the sport?
It hasn't worked out for Cavendish at Sky this year, especially at the Tour, when he was left to fend for himself - and yet, to underline the point about just how valuable Cavendish can be to any team, still won three stages.
The reason it hasn't worked out is that, in the time since Cavendish agreed to join Team Sky in early 2011, Bradley Wiggins emerged as the world's best stage racer. Added to that, Chris Froome, with his second place to Wiggins at the Tour, confirmed himself as a future contender.
With Wiggins and Froome in the team, and in Tour-contending form, history will repeat for Cavendish. But what if Wiggins struggles to maintain the same intensity, the same phenomenal dedication, and to recapture the form that carried him to the Tour this year?
He would not be the first Tour winner - or, for that matter, any athlete who achieves a career-defining performance - to suffer a dip the following season. The new pressures, and the added responsibilities, can take some of the focus away from training, as even Brailsford acknowledged this week, saying: "Brad's world has changed massively. There's a transition there that he needs to make."
Revealing
Then there is Froome. He is still relatively untested; still inexperienced as a team leader; and he has been dogged by health issues. He had his first taste of leadership at the Vuelta, which finished on Sunday with Froome in fourth, and Brailsford's assessment of the performance of the team's 'number two' was cryptic but revealing.
"You can be number two in the factory as much as you want," said Brailsford, "but when the number one bloke walks away and gives you the keys, and says, 'Right you're opening up tomorrow,' it's a totally different experience. But I think Chris did remarkably well. He's a bright guy, and he's learned a lot. It would have been very easy in that second week to capitulate and sit up... but he didn't, he ground his way through."
Let's remember that Cavendish was signed because it looked as though the dream of winning the Tour was far-fetched, and certainly far off. It did not seem likely, just 15 months ago, that Wiggins would win in 2012. It seemed even less likely that Froome would finish on the podium.
And this is the dilemma, I would imagine, for Brailsford. On the one hand, he has two Tour contenders. But just as both were transformed in the last 15 months, there is no guarantee that they will be in Tour-winning form next July. As back-up, in an ideal world, you would crave Cavendish, who guarantees wins and publicity.
The problem for Cavendish is that he wants - and deserves - to be more than a Plan B. But it is more of a problem for him than for Brailsford.
And as Cavendish said after winning stage three of the Tour of Britain in Dumfries on Tuesday: "He's got possession of the ball right now, so all I can do is wait."