The first British winner in nine editions of the revived Tour of Britain, and the first winner of the national tour in any of its guises since 1989, when Robert Millar claimed the Kellogg's Tour, has had an extraordinary year, winning every race he has set his mind to, bar one, when he fell ill.
But it is still difficult to know how good he is, or can be. He has won some prestigious stage races: the Tour of the Mediterranean, the Tour du Haut-Var, the Tour of Alsace and now the Tour of Britain. On each occasion it has been thanks to his climbing - he is one of that rare breed blessed with the ability to change pace and dance away on the steepest ascents.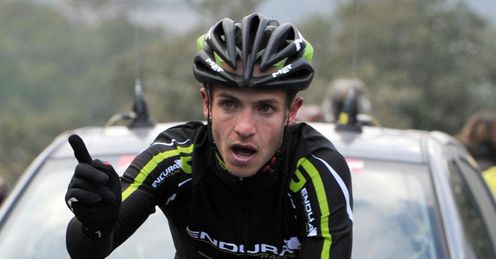 None of these races is quite in the top division, however. Tiernan-Locke will get his chance in the big events next year with Team Sky, though, as of last weekend, he had still to sign the contract that's been sitting on the table for some time.
Before 2013, he will have an opportunity to show what he can do this Sunday, at the world road race championships in Valkenburg. It will be interesting to see how he gets on.
Endurance
As he rode to his Tour of Britain win last week, there was even talk of the 27-year old from Devon succeeding Mark Cavendish as world champion, with one bookmaker offering odds of 8/1 on a Tiernan-Locke win. Let's not get carried away. The longest race Tiernan-Locke has won this year was the 205km second stage of Haut-Var. The men's road race is 267km.
There is an air of mystery about Tiernan-Locke, and a sense that his potential is completely unknown
Richard Moore
Quotes of the week
The favourites for the title are riders also blessed with the ability to accelerate on climbs - the road race finishes on the Cauberg, which features in the Amstel Gold Race - but they are experienced Classics riders. Philippe Gilbert is many people's favourite, with Peter Sagan, Alejandro Valverde, Edvald Boasson Hagen, Tom Boonen and Joaquim Rodriguez lining up behind.
It is the distance that is the killer. Tiernan-Locke could be the equal of any of them once up the Cauberg, but on Sunday they tackle it ten times. It's more of a wearing down process than a test of explosive power, and it can take a few years to build the endurance required.
Still, though, there is an air of mystery about Tiernan-Locke, and a sense that his potential is completely unknown. Brian Smith, who runs his current team, Endura Racing, says that he could shine in Classics like Liège-Bastogne-Liège or Flèche Wallonne. Dave Brailsford echoed that on Sunday, adding that he sees no reason why he cannot also excel on the longer climbs of the Grand Tours.
Confidence
Like so many other climbers, Tiernan-Locke seems to be a confidence player. He mentioned after stage six of the Tour of Britain, in which he had made the decisive move of the entire race on Caerphilly mountain, that he had been "a bag of nerves" all day.
He suffered from illness and a broken collarbone mid-season and said he experienced a mini crisis of confidence. "If I haven't had a win for a while or a good result," he explained the evening of the Caerphilly stage, "or not even a win, but I need to feel good sensations in a race. I need something to confirm to myself that I can do it.
"I was nervous before today's stage. Everyone knew exactly what the plan was but I still had to do it."
Potential
Even more impressive was the way he rode as race leader. Though Endura did a great job, there were times in the final two stages, on climbs, when he was isolated and briefly under siege. But Tiernan-Locke could not have looked more comfortable; if anybody jumped, he was on to them. Whenever the road went up, he was supreme. It was like watching Alberto Contador at his best; he even has the same punchy, out-of-the-saddle style.
Nobody knows what he might eventually be capable of, not even Tiernan-Locke. The Ardennes Classics? "Possibly," he said, but cautiously. "I start to believe stuff like that a little bit more now.
"It's an amazing thing confidence, I tell you. This time last year I wouldn't even have put myself in a position to win the Tour of Britain. I would have thought, that's beyond me and I would have gone for the King of the Mountains or a stage win. Whereas this year I thought, why not?"
Why not, indeed.