What a mess.
This week the International Cycling Union (UCI) took the only rational course of action and ratified the decision of the US Anti-Doping Agency (Usada) to strip Lance Armstrong of his seven Tours de France.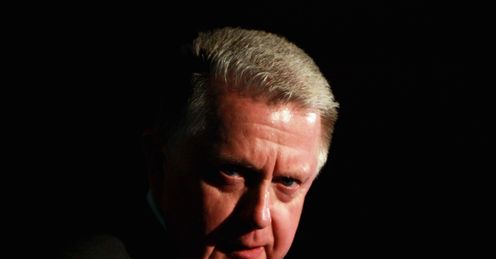 Pat McQuaid, the UCI president, was not contrite and did not apologise. He refused to accept any responsibility, collective or personal, pointing out that he took over a few months after Armstrong's last Tour victory in 2005. Nor would he concede that the UCI, and its former president, now honorary president, Hein Verbruggen, were in any way to blame, insisting they had done all they could.
On Wednesday, at the 2013 Tour presentation, Contador sided with Armstrong, saying he had been treated with a lack of respect, which is staggering. As Greg LeMond has said, "either you are appalled at what Lance Armstrong did or you are not. It is a black-and-white case."
Richard Moore
Quotes of the week
In accepting the veracity of the damning evidence in Usada's report, McQuaid did not express gratitude to its head, Travis Tygart, and his dogged determination to get to the truth. Rather, he was grudging and defensive.
Doping in cycling did not begin and will not end with Armstrong. He grabs the headlines, but it's instructive to look at those who run the sport, and those who still run the teams.
Before Armstrong began his Tour-winning run, Verbruggen helped, unwittingly perhaps, to uphold the sport's culture, its system of values and code of omerta, by doing one of the things Armstrong stands accused of - not attacking those who doped, but criticising those who, as early as the mid-1990s, spoke out against the rampant use of EPO.
Bad apples
So it isn't all about Armstrong. The danger in focusing entirely on someone who, according to McQuaid, "deserves to be forgotten", is that we ignore all the bad apples left in the barrel.
But where do you start? With Bjarne Riis, who Tyler Hamilton accuses of introducing him to a blood-doping doctor in Madrid, and who runs the Saxo Bank-Tinkoff Bank team? With Alexandre Vinokourov, recently appointed to manage Astana? Neil Stephens, a veteran of the Festina scandal, in charge at Orica-Greenedge?
Or Alberto Contador, recently banned, who rode for Johan Bruyneel at Discovery Channel and Astana, and before that with the Once team of the notorious Manolo Saiz? To complete the unholy circle, Contador now rides for Riis.
On Wednesday, at the 2013 Tour presentation, he sided with Armstrong, saying he had been treated with a lack of respect, which is staggering. As Greg LeMond has said, "either you are appalled at what Lance Armstrong did or you are not. It is a black-and-white case."
A clean ship
Meanwhile, Dave Brailsford and Jonathan Vaughters, respectively in charge of Team Sky and Garmin-Sharp, have been arguing over the best way to run a clean team.
Vaughters, whose team has been at the forefront of an anti-doping movement led not by the governing body but by riders (and largely, in an illustration of the perversity of cycling, former dopers), has been critical of Brailsford's decision to force all Sky riders and staff sign a document swearing no previous involvement in doping.
Vaughters' pragmatic approach is at odds to the idealism of Brailsford's zero tolerance policy. But it has served him and his team well; they have established a squeaky clean reputation. Indeed, they took what might be regarded as the ultimate step in transparency - they invited journalist Paul Kimmage to join them for their first Tour.
Yet it is a sign of how sick the sport had become that the 'deal' with Garmin was an implicit understanding on the part of the media and everybody else that the team was stuffed with ex-dopers, with David Millar merely the only one who had been caught and punished.
This tacit understanding, and the necessary compromises, meant not probing too deeply into the pasts of Christian Vande Velde, David Zabriskie, and Vaughters himself. Vaughters offered sufficient clues for people to understand the reality and his subsequent regret, and in doing so he gained trust.
By presenting anti-doping as his team's raison d'etre, few could doubt his commitment to clean sport. And so the deal was made - what mattered most was what happened now; the past was a foreign land.
It is where Vaughters is coming from when he criticises Brailsford's insistence on zero-tolerance. He knows first hand what went on; Brailsford, who doesn't come from the world of continental pro cycling, doesn't.
Yet both appear to be aiming for the same thing - a clean team - by different methods, while others, Contador clearly among them, don't appear to care at all. And so their debate resembles two officers on the Titanic arguing over the fairest system for allocating seats in the lifeboat, while everyone else jumps in.
Now step back and marvel at the fact that the argument is being had, and the agenda set, not by those running the sport, but by those who run teams. And that illustrates the central problem. Where is the leadership?
The question brings us back to Verbruggen, who still lurks in the shadows, and still wields considerable influence.
He began as UCI president in 1991, the year many identify as the dawn of the EPO era. So there is, at the very least, a symbolic link, but perhaps something more tangible. It now seems clear that Verbruggen failed to grasp what a threat EPO was - not just that it distorts competition, but that it can ruin cycling as a spectacle.
Suffering
I was struck by this thought on hearing an anecdote from Dick Pound, the former head of the World Anti-Doping Agency, in last week's excellent Radio 5 Live documentary, Peddlers.
"Hein, you guys have a huge problem," Pound recalled telling Verbruggen. He explained that he meant doping.
According to Pound, Verbruggen responded: "It's really the fault of the spectators. If they were happy with the Tour de France at 25kph it would be okay, but if they want it at 41, 42kph, the riders have to prepare."
'Prepare' has long been a euphemism for doping. But the crucial point is that Verbruggen was wrong. Unlike 100-metre sprinting, say, spectators don't care about speed. The appeal of the sport owes little to speed; it is about the beauty of the landscape, the spectacle of the race against it, and, most of all, the heroic deeds of the riders. The essence of the sport is not speed, it is suffering.
The irony is that EPO almost destroyed the sport as a spectacle in the 1990s. Compare and contrast the footage from the 1980s, the heaving bodies and gasping mouths, with the smooth, robotic way in which riders were able to tackle the mountains a decade later.
This is Verbruggen's legacy: a sport damaged as a spectacle, and almost destroyed by the ensuing catalogue of scandals, of which Armstrong is merely the headline. But to paraphrase his book, it is not all about Armstrong. If the UCI think it is, nothing will change.
Comments (6)
Roger Barrett says...
One small step might be for the UCI to bar immediately previously proven drug users from any managerial post within the sport. A second, to dismiss with immediate effect, all senior members of the UCI in post between say, 1990 and 2005.
Posted 18:23 4th November 2012
Ian Mitchell says...
good read & shows the sport as a long way to go to get out of the mud its in.I think that people who have doped should be given a second chance.However if you are caught doping say in one of the big three tours you should serve a ban longer than two years.If you are coaught in yellow you should be banned for life.I think it is sad that the current favourite for the 2013 is Contador.He should not be allowed the chance to sully the yellow shirt again.I have used cycling to overcome and live with heart disease .Armstrong became one of my heroes & i was proud to wear the yellow wristband.At first i was furious and then after reading Tyler Hamilton book i came to realise how you can't blame the riders.These guys happened to excel at the sport at a time when doping ruled.You either packed it in are fitted in.Richard is spot on pointing out that the teams alone will not turn it round Mcquaid and is cronies should stand down and let USADA take over.
Posted 08:04 4th November 2012
Karl Issi says...
i believe it was the UCI who was the first federation to introduce testing Vs EPO..they were in fact the only federation which took the threat seriously and acted...
Posted 09:20 30th October 2012
Andrew Kenneally says...
Yes Richard, the Alps & Pyrenees in the 80s were something awesome - the mountains majestic fear-inspiring beasts punishing the hardest of men like Sean Kelly, making them suffer to their boots. In the 90s then we had mediocre domestiques of Armstrong's ascending without difficulty & then Armstrong & co sprinting off in the latter segments like, as you say, pain-free robots.
Posted 21:49 25th October 2012
Sam Joy says...
Good blog Richard, but one point: Brailsford and Vaughters are not arguing, or at least Brailsford isnt. ALL criticism re the other's approach, is coming from Vaughters, in a wide range of different interviews. Brailsford on the other hand, has kept his own counsel and hasnt said a word about Vaughters approach.
Posted 16:16 25th October 2012
Editor Veloveritas says...
Nicely put, Richard. The fact that Mr. McQuaid said one thing at the press conference in front of the world's media (telling Armstrong to leave the sport forever), and then afterwards signed a UCI document with an entirely different tone and position (inviting Armstrong to appeal), speaks volumes too. Mr. McQuaid can't wriggle out of his responsibility that easily - yes, he was elected to President of the UCI in 2005, but previously for years had responsibilities for Pro Road Racing as part of the Management Committee.
Posted 13:38 25th October 2012