An assortment of doping experts, former cyclists, coaches, journalists, tweeters and a businessman assembled in London over the weekend to discuss how to change cycling, and indeed how to do so now.
'Change Cycling Now' is the name of the group, and on Monday they published a 'Charter of the Willing' and held a press conference explaining how change could come about. They also requested that Pat McQuaid, the International Cycling Union (UCI) president, step down immediately, with one of their members, the three-time Tour de France winner Greg LeMond, stepping up to serve as interim president.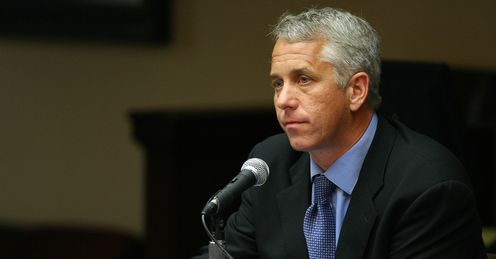 Many in the world of cycling would react enthusiastically if McQuaid and the honorary president, Hein Verbruggen, did step down, and even more enthusiastically to any role for LeMond, who is popular, decent, honourable and undoubtedly wants to be involved "in the process of change" for the right reasons.
But it seemed exceedingly unlikely that McQuaid and Verbruggen would go on the command of the group's founder and funder, Jaimie Fuller, who owns the compression clothing company Skins.
It is a pity there were no current riders there to talk to the group, and to tell them how there have been small, subtle but significant changes in the sport's culture. It is clear that if approached, many would be willing to be involved.
Richard Moore
Quotes of the week
In sport it is always advisable to set achievable goals, but this seemed hopelessly optimistic. Twenty-four hours on, there is no news of anyone falling on swords in UCI HQ in Aigle, Switzerland.
One notable aspect of the gathering was the absence of any current professional riders. The top table agreed this was a disappointment, but also a sign of the dire straits in which the sport finds itself, and, ultimately, a damning indictment of the UCI.
"We extended an invitation to a number of leading riders to actually participate in this process," said Paul Kimmage, the former rider, now journalist. "Initially we were going to put a blank chair here [at the top table] to demonstrate that we could not get one guy to come and sit with us or participate in this, because they were all just terrified. Terrified of what the repercussions might be. Now, if that isn't the sign of an unhealthy organisation, I don't know what is."
One journalist asked Fuller if he was convinced it was fear rather than apathy that kept the riders away.
"Oh, absolutely," said Fuller. "No question. I'm the guy who's spoken to everybody, to bring everybody together, and I tried very hard to get riders engaged. There were a couple, where geographically it was difficult [for them to attend]. But the vast majority were intimidated about what could happen to them if they stuck their head above the parapet and were critical of the UCI."
It isn't clear which riders were approached, but the most obvious candidate was not. David Millar sits on the World Anti-Doping Agency's athletes' committee, and is well-known for his anti-doping campaigning.
Millar, who was actually in London, didn't even know the Change Cycling Now gathering was happening. He speculated that he hadn't been approached because he is seen now as part of the establishment, thanks to his role with WADA.
Left out
Next day, the Rabobank rider Paul Martens said on Twitter: "Since I read about changecyclingnow, I wondered why there are no cyclists involved, but apparently some were asked. Ask further please!!" Odd, because Martens' team is sponsored by Skins, the company owned by Fuller.
Martens' tweet was endorsed in the form of a re-tweet by Andre Greipel, the German sprinter who won three stages in this year's Tour. And in recent weeks plenty of other riders have been vocal on the subject of doping, and unafraid to express their sense of outrage at the revelations contained in the USADA report into Lance Armstrong.
In fact, while the proposals contained in Change Cycling Now's Charter of the Willing appear eminently sensible and desirable, it was difficult to escape the sense that much of the discussion was rooted in a different era, when the likes of Christophe Bassons - the French ex-professional sitting at one end of the table - could be bullied by Armstrong and a majority in the peloton for daring to speak out about doping.
Until 2006, nobody spoke and there was terror. It has been gradually changing since then. It isn't perfect; there are still people involved in the sport who by their very presence uphold the old omerta; but speak to many riders and they will tell you the sense of fear has gone. To name just two: look up Taylor Phinney's interview on Velonation, or just about any interview with Marco Pinotti.
And so it is a pity there were no current riders there to talk to the group, and to tell them how there have been small, subtle but significant changes in the sport's culture. It is clear that if approached, many would be willing to be involved.
Cycling still has a lot of work to do to restore trust, mainly thanks to what happened during the Armstrong era, and perhaps Change Cycling Now will establish the momentum and support to help bring about change and shape the sport's future. I hope so.
But first they, too, need to establish credibility and trust. They'd have made a better start by being a little more transparent - by which I mean honest - about the efforts made to get the riders' input.