It's the first week of February and Mark Cavendish has won three races, his best ever tally so early in the season.
He was asked on Wednesday, after his second consecutive stage win at the Tour of Qatar, how many professional wins he now has. "Ninety-three," came the instant reply. "Ninety-seven if you count team time trials."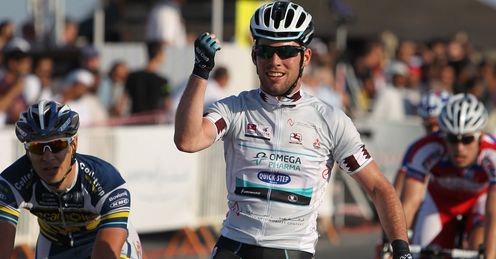 So he is likely to hit the century soon. What's interesting, though, is how he wins these days. There was a time, from 2008-2011, when the theory, apparently supported by Cavendish himself, was that he owed much of his success to his team.
In those years the Highroad squad became the world's best exponents of the lead-out train - probably the greatest ever. The personnel would change, but the outcome was always the same: an arrow-head of white-and-yellow at the front of the peloton, Marks Renshaw and Cavendish at the rear.
The ability to analyse fast-moving, fluid situations in a split-second, and make rapid decisions - go much further in explaining Cavendish's rate of wins than a well-drilled lead-out train
Richard Moore
Quotes of the week
Renshaw, the world's best lead-out man, would open it up, then drop off Cavendish 200 metres from the line, and voila! Easy.
Cavendish always played down his part, describing himself as part of a nine-man machine, whose job just happened to be to finish off his colleagues' hard work.
Thus did Highroad establish the blueprint. You could see other teams thinking that if they could only operate such a well-oiled lead-out train, the victories would follow.
Commitment
You could certainly see that kind of thinking here in Qatar at the end of stage three on Tuesday. At one point there were three lead-out trains sprouting from the front of the peloton, like weeds on a garden path, and, for Cavendish, equally irritating.
Interestingly, Cavendish's new Omega Pharma-Quick-step 'train' was nowhere to be seen in the finale. Unlike Cavendish himself, who popped out of the melee for win number 92.
Only that morning, he had been asked whether his new lead-out train had been practising. He reacted as he tends to do when he feels he's been asked a stupid question (which is often). He screwed up his face and his eyes narrowed. "You don't need to do that. Just because Greg Henderson tweets about how great Lotto's lead-out train is, you don't need to work too hard at it. All you need is commitment."
So it has to be fluid and flexible? "Yeah."
After the stage, he said: "There were so many lead-out teams there. They think a lead-out is what you need but it's not. It's actually worse if there are more lead-out teams who don't know what they are doing. It just becomes chaos. And it was."
Freestyling
The next day, it was a little less chaotic, but there were still lots of 'trains' in evidence. And yet the result was the same: Cavendish won, despite losing his notional lead-out man on the run-in.
It happened when, with just over a kilometre left, Matteo Trentin went one way around a roundabout, Cavendish the other. In the confusion, Trentin glanced around looking for Cavendish's Omega Pharma-Quick-step jersey but couldn't see it - he had forgotten he was wearing the silver jersey of points leader.
Cavendish was found by another teammate, Niki Terpstra, who helped him move up "about fifteen positions." That helped, but still he ended up, as he put it, "freestyling." And using his initiative.
Here he is describing the final kilometre: "I knew from experience that the wind comes from the right, so you want to be on the left. But the road sweeps right, so the peloton naturally moves to the right, and I knew the gap would open on the left. So I did exactly the same as last year [when he also won] and just sat there waiting until 300, 200 metres to go."
As the others followed the curve of the road, looking for the shortest line, Cavendish remained sheltered on the left. When the road cleared, he pounced.
Surely now we can conclude that speed, bike handling skill and innate intelligence - the ability to analyse fast-moving, fluid situations in a split-second, and make rapid decisions - go much further in explaining Cavendish's rate of wins than a well-drilled lead-out train, which can certainly make the task easier, but never easy.
I don't think there are many cyclists who could describe a finish in the kind of detail offered by Cavendish on the Al Khor Corniche. Later, I asked him if he could list all 93 of his victories. "I couldn't list them," he said, "but if you told me them I could probably talk you through the last kilometre of every one."
The scary thing is, he probably could.
Comments (1)
Alasdair Buchanan says...
Well done Cav. Great start to the season. Last year must have been a disappointment. He is unquestionably a brilliant cyclist possessing tactical nous, race sense, unrivalled acceleration and a killer instinct. He has always had the ability to seek stage wins without necessarily benefiting from a lead out train. OPQS may not have the reliable ability to guide him home and and as shown in Qatar we may not necessarily have the aesthetic beauty of him launching from a well drilled lead out train. However, the prospect of much more rewarding and exciting finishes engineered by Cav will be something to savour.
Posted 13:53 8th February 2013