The cobbled Classics once more belong to Fabian Cancellara, who followed his Tour of Flanders win last week with Paris-Roubaix on Sunday.
In these races last year it was Tom Boonen who was unbeatable. This year Cancellara didn't look as invincible as Boonen in 2012, or indeed as Cancellara when he did the double in 2010, but he was still a very convincing winner.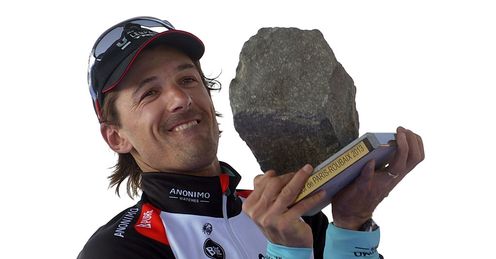 The only pity is that Boonen's spring was a write-off, and so the tantalising prospect of the two dominant Classics riders going head to head, when both are in form, will have to wait another 12 months. But both are 32, and their powers will surely start to diminish soon.
In fact, there have been suggestions that we might be witnessing the first signs of a fading Cancellara. The evidence is sketchy, but the case for the argument is that he was unable to drop the 24-year-old revelation of Paris-Roubaix, Sep Vanmarcke. On the other hand, if he wasn't quite as sharp as he was in Flanders, it might have owed something to his two mid-week crashes.
Whether you trained in Tenerife, Tirreno or Timbuktu, there wasn't much anyone could do about Cancellara.
Richard Moore
Quotes of the week
There has been much talk, too, about the different methods by which riders and teams prepared for these Classics, in particular Sky's decision to miss Paris-Nice and Tirreno-Adriatico and head instead to a training camp in Tenerife.
They wanted to win one of these monuments, but didn't even threaten the podium, with Edvald Boasson Hagen 17th at Flanders, and Bernhard Eisel 12th in Roubaix.
It simply is not possible to gloss those results and there isn't much to salvage from the performances, either.
While Lotto-Belisol contributed so much to the Tour of Flanders and the Boonen-less Omega Pharma - Quick-Step were enterprising, strong and smart (but ultimately very unlucky) at Paris-Roubaix, Sky, while also unlucky with crashes and illness, seemed to lack ambition and firepower in both races.
However, whether you trained in Tenerife, Tirreno or Timbuktu, there wasn't much anyone could do about Cancellara. For the record, he rode Tirreno, though you might not have noticed. He was fourth in the stage-seven time trial, which on paper looked poor for a four-time world time trial champion.
Before that, at the tours of Qatar and Oman, Cancellara was almost conspicuous for his inconcpicuousness. I remember watching a stage in Qatar in which Cancellara was last man for the duration. He looked as though he couldn't be bothered.
An alternative view is that he was doing what he felt he needed to do in these races, with the hard work done elsewhere - in, of all places, Tenerife.
Months in the making
But the first seeds for Cancellara's glorious spring were sown last autumn.
After breaking his collarbone at the Tour of Flanders he was back to his best in the Olympic road race in London. He jumped across to the break last time up Box Hill, but crashed heavily after misjudging a corner. "The way I was racing, the way I was feeling, the gold medal was on a plate," he said later.
After his London disappointment Cancellara took a lot of time off. He didn't ride his bike for two months. It wasn't just his injuries and misfortune. His team, RadioShack, was in a state of crisis under the ill-fated leadership of Johan Bruyneel, Lance Armstrong's former director. When the case against Armstrong was finally proven, Bruyneel was out.
And it was about then that Cancellara got back on his bike. "He waited until he was hungry," says a member of the team's staff.
In December Cancellara went to a team training camp in southern Spain, then in January he went with his wife and baby daughter to Tenerife to train alone.
Between Oman and Tirreno he did another training camp, again with just his family, in Majorca.
The team's director, Dirk Demol, also made some big decisions. Demol, the 1988 Paris-Roubaix winner, decided to effectively sacrifice all these early-season races - Qatar, Oman and Tirreno - to allow Cancellara to use them as preparation, without any pressure for results. This didn't necessarily go down very well with the team and its sponsors, but Demol held firm, insisting that the rewards would come.
And they did.
Comments (2)
David Franklin says...
Enjoyed the read.. but.. "..Sky's decision to miss Paris-Nice.." might come as a bit of a surprise to Richie Porte, given that he won the race convincingly!
Posted 18:20 11th April 2013
Andrew Kenneally says...
"In fact, there have been suggestions that we might be witnessing the first signs of a fading Cancellara." If winning the Flanders, Paris-Roubaix double not emphatically enough suggests he's fading, one would imagine he'd have won every classic he's ever entered. Give the man a break!
Posted 15:59 10th April 2013